KitKat, the latest publicly available version of Google's Android mobile and tablet operating system, is now running on over 20 percent of Android devices that check into Google Play.
The Mountain View giant, sharing the Google Play distribution data of Android devices with different versions of the operating system for the 7-day period ending August 12, show that the share KitKat is receiving steady rise when it comes to the latest version of the OS while a steady decline as far as the previous version Jelly Bean goes.
According to the data released on the Android Developers' webpage, Android 4.4.x KitKat climbed up the charts from 17.9 percent in the corresponding 7-day period in July, to 20.9 percent in August - an increase of 3 percent. In June, Google's Android KitKat version had reached the 13.6 percent mark.
The various iterations of the Jelly Bean still power the majority of Android devices, with the combined percentage of 54.2 percent - with Android 4.1.x on 26.5 percent devices, Android 4.2.x on 19.8 percent and Android 4.3 on 7.9 percent devices. Last month, Android Jelly Bean's combined share was 56.5 percent in March.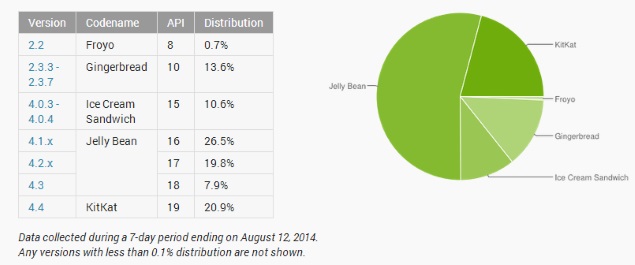 Android 4.0.x or Ice Cream Sandwich, in Google's latest report, registered a share of 10.6 percent, when compared to 11.4 percent last month.
Android Gingerbread (v 2.3.3-2.3.7) and Android 2.2 Froyo's device distribution shares are 13.6 percent and 0.7 percent respectively in in August, compared to corresponding 13.5 percent and 0.7 percent last month.
Google also noted, "This data is gathered from the new Google Play Store app, which supports Android 2.2 and above, devices running older versions are not included. However, in August, 2013, versions older than Android 2.2 accounted for about 1% of devices that checked in to Google servers."
The OpenGL version, on the other hand, saw OpenGL 1.1 at 0.1 percent; OpenGL 2.0 at dominating 80.2 percent, and OpenGL version 3.0 steadily rising to 19.7 percent. Last month, the OpenGL version data revealed that OpenGL 1.1 continued with its 0.1 percent share; OpenGL 2.0 was at 83.6 percent, while the OpenGL version 3.0 came at 18.2 percent.