Vision Mobile, an ecosystems analyst firm which releases Developer Economics Report, a research report that focuses on developer mindshare, revenue and lead platforms, and other aspects of the eco-system has made the fourth edition of its annual report public. The
report
, which is based on a survey of 3460 developers across 95 countries, reveals that developer interest is centred around Android and iOS but they're also looking for a viable alternative. It also notes that app development for tablets is increasing, as they become more relevant for consumers.
Lead platforms
iOS, Android and BlackBerry are lead platforms. This essentially means that the three are the primary platforms of development for developers, while Windows Phone and HTML are used by developers as extension platforms to reach out to users not covered by the lead platforms. 48 percent developers make apps primarily for iOS, while 44 percent make apps for Android, and 38 percent for BlackBerry.
Mindshare
As per the findings of the report, Android leads mobile developer mindshare, with 72 percent of developers developing for the platform, an increase of 4 percentage point increase compared to Vision Mobile's 2012 survey. iOS reported a 5 percentage point drop in mindshare at 56 percent. HTML5 is the third most popular platform, commanding a 50 percent mindshare. BlackBerry's mindshare remains stable at 16 percent, while Windows Phone's mindshare among developers was at 21 percent. The report points out that Windows Phone needs to penetrate the market and Microsoft's efforts of funding app development resulted in sub-par apps.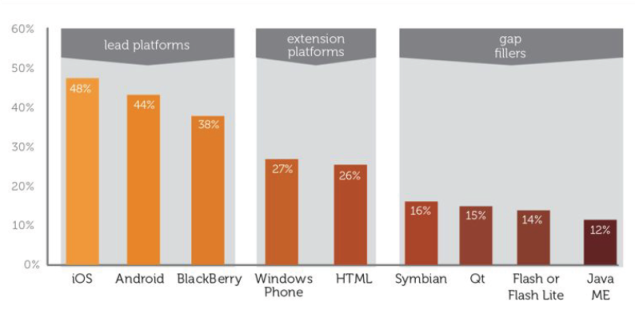 Lead platforms are the ones that developers consider high priority, and are the primary platforms in terms of app development for them. Mindshare indicates the developers' intent to create apps for a platform.
Looking at region-wise statistics, Android leads in Asia and Europe, while development on iOS and Android was almost at the same levels in North America.
Comparing app development across devices, the report points out that 64 percent respondents are now developing for tablets, with iOS leading at 76 percent, Android at 64 percent (an Year on Year increase of 2 percent), and HTML5 at 71 percent.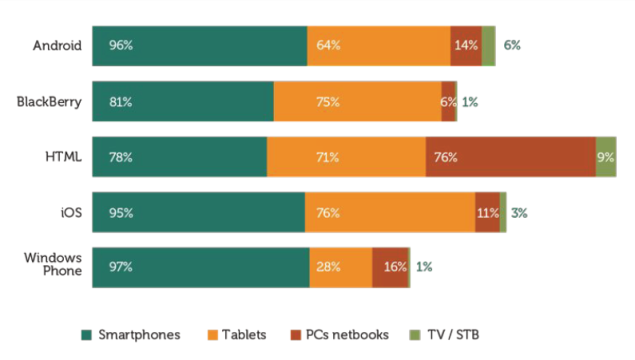 Revenue sources
The report also mentions that Advertising is now the most popular revenue model for apps, used by 38 percent of developers in its global sample, but offers the least in terms of revenue per app. Pay per download comes a close second at 32 percent, and in-app purchase follows, at 26 percent.The report reveals that developers that do not develop for Android or iOS generate, on average, half the revenue of those developers that do.