Following the
announcement made by Google
, last week, Android Device Manager has now been rolled out to Android devices including smartphones and tablets. The web interface to locate and track the devices is also now live on
google.com/android/devicemanager
.
To verify if it's enabled, you can go to the Settings menu on your device and then tap on Security. You'll find the a Device administrators setting and after tapping on it, you should see the 'Android Device Manager.' You just need to enable it by tapping on the checkbox.
After enabling the feature, you'll be able to see your device on the web interface. You'll also be able to track its location on Google maps, ring the device at full volume for five minutes and even erase all the data. The web interface allows you to track multiple Android devices through a drop-down menu and you can also rename your Android devices through it.
To enable the erase data option on Nexus devices, you'll need to enable factory reset on your device through the 'Google Settings' app on your device and clicking on the tick box within Android Device Manager.
It's also worth noting that location tracking might not work if Google location settings have not been enabled. You can enable these settings through the 'Location' menu from the Google Settings app to allow Google services to track your location.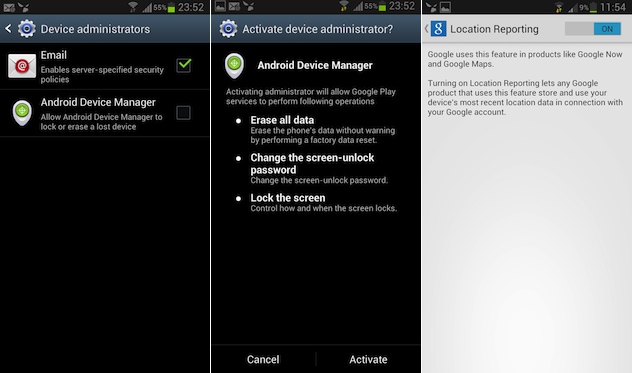 The service is available for all Android 2.2 and above devices so it will benefit a large number of users. However, the phone must be connected to the Internet to benefit from it.
Apple, Microsoft and BlackBerry have been offering online utilities, namely Find My iPhone, BlackBerry Protect, and Find My Phone, respectively, that let owners of phones track the location of their handsets, lock them, trigger an alarm and wipe data remotely, for a long time.
Google is late to the party, however, making the utility a part of Android would benefit a large number of users. Handset makers like Samsung and HTC already offer similar tools with their Android phones. Sony had also started rolling out its remote security service "my Xperia," in July.
While third-party services offered by companies like McAfee, Norton, Quickheal and Kaspersky, among others also offer mobile security services, they charge users a one time or recurring fee.