Google has come out with updated Android version distribution numbers, with this time's data collected from Google Play visitors during a seven-day period ending on November 2. The
biggest change since last month
is that the latest version of Google's mobile operating system, Android 6.0 Marshmallow, has finally shown up on the chart.
In October, Google had revealed that active devices running Android 6.0 Marshmallow constituted less than 0.1 percent of the total Android devices visiting the Play store - keeping it off the chart completely. This month, that number has gone up to 0.3 percent.
According to the distribution data of different versions of Android, Android 5.x Lollipop has a total share of around 25.6 percent of active Android devices (with Android 5.0 running on 15.5 percent of devices and Android 5.1 on 10.1 percent) that check into Google Play compared to the 23.5 percent reported at the beginning of October - an increase of 2.1 percent in roughly a month.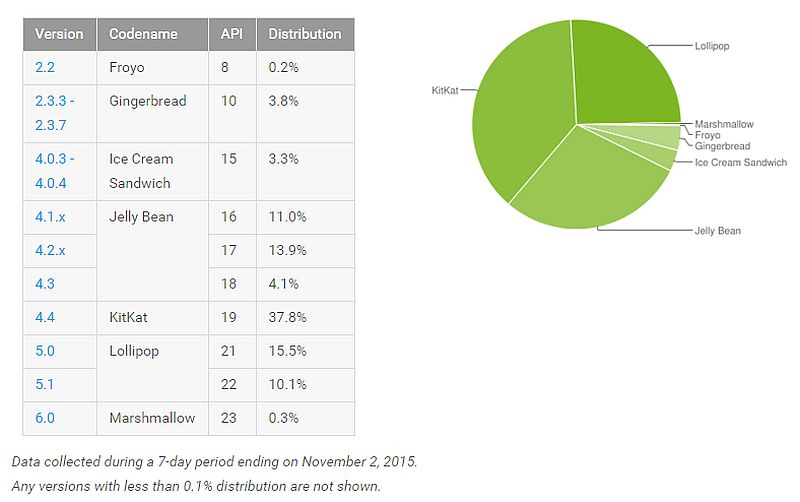 On the other hand, Android 4.4 KitKat was found to be running on 37.8 percent of active Android devices, dropping 1.1 percent from last month. Android Jelly Bean, ranging from Android 4.1 to Android 4.3, powers 29 percent of the devices, taking a 1.2 percent hit from last month. Specifically, Android 4.1.x is seen on 11 percent of active devices (down from 11.4 percent), Android 4.2.x on 13.9 percent (down from 14.5 percent), and Android 4.3 on 4.1 percent (down from 4.3 percent).
Android 4.0.x or Ice Cream Sandwich in the latest report was found to be running on 3.3 percent of devices, dropping from 3.4 percent the previous month. Android Gingerbread (v2.3.3-2.3.7) on the other hand has remained on 3.8 percent, as is the case with Android 2.2 Froyo, which has also remained at 0.2 percent since October.
Also detailed by Google was OpenGL version distribution across active Android devices, with OpenGL 2.0 dropping to 56.6 percent from 57.2 percent last month, and OpenGL 3.0 rising to 38.2 percent from 38.1 percent.