Google is expected to release the Android 5.1 Lollipop maintenance update 'starting this week' to the Nexus devices, according to a new rumour that has surfaced on the Internet. Additionally, the
Motorola Moto G (Gen 1)
has been spotted running Android 5.1 Lollipop ahead of the update's official release.
The news about the Android 5.1 Lollipop update rollout comes from Android Police's Artem Russakovskii who cites 'solid sources' to claim that the Lollipop MR1 (maintenance release 1) aka Android 5.1 will probably start rolling out to the Nexus 7 2013 tablet first this week; though he doesn't rule out "anything unexpected" to delay the update.
Russakovskii in his Google+ post writes, "This release is supposed to make Android buttery smooth again, which is something you may have already spotted from videos of Android One devices running it. You're going to want to install it... Google's been having some issues with battery life, which explains the delay, and unless they're already resolved, could possibly delay the rollout. But later this week is the info I have right now."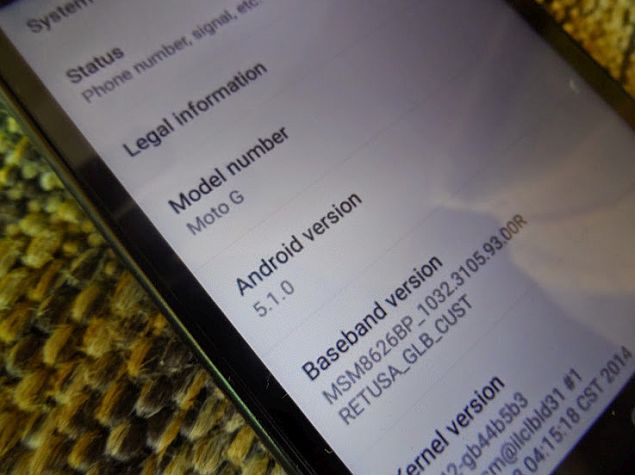 The March release of Android 5.1 update ties-in with an HTC executive who also tipped that the next build of Android OS dubbed Android 5.1 Lollipop will release in March.
In related news, another Google+ user named Damian Junior has postedimages of the first-generation Moto G running the Android 5.1 update. Junior claims he received these images from one of his friends who work at Motorola. In his Google+ post, Junior suggests that the company is testing the Android 5.1 update on the first-generation Moto G handsets and added that the update has no bugs when compared to Android 5.0. In one of the screenshots, the Moto G is seen running Android 5.1.0.
So far, there has been no official announcement regarding the rollout of Android 5.1 Lollipop; though Google released Android One smartphones in Indonesia running Android Lollipop build 5.1 out-of-the-box.
A leaked changelog for Android 5.1 tipped that the build brought improvements corresponding to bugs that were reported since Android 5.0 Lollipop release: addition of silent mode; improvements in system stability; improved RAM management; fixes for sudden app closures; improved battery management; excessive consumption of network devices when used Wi-Fi fixed; fixes for issues with wireless connections; fixes for Ok Google function; fixes for notifications problems; some sound problems experienced by certain devices fixed, and changes in the Material Design colour palette.
To recall, Motorola in January started rolling out the Android 5.0 Lollipop update for the Moto G (Gen 1) and Moto G (Gen 2) in India.
For the latest tech news and reviews, follow Gadgets 360 on Twitter, Facebook, and Google News. For the latest videos on gadgets and tech, subscribe to our YouTube channel.
Related Stories