Google on Friday began the rollout of the Android 5.0.1 Lollipop update for the Nexus 4 and Nexus 5 smartphones in India. The OTA update for the Nexus 4 (seen below) are sized at around 16.7MB, while the Nexus 5 update (seen above) is sized at around 13.3MB.
Android 5.0.1 Lollipop includes a number of stability updates, apart from fixes for bugs about which users have been complaining for quite some time. "This software update will upgrade your Nexus 5/ Nexus 4 to Android 5.0.1, which improves performance and stability and fixes bugs. Downloading via Wi-Fi is recommended. Downloading over a mobile network or while roaming may cause additional changes," states the OTA update description. The update for the Nexus 4 and Nexus 5 handsets comes with build number LRX22C.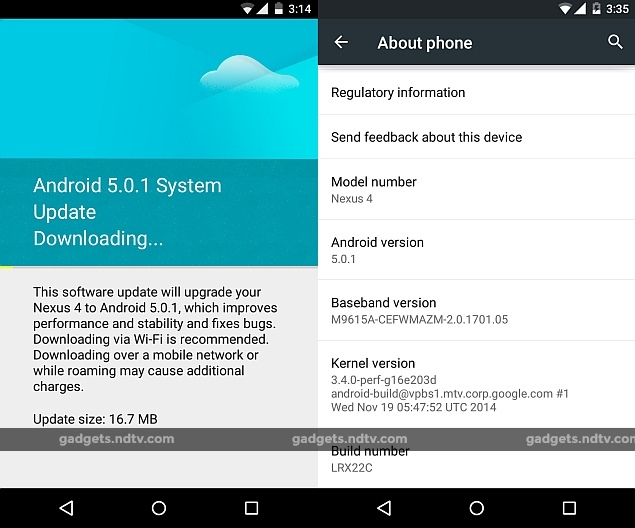 Notably, Google released the Android 5.0.1 Lollipop factory image for the Nexus 5 smartphone earlier this week. The search engine giant last week released Android 5.0.1 factory images for the Nexus 4 and Nexus 6 smartphones, while the company had already released images for the Wi-Fi only Nexus tablets including Nexus 7 (2013), Nexus 9, and Nexus 10.
The factory images for the 3G-enabled Nexus 7 (2012 and 2013), and Nexus 9 LTE are yet to be published. It is worth noting that LG G3 users in India also have the Android 5.0 Lollipop update available to them.
In the last few weeks, Android 5.0 Lollipop has been in the news for all the wrong reasons with several user reports pointing to multiple bugs in the final release.
Some of the Android 5.0 Lollipop bugs recently reported by users include a Wi-Fi bug; an SMS bug; app switcher bug; another bug that removed the very useful 'silent mode' from phones, and a flashlight bug was also reported to be affecting some Nexus 5 and Nexus 4 users. Adding to the long list of Android 5.0 Lollipop bugs, two more were reported - one about the broken manual account sync button in settings, and other about frequent restart of apps in the background.
For the latest tech news and reviews, follow Gadgets 360 on Twitter, Facebook, and Google News. For the latest videos on gadgets and tech, subscribe to our YouTube channel.
Related Stories