Despite the latest version of Google's Android OS, Lollipop, releasing in November of last year, the adoption hasn't exactly been the fastest. Every month, Google tracks the break down of various versions of Android available and until last month, Lollipop had crossed the 0.1 percent minimum requirement install base to be included in its report at 1.6 percent. That rose to 3.3 percent
this month
in Google's Android version distribution numbers.
It's an indicator that the usage of Android 5.0 Lollipop has jumped dramatically in the last 30 days. And while the numbers are still small, there's some promise. Data was collected from Google Play visitors during a seven-day period ending on March 2.
It was anticipated that Android 5.0 would see speedier adoption thanks to the likes of Motorola, LG, and Nvidia pushing out updates to existing hardware at almost unheard of speed. But perhaps their readiness to provide Google's latest was matched by the OS' less than bug-free nature with a slew of pending fixes necessary, that has slowed down adoption.
Nonetheless, Samsung will continue its update to Lollipop and Google should fix some of its more severe issues which should ensure that Android 5.0 Lollipop gets in the devices (and hands) of more people. What does this mean for us? Hopefully more apps sporting gorgeous material design-infused UI and less clunky looking experiences that would be right at home with Froyo.
In Google's latest Android version distribution numbers, Android 4.4 KitKat was found to be running on 40.9 percent of active Android devices, rising 1.2 percent from last month. Android Jelly Bean, ranging from Android 4.1 to Android 4.3, powers 42.6 percent of the devices, taking a 1.9 percent hit from last month.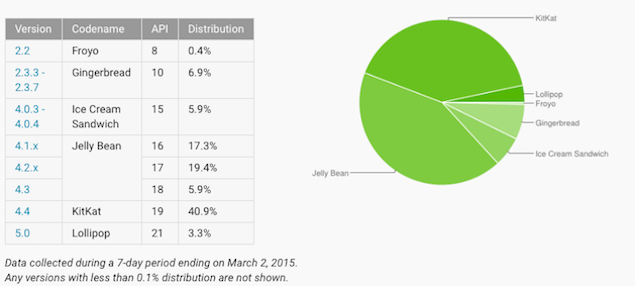 Specifically, Android 4.1.x is seen on 17.3 percent of active devices (down from 18.4 percent), Android 4.2.x on 19.4 percent (down from 18.8 percent), and Android 4.3 on on 5.9 percent (down from 6.3 percent).
Android 4.0.x or Ice Cream Sandwich in the latest report was found to be running on 5.9 percent of devices, dropping from 6.4 percent the previous month. Android Gingerbread (v2.3.3-2.3.7) on the other hand dropped to 6.9 percent from 7.4 percent, while Android 2.2 Froyo stayed the same at 0.4 percent.
Which version of Android are you running? What do you think of Android 5.0 Lollipop? Let us know in the comments.