Hurricane Sandy didn't seem to dampen the spirits of folks at Google. Despite cancelling the Monday event, the search giant stuck to its schedule and announced all that was expected via their blog.
Apart from launching the
Nexus 4
smartphone from LG,
new variants of the Nexus 7
tablet and the brand new
Nexus 10 tablet
from Samsung, the company also unveiled the latest version of the Android OS, v4.2. While earlier rumours suggested the codename Key Lime Pie, Google retained the name Jelly Bean instead. But the upgraded OS now brings several new features for Android lovers.
We earlier
reported
that Android 4.2 will bring Tablet Sharing and a new widget for the Play Store with 'Content in the center'.
Here's a look at what Android 4.2 offers in a bit more detail.
1. Photo Sphere

The Android 4.2 Camera app now lets you snap pictures in any direction vertically or horizontally, similar to Apple's panorama feature added in iOS 6. However, according to Google, the Street View-inspired panoramic view isn't restricted to vertical/ horizontal panoramas likes its iOS counterpart, but can generate 360 degree views.
Images can be stored as Jpeg files and all of the information required to view them is embedded as open XML metadata in the image itself. You can post them on Google+ or even share on Google Maps.
2. Gesture typing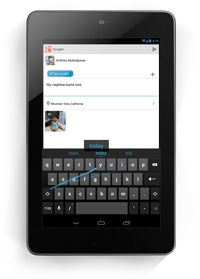 Android 4.2 now adds Swype-like functionality built-in to the Android keyboard. You can type messages faster by simply gliding your fingers across the letters without having to worry about spacing. The keyboard also comes with SwiftKey-like auto-prediction that anticipates the next word as you type. The OS also claims better voice-to-text capabilities. The native Android dictionary claims to offer more accurate and relevant performance.
3. Tablet Sharing/ Multiple users
Tablet Sharing is a tablet-only feature that will allow several users to use the same tablet, while keeping the personal settings (Home screen, background, widgets, apps and app data, games etc.) of each user intact on the shared device. Switching between users does not require logging out or in again. We expect this feature to be really popular, especially amongst families that share a tablet.
4.Wireless display or Miracast support
Android 4.2 brings support for wireless display which allows you to share or stream any content including movies and YouTube videos from your phone or tablet to an HDTV. All you need is a wireless display adapter that needs to be connected to any HDMI-enabled TV. You'll then be able to view mirror images of your device on a bigger screen. The feature resembles Apple's AirPlay that lets you wirelessly stream content between devices.
5. Improved Google Now
Google Now, a feature that was introduced with Android 4.1 displays information in a card-like view.With Android 4.2, Google Now adds more cards stating flight information, hotel confirmations, shipping details and restaurant reservations. It also brings information related to nearby attractions and movie show timings. As before, features available may vary depending upon your geographical location.
6. Daydream
This new feature lets your Android device display useful and delightful information when idle or docked. You can flaunt your photo albums, get the latest news from Google Currents and more.
7. Lock screen enhancements
Android 4.2 now adds support for widgets on the lock screen, a useful one being able to swipe directly into the camera, similar to what iOS offers.
8. Enhanced notifications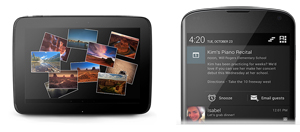 Access the notification shade by swiping down from the top of the screen to see all your notifications in one place including missed calls, reminders and more. Apart from just accessing them, you can also see expand them to view their details and choose options to accept or decline them.
Other new additions include the pinch-to-zoom in Gmail along with two-finger pan and zoom. You can also triple-tap to magnify the entire home screen and there is added speech output and gesture mode navigation for the visually impaired users.
Check out the 'Ask Me Anything' video that highlights some of the features of Google's recently launched Nexus devices.