Amazon India, the e-commerce website that has exclusive online retail rights to Micromax's Yu Yureka in the country, on Wednesday addressed a glitch that was part of the flash sale controversy. The glitch had briefly shown an increased price of Rs. 12,499 for some users, and had even charged some users the higher amount - the smartphone is priced at Rs. 8,999.
(Also see: No, Amazon and Micromax Yu Did Not Lie About Yureka Flash Sale)

The US-based firm has apologised on Twitter and said it is currently "working on addressing this issue for impacted customers."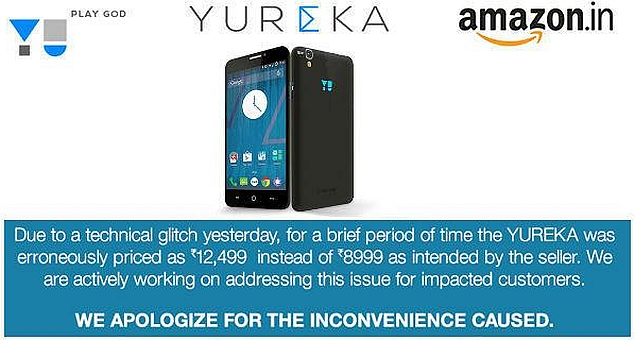 Micromax's Yu Yureka smartphone, which went on sale exclusively via Amazon India on Tuesday, was briefly seen listed at a price tag of Rs. 12,499 for some users, making them pay Rs. 3,500 more than what the seller originally intended. It is still not clear as what exactly went wrong with the website that led the price to shoot up.
(Also see: Micromax's Yu Yureka Review | Pictures)
The Cyanogen OS-based Micromax Yu Yureka went on sale for the first time on Tuesday and supposedly offered 10,000 units as a part of the flash sale. However, later it was reported (and denied by Micromax's Yu Televentures) that only 3,000 units were available, and even fewer were actually sold.
Micromax on December 24 last year announced the early closure of registrations due to "overwhelming response", claiming over 3 lakh registrations for the flash sale.
After the sale on Tuesday, it was announced that 10,000 units went out of stock in 3 seconds. The quick close of the sale also generated plenty of negative sentiment online with many prospective buyers turning to Twitter to vent after failing to get their hands on a unit.