While in May we heard about LG and Huawei working on two different Google Nexus handsets, which are expected by the end of this year, a new report now points to the alleged listing of the LG-made Nexus handset on AnTuTu benchmarks.
According to the AnTuTu 5.7.1 benchmark results, one of the models named "Google Nexus 5 2015 API 22-85530" received a score of 85530, which is the highest in any handset we have seen until now. The score is said to have come from the LG-made version of a new Google Nexus 5, reportedly called the Google Nexus 5 (2015).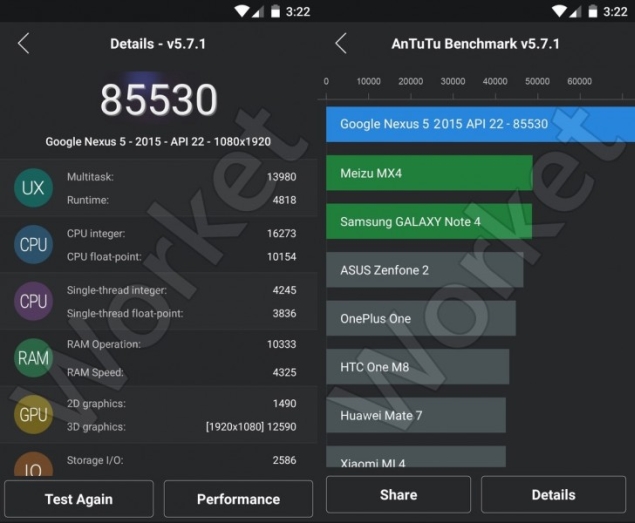 Interestingly, the scorecard image, which was first posted by Russian website Mobiletelefone, also shows the smartphone featuring a full-HD (1080x1920 pixels) resolution display. This however, is a downgrade form the current and the latest Nexus 6, which sports a QHD (1440x2560 pixels) resolution display. Also tipped here is that Google might stick with 5-inch display size and the 'Google Nexus 5 (2015)' moniker. Perhaps, the Huawei-made Nexus, which is said to be the bigger out of the two, might come with a better resolution on its larger display.
As per previous reports, the LG-made Nexus handset, also codenamed 'Bullhead', will sport a 5.2-inch display and a 2700mAh battery. The firm is also being tipped to include the hexa-core Snapdragon 808 SoC. Google has previously joined hands with LG for both Nexus 4 and Nexus 5.
As for the rumoured Huawei-made Nexus smartphone, said to be codenamed 'Angler', the phablet will reportedly feature a larger 5.7-inch display and might use Qualcomm Snapdragon 810 SoC. A 3500mAh battery is also being said to be included. A Huawei employee last month confirmed that the Chinese company is working with Google for the upcoming Nexus smartphone.
For the latest tech news and reviews, follow Gadgets 360 on Twitter, Facebook, and Google News. For the latest videos on gadgets and tech, subscribe to our YouTube channel.
Related Stories