Apple seems to have been unable to plug all of the holes in the increasingly 'leaky' supply chain of the company. The other day, we were treated with leaked images of the alleged iPhone 6's purported
internal components
, namely the flex cable for the Lightning and headphone assembly.
Following on the same lines, now the purported flex cables of the power and volume controls of the anticipated iPhone 6 have been leaked in images, alongside the flex cables for the SIM card tray. The new leaked images come courtesy the Taiwan-based Apple Club, first picked up by MacRumors, and show two sets of flex cables for the volume rocker and power controls. However, the report notes that it is hard to determine which of the two belong to the 4.7-inch iPhone 6 model or the 5.5-inch iPhone 6 model.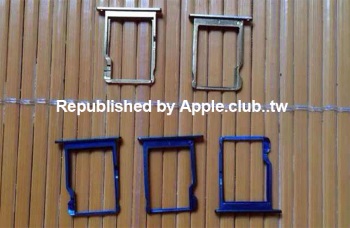 Apple is widely expected to compete in the large-screen smartphone segment with the launch of its next iPhone models, rumoured to come in two screen sizes - 4.7-inch and 5.5-inch.
The leaked flex cables are reportedly different from the ones found the iPhone 5s, iPad Air, and iPad mini. The Taiwanese site has also posted an image of a long flex cable (unspecified function), alongside an image showing five SIM card trays. Notably, the leaked SIM card trays, believed to be from the next iPhone models, are cobalt blue in colour (at least three out of the five leaked); tipping that Apple might introduce one of the two iPhone 6 rumoured models in Cobalt Blue variant. The Apple iPhone 5c, launched last year, comes in a Cobalt Blue colour.
On Thursday, a report claimed that Apple has planned a tentative keynote address in mid-September for the launch of the iPhone 6. The report, citing people briefed on the company's plans, suggested that the September event could see the long-rumoured 4.7-inch iPhone 6 release.
Recently, Apple's next iPhone device launch was tipped to launch on September 19 - leaked by a promotional flyer from China.
The final decision about whether to debut the alleged 5.5-inch iPhone 6 model, rumoured to be called the iPhone Air, has reportedly yet to be taken. We remind readers however, that nothing is official yet, and that all such leaks must be taken with a pinch of salt.