Apple's next iPhone is highly anticipated, and there has been no shortage of leaks about what is expected to be called the iPhone 6 in the
past few weeks
. The latest leak that comes from Taiwan, however, deals with something that has not been tipped until now about the next generation iPhone.
We have been treated with leaked images of alleged iPhone 6 internal parts, first posted by Taiwan-based Apple Club, which purportedly show the flex cable for the Lightning and headphone assembly, as well as a leaked image of the alleged iPhone 6 rear shell.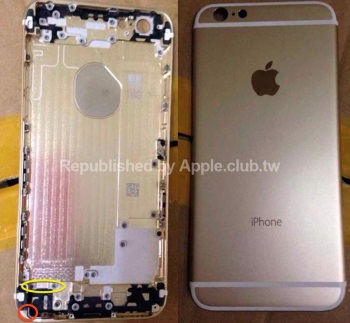 MacRumors citing the Taiwanese publication notes that the Lightning/ headphone flex cable sitting alongside the microphone assembly is similar in design to the iPhone 5s. However, the headphone jack is seen with dual screw holes at the top of the assembly, which is said to be different from the one seen in iPhone 5s.
The leaked image of the alleged iPhone 6 rear shell shows what has been corroborated based on previous leaks, that the internal parts will house various components of the device, such as the antenna. There are the usual cut-outs for rear camera with flash, and for the Apple logo branding in the middle - which are both in-line with a previous leaks.
Notably, the Apple logo branding seen on the alleged iPhone 6 rear shell is covered with a translucent plastic material that's meant to allow light to pass through, tipping once again that the Apple logo placed at the back panel might light up for notifications.
On Monday, a report indicated a September 19 launch date for the iPhone 6, alongside purported pricing of both the screen-size variants, which was thanks to a leaked promotional flyer from China.
We remind readers however, that nothing is official yet, and that all such leaks must be taken with a pinch of salt.
For the latest tech news and reviews, follow Gadgets 360 on Twitter, Facebook, and Google News. For the latest videos on gadgets and tech, subscribe to our YouTube channel.
Related Stories