As we expect the eventual unveiling of Apple's next generation iPhone models, the rumour mill is churning out rumours on a daily basis. A
report
on Thursday suggested a new September 15 launch day for the alleged 4.7 and 5.5-inch iPhone 6 models, while also claiming that the name of the larger 5.5-inch iPhone 6 variant will be iPhone Air.
New in the series of leaks is a video that claims to show the world how the new alleged iPhone 6 - 4.7 and 5.5-inch models' front glass panels looks.
The video, first spotted by Cult of Mac, also compares the front glass panels of the alleged 4.7-inch iPhone 6 model sporting thinner bezels to the current iPhone 5s with slightly broad bezels. In the video, the uploader is seen comparing the single hand experience on the iPhone 5s and the unannounced 4.7-inch iPhone 6.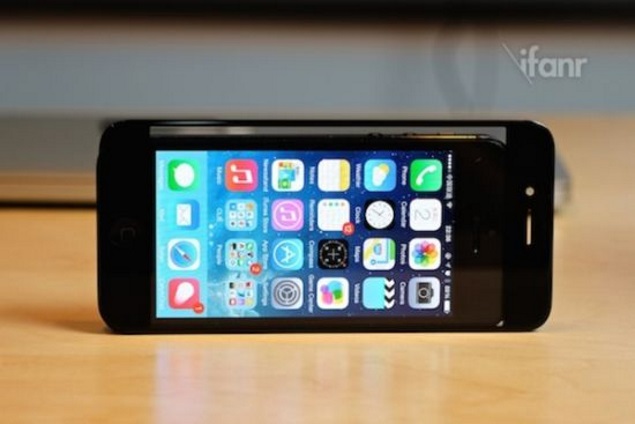 The purported leaked video of the alleged iPhone 6 models further corroborate what's has been widely expected based on earlier leaks, that the next iPhone handsets will come with curved edges.
In addition, new leaked images claimed to be taken from a Google Glass camera have surfaced online. The images, first reported by Phone Arena, show what seem to be blueprints or final drafts of the alleged iPhone 6 design. The purported images show the front panel; Apple Touch ID below the screen (as rumoured in previous leaks); Apple logo at the back panel, and circular camera opening accompanied by dual LED flash cut-outs on the rear. The report citing the person who obtained the images notes that the iPhone 6 models will sport a full-metal body.
Based on previous leaks, Apple is said to debut its next iPhone models in new storage variants. The alleged 5.5-inch iPhone 6 variant is likely to feature a 128GB storage variant, alongside 32GB and 64GB models, which will be reportedly company's attempt to differentiate the bigger iPhone model (phablet) from other phones in the company's line-up.
Several previous image leaks also corroborated what's has been widely expected based on earlier leaks, that the next iPhone will house the power button on the right panel of the device, instead on the top panel seen on current iPhone models.
An earlier report citing a research note from analyst Ming-Chi Kuo also suggested that the alleged 5.5-inch iPhone 6 would sport OIS (optical image stabilisation) for the rear camera. The report further claimed that the alleged 4.7-inch iPhone 6 will not come with OIS.
Another report suggested that the next iPhone might be able to measure temperature, air pressure, and altitude, with a new addition of a barometer sensor into the handset. The new sensor is said to be part of, and be powered by, the alleged iPhone 6's M8 motion co-processor that's expected to be a part of the A8 processor rumoured to debut on the alleged iPhone 6. The processor will allegedly be manufactured by TSMC and Samsung.