Apple's rumoured iPhone 6 handset's design and shape has been hinted at by a case maker in France, via some purported images.
The two case images indicate the smaller (4.7-inch) screen-size version is called the iPhone 6, and the larger phablet-style variant (5.5-inch) is called the iPhone 6S (or iPhone Air). The rumoured next iPhone from Apple has been speculated on multiple occasions to arrive in two screen-size variants, and recent reports have indicated that the 4.7-inch model will be showcased in August, while the larger, more difficult to manufacture 5.5-inch variant will be unveiled later.
Apart from the alleged names of the two screen-sized variants (iPhone 6 and 6s/ Air), the leak also hints at dimensions of the two handsets. The case for the alleged iPhone 6 (4.7-inch) is said to measure 138x67mm, while that of the iPhone 6s (5.5-inch) is said to measure 157x81mm. The dimensions for the iPhone 6s/ Air seem bit similar to that of the rather massive Nokia Lumia 1520 (Review), which measures 162.8x85.4mm.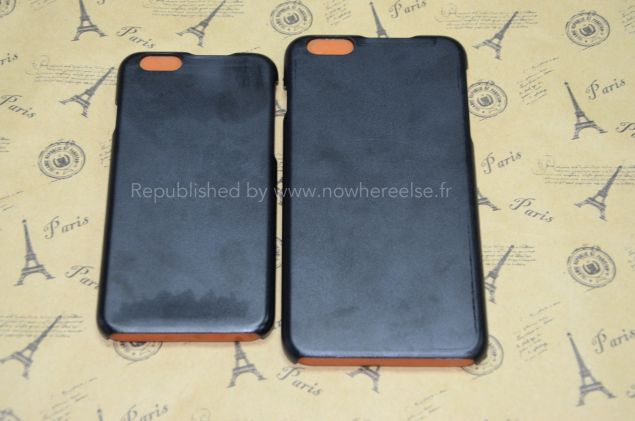 The images showcasing the cases of the alleged iPhone 6 and 6S/ Air, courtesy NowehereElse, indicate the two new iPhones will be around 7mm thick, which is thinner than the iPhone 5s (7.6mm). We remind readers however, that nothing is official yet, and that all such leaks must be taken with a pinch of salt.
On Tuesday, few more images showing the cover cases of the rumoured iPhone 6 handset were briefly shown on the Mobilefun UK website.
Unlike numerous previous purported iPhone 6 images and videos suggesting a slimmer iPod touch-like design, the Mobilefun UK cases indicate the next-generation iPhone will continue a design similar to the iPhone 5s (Review) and iPhone 5.
It is being also speculated that the larger screen-size variant may just turn out to be the next-generation iPod touch as both of them appear to be very similar in design. There are a number of theories surrounding the next iPhone 6 and its radical design.
These leaked images are far from confirmation of the design and hardware of the next-generation iPhone, but as with previous iterations, the leaks seem to get more accurate as the launch date (thought to be as early as August this time) gets closer.
For the latest tech news and reviews, follow Gadgets 360 on Twitter, Facebook, and Google News. For the latest videos on gadgets and tech, subscribe to our YouTube channel.
Related Stories