Apple's yet-to-be announced next iPhone, tipped as the iPhone 6, is once more in the news - this time with alleged iPhone 6 case images courtesy a case maker. Unlike numerous previous purported iPhone 6 images and videos suggesting a slimmer iPod touch-like design, the cases indicate the next-generation iPhone will continue a design similar to the iPhone 5s and iPhone 5.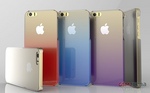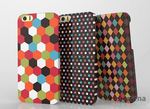 The colourful cover cases seen in the images show us the camera position and what look like new ellipsoidal side buttons (volume keys) placement on the upcoming iPhone 6. Till date, apart from the slim and broad curved corner design rumour for the iPhone 6, another major rumour that seems credible is that the new iPhone will arrive in two screen-size variants - 5.5-inch and 4.7-inch.
However, based on the three alleged iPhone 6 case images courtesy Mobilefun UK (via GSMArena), it is being speculated that out of two expected screen-size variants, the 5.5-inch display variant may just turn out to be the slimmer device we've seen so far (or it could be the next-generation iPod touch), while the smaller version 4.5-inch might retain the iPhone 5s styling.
In two recent leaked walkthrough videos on YouTube, we saw a new alleged slim iPhone 6 dummy sit beside the iPod touch, and the iPhone 5s.
In the video, both the alleged iPhone dummy and current-gen iPod touch look similar when it comes to back panels. The only difference one can make out is the camera position, which is placed on top right side on the Apple iPod touch, and on top left side on the iPhone 6. Even the side buttons, which are now seen to be ellipsoidal instead of circular, resemble those on the iPod touch.
In the other leaked video comparison of the alleged iPhone 6 dummy, this time with the iPhone 5s, a very similar slim-looking device was seen.
There are a number of theories running around the next iPhone 6 and its radical design. These leaks, images and videos are far from confirmation of the design and hardware of the next-generation iPhone, but as with previous iterations, the leaks seem to get more accurate as the launch date (thought to be as early as August this time) gets closer.
Affiliate links may be automatically generated - see our ethics statement for details.