Alcatel is one company that went all out at last month's CES where it announced not one, not two and not even 3, but a total of 13 Android devices, including the One Touch Idol Ultra flaunted as the "world's thinnest smartphone at just 6.45mm.
Now continuing it's previous streak, the Chinese company has announced 2 more additions to its popular One Touch series as the One Touch Idol X and the One Touch Scribe Easy.
The Alcatel One Touch Idol X is probably going to be the company's flagship device this year. It sports a 5-inch full-HD edge-to-edge display and runs on Android 4.2 Jelly Bean, that could be a first for a device with no Nexus branding.
Internally, the device is powered by a 1.2 GHz quad-core MediaTek MT6589 processor and 16GB of internal storage. It will feature a microSD slot and come with a 2,000mAh battery. This does some low for a high-end smartphone, but then again, the device is just 7.1mm thin.
The device is likely to miss LTE support and hence may shy away from LTE-capable carriers especially the US. The Idol X will come in a range of colours including Red, Green, Cyan, Magenta, Black and Yellow like Nokia and HTC's recent Windows Phone 8 devices.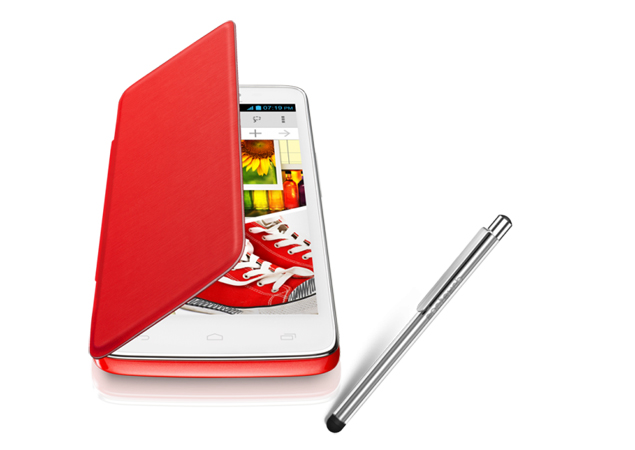 The company is also planning to release a dual-SIM version that will come in 16/32GB variants with no microSD card slot as opposed to the single-SIM version with 8GB of internal storage and microSD support. One of the versions will have an 8-megapixel camera depending on the launch region.
The second device is the One Touch Scribe Easy that has a 5-inch 480×800 touch display, Android 4.1.2, a 1.2 GHz dual-core processor, 512 MB RAM, 4GB of internal storage, a microSD card slot for expansion, a 5-megapixel camera and a stylus as well.
The Alcatel One Touch Scribe Easy features some 'dedicated creative apps' that put the stylus to good use. It also comes with a MagicFlip magnetic cover, that reserves a spot for the stylus and offers screen protection when the device is not being used.
The One Touch Scribe Easy will also come in multiple colours of Red, Blue or Yellow. The device is already available for sale in China under the TCL brand will reach Russia first in March, followed by other markets.
Alcatel also ventured into the Firefox OS domain with the One Touch Fire showcased recently at MWC. The device has a 3.5-inch screen and is an extremely low-end offering that will be sold almost exclusively in developing markets this summer.


MWC 2013 in pictures
Alcatel One Touch Idol X specifications
5-inch 1080p display
1.2 GHz quad-core MediaTek MT6589 processor
13-megapixel/8-megapixel rear camera (depending on launch regions)
Dual-SIM version with 16/32GB variants with no microSD
Single-SIM with 8GB internal storage and microSD support
2,000mAh battery
Android 4.2
Measures 7.1mm

Red, Green, Cyan, Magenta, Black and Yellow colours
One Touch Scribe Easy key specifications
5-inch 480×800 touch display
1.2 GHz dual-core processor
512 MB RAM
4GB of internal storage
5-megapixel rear camera
microSD card slot for expansion
MagicFlip magnetic cover and Stylus
Android 4.1.2
Red, Blue or Yellow colours