While it has been widely acknowledged a number of times that Android is a lot more susceptible to malware compared to iOS, the US Department of Homeland Security and the US Department of Justice have now jointly issued a cautionary internal memo that reveals that Android accounts for 79 percent of malware threats while only 0.7 percent of all malware is designed to affect iOS.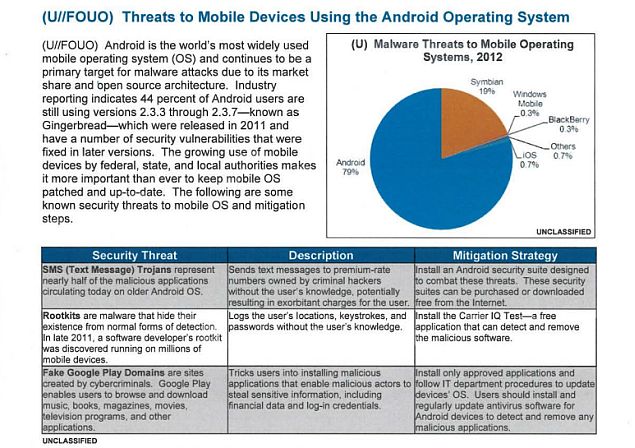 Not surprisingly, the memo (PDF) places Symbian at the second spot with a 19 percent malware threat count. BlackBerry and Windows Mobile were at the bottom with just 0.3 percent of malware threats affecting these, as per the memo.The memo is addressed to employees working with the government agencies, and mentions that "Android is the world's most widely used mobile operating system (OS) and continues to be a primary target for malware attacks due to its market share and open source architecture."
It also enlists the security threats, complete with their descriptions and mitigation strategy. The memo mentions SMS Trojans as one of the major threats representing nearly half of all malicious applications circulating on older versions of Android. It also recommends that an Android security suite should be installed to fight the threat.
The report lists Rootkits, which are hidden software that can make system level changes, as another source for malware, warning that these can log the user's locations, keystrokes, and passwords without the user's knowledge. It says that users should install Carrier IQ Test to detect and remove these.
The report also lists fake Google Play domains that trick users into installing malware to steal sensitive information including financial data and log-in credentials. It advises users to install only approved apps and follow the IT department's procedures to updated their device's OS. It also recommends keeping the device's Antivirus software updated.
For the latest tech news and reviews, follow Gadgets 360 on Twitter, Facebook, and Google News. For the latest videos on gadgets and tech, subscribe to our YouTube channel.
Related Stories