Google's Motorola has
unveiled Moto X
the first smartphone that's been developed with close collaboration with the Internet giant. While it doesn't really boast of high-end specifications, the much-hyped smartphone offers a few of differentiating features. Here's a look at 5 of the major ones. (
Also see:
Moto X review
)
1. Touch-less control
First seen in Google Glass and then in voice search on Chrome, the feature lets users control the phone with simple voice commands prefixed with "Okay, Google Now." This also lets users access Google Now, Google's voice-based assistant that fetches information and performs tasks like fixing appointments, setting up alarms, and doing currency conversions. The interesting bit is that you don't need to touch the phone or take it out of your pocket. If enabled, it always actively listens to the user and follows commands.
2. Active Display
Motorola has put an AMOLED screen on the
Moto X
, and these displays can be used to selectively display information without affecting the device's battery life. First seen in some Nokia phones, the display offers notifications for messages, calls and other events and the current time, without having to unlock the phone.
3. Quick Capture
The Moto X phone features a shake gesture that directly opens the phone's camera app. You need to shake the phone twice to turn on the camera to capture something spontaneously. You can then simply touch the screen to take a photo, similar to the Windows Phone camera app. One can also touch and hold to take multiple pictures quickly.

4. Authentication through wireless devices
You can also set the phone to authenticate when a trusted Bluetooth device is connected or if the phone is near a paired device such as a computer or a Bluetooth headset. This eliminates the need to unlock the phone every time. For example, if your Bluetooth-enabled laptop or speaker is around, your phone will know it's in a 'trusted' environment, and eliminate the need to manually unlock the phone.
5. Customisability
You can customise the body of the phone and choose from 18 back covers, different colour accents for the ring around the camera lens, accents around the volume and on-off buttons and get a personal message etched at the back of the phone. However, the customisation feature is limited to US carrier AT&T.
One note for our readers outside US, Canada and Latin America - if you are waiting to get your hands on the Moto X, you'll be disappointed as Motorola has decided to sell the phone in only the aforementioned regions.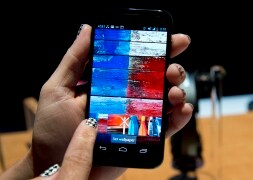 Google's Moto X in pictures