We know that BlackBerry rules the kingdom of the worst secrets ever kept within tech circles courtesy, the innumerous leaks on the upcoming BlackBerry 10 devices that started arriving in
September
last year.
Now
BGR
has offered a detailed walkthrough of what they call "the final gold master version" of the latest BlackBerry OS running on a BlackBerry Z10 device. Until now, we have seen the the
BlackBerry X10
and
Z10
devices in various picture and video leaks. But this is the first time we're getting a closer look at the new BB10 OS.
The screenshots reveal everything from the initial startup of the device including the software update checks and a tutorial to the user interface and various apps and settings featured in the OS.
The BB10 homescreen retains classic BlackBerry design elements of BBM, Browser and BlackBerry World icons. So BlackBerry users will feel right at home. Blackberry World will now offer music and movie downloads in addition to apps.
One of the screenshots shows deep social networking integration with apps like Facebook, Twitter, LinkedIn and Foursquare placed on the homescreen. Apart from this, the OS will also bring a new to-do feature called Remember.
One of the posted screenshots also depicts Evernote Notebook under the Folders section highlighting the possibility of Evernote integration within BlackBerry's Docs to Go app. It seems like the company has spent a lot of time in paying attention to detail with regards to settings for various apps and programs.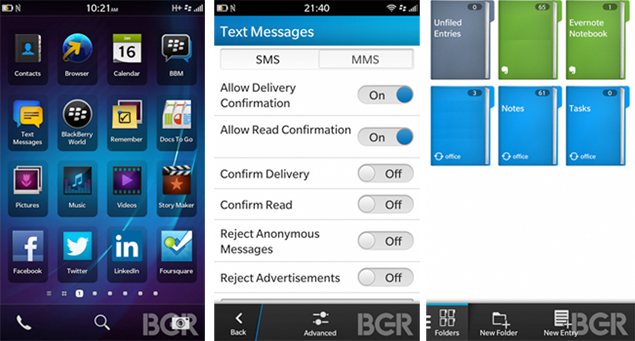 One can clearly see an example in the Messages, Keyboard and type settings. Under the Text Messages section, users can block incoming texts from unknown senders those containing commercial content such as advertisements.
On-screen keyboard settings offer options like Keypress Pop Up, Voice Input key, choosing Dictation language and also Show Animation that allows words to fly to the text area when selected. Delving further into type settings one can use options like Spell Check and Automated Assistance that go deeper into a range of additional off/on settings.
The BB10 OS apparently also comes with extensive NFC integration which includes creating, locking and erasing NFC tags. Users will be able to create tags via web, phone, email, SMS or simply plain text content.
For the Maps app, the company seems to be using Telecommunication Services Inc. as its maps provider. TCS purchased Networks In Motion in 2009 and acquired its commercial GPS solution that is available across platforms. From the looks of it, the Maps app for BB10 will be providing free turn-by-turn navigation in addition to a full-featured Maps app independent of Google or Bing search.
The OS also features a Siri-like voice assistant as showcased on the BlackBerry Z10 in another separate video and it is pitted against Apple's iPhone 5. The microphone icon and the appearance of text bears uncanny resemblance to Apple's Siri. It also features multiple language support, which seems pretty impressive coming from RIM. Other voice assistant features include the standard SMS, email, search, BBM, schedule, note etc.
As we approach the end of the video, the narrator is found comparing the BB10 Twitter app to the official iOS version and they are quite identical. Indeed, it would seem that Twitter and Facebook have deviated little from their traditional mobile design languages.
The video titled 'BlackBerry Z10 versus iPhone 5', was posted by Telekom Presse, the same Russian site that earlier did another
hands-on video with the BlackBerry Z10 device
.
We know that RIM is hosting an event in new York on January 30 where it is expected to launch the BlackBerry Z10 and X10 devices. Additionally, BGR also reports that the company is planning to launch the Z10 below $199. So users can probably expect it at $149 or below with two year agreement.
In case you're curious to know what the BB10 OS looks like,
head over to our gallery
where we've shortlisted some images that will help you get a closer look.


BB10 leaked screenshots