Apple unveiled the much awaited update to its iOS mobile operating system, iOS 7, on Monday at the WWDC 2013. In Apple's words this is "the most significant iOS update since the original iPhone." Not only does the next iteration of the OS bring a completely overhauled user interface design, it also adds many missing features that were being offered by rival mobile platforms. Here's a look at the 10 most significant new features of iOS 7.

1. Notification centre
Apple has updated the Notification Center with a new translucent background replacing the linen like texture. It's now divided into three tabs- today, all and missed. While the today tab summarises your events, appointments, weather and traffic, missed gives a log of all alerts and notifications from apps.The 'all' tab includes all notifications. The Notification Center can be accessed by simply swiping down from the top from your home screen or even lock screen.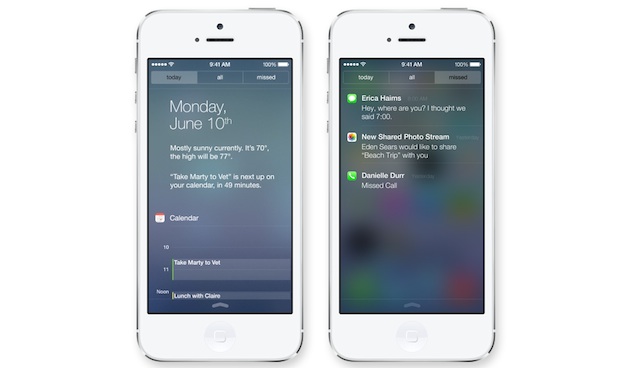 2. Control Center
A lot of users have been complaining about the lack of a central destination that gives them access to the most used settings. Apple addresses that problem with Control Center which can be brought into view by swiping up from the home screen or lock screen.
You'd see controls for turning on or off Airplane mode, Wi-Fi, Bluetooth, Do Not Disturb and screen orientation settings. You'd also be able to adjust the screen brightness, play, pause, or skip a song, connect to AirPlay-enabled devices or turn on new Airdrop file transfer feature tom the Control Center. Apple's also put handy shortcuts for flashlight, timer, calculator, and camera.
3. Multitasking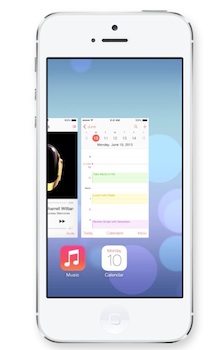 Apple used to offer multitasking for select apps so it was more about switching between recently used apps than accessing a apps simultaneously. With iOS 7 Apple allows all apps to multitask and run in the background.
It has also majorly overhauled the front end or the multitasking interface visible to the users. Pressing the Home button twice now brings up the preview screens of the apps you have open on your phone rather than their icons at the bottom of the screen. To quit an app, you just need to swipe it up and out of preview. We've seen this before on webOS, PlayBook OS and even on some HTC Android phones but it's a nifty way to handle multitasking. Multitasking is also intelligent as it adapts to your pattern of accessing apps, refreshing content at the same time interval.
4. AirDrop
Those who use the Mac know that AirDrop is used for transferring files between two computers on the same network. The same feature now comes to the iPhone. AirDrop lets you quickly share photos, videos, contacts -- and anything else from any app on your phone with a Share button. You can just tap Share, then select the person (another iOS user) you want to share with. AirDrop offers transfers using Wi-Fi and Bluetooth and you don't need any additional setup. Transfers are encrypted, so they're secure. All content saved after the transfer is accessible from its respective app. It's worth pointing out that AirDrop is available on iPhone 5, iPad (4th generation), iPad mini, and iPod touch (5th generation) and requires an iCloud account.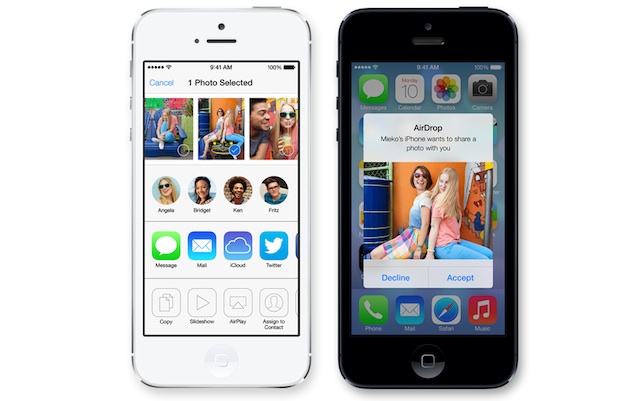 5. New Camera app
The iOS 7 camera app offers a new way to switch between camera modes and includes a new 'square' mode. You can switch between all the modes - still, video, pano (Panorama), and square by simply swiping across the screen. The app also brings filters to apply effects to your photos before or after you shoot them in still and square modes. It's worth pointing out that filters in Camera are available on iPhone 5 and iPod touch (5th generation), while filters in Photos are available on iPhone 4 or later, iPad (3rd generation or later), iPad mini, and iPod touch (5th generation).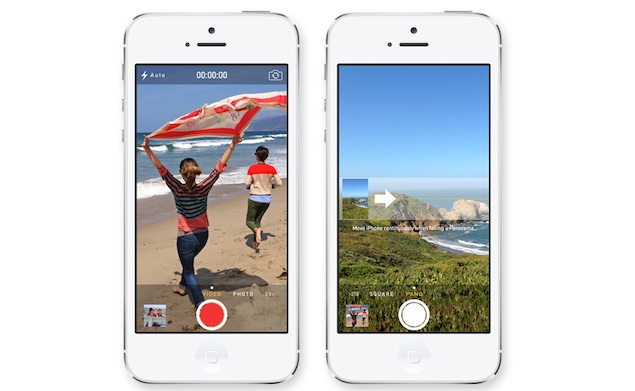 6. Updated Safari web browser
Safari has also been overhauled to offer a distraction-free richer browsing experience as buttons and bars stay hidden until you scroll. You can go back and forward using swipe gestures. It now offers a unified search plus URL box, a new tab view that's not restricted to just 8 tabs and a Shared links menu along with the Reading List that lets you access the links shared by people you follow on Twitter from within the browser. It also remembers your password, user names and credit card numbers through the new iCloud Keychain. Safari can enter them automatically whenever you need to sign in to a site across iOS 7 and the new OS X Mavericks desktop OS. It comes with 256-bit AES encryption, for security.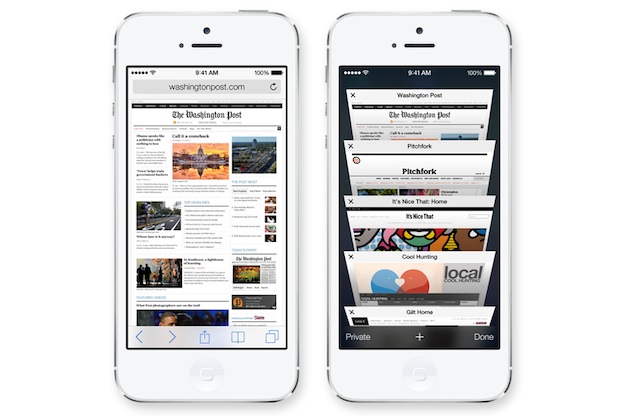 7. New Photos app
The updated Photos app offers a new way to browse photos through Collections, Moments, and Years, that smartly group of your photos and videos based on the time and place. You can tap Years to see photos taken in that year. Each year holds Collections, based on different events such as trips or commencements. And in the Collection view, there are distinct Moments according to the exact location. It also includes iClod Photo Sharing through which you can share your favorite moments with people by creating a shared photo stream. They can post photos, videos, and comments to your stream, and everything appears on everyone's iOS devices in the Shared tab.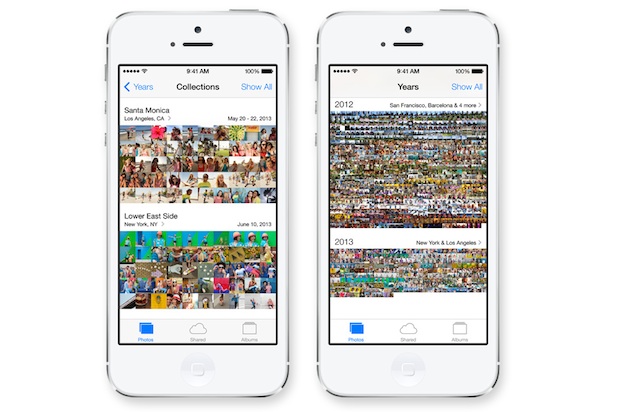 8. Updated App Store
The new app store not only offers a new clean user interface, it also lists apps relevant to your location. For instance if you're in a new city, it will offer apps that you might find helpful like guides, maps and others. It also offers a new Kids category. But the best feature has to be automatic updates that keeps your apps up to date without your intervention or you seeing the updates badge.
9. New Siri and Siri Eyes Free
The Siri voice assistant sports a new look and new features in iOS 7. The voice behind Siri has been updated to offer a more natural speech pattern -- in a new female or male voice. Siri now has access to more sources, including Bing, Wikipedia, and Twitter. It also performs new tasks like controlling apps and phone settings. Siri is also at the centre of iOS in the Car that lets users make calls, control music and check mails and messages while driving. It will be introduced in select cars in 2014.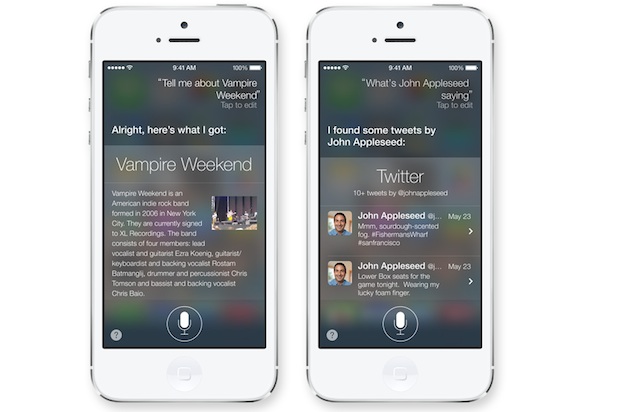 10. Activation lock
New security features in iOS 7 will make selling or using your stolen device more difficult. Turning off 'Find My iPhone' or resetting the device requires your Apple ID and password. You are also required to enter your Apple ID and password to reactivate the device.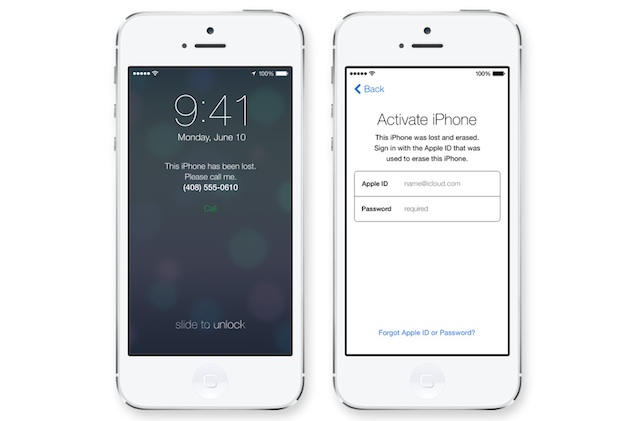 Bonus
New user interface, icons and overhauled native apps - In addition to to the above features, iOS 7 brings in a new design philosophy. iOS 7 features a new Parallax Motion effect on the home screen, so the background wallpaper shifts when you look at the phone from different angles using the phone's accelerometer bringing depth to the interface. The new Weather app features animations to depict the weather conditions. Folders offer multiple pages letting you group more apps. The new Mail app offers swipe gestures to organise your mail.
Also see
:
First look at iOS 7 (screenshots)
Apple has also introduced iTunes Radio which is integrated with the Music app and features streaming radio stations, It allows you to buy music that you hear on the free music streaming service, track your listening history and create new radio stations. It's only available in the US at this point in time.
iOS 7 will also bring FaceTime audio to make high quality voice calls using the Internet. It will also offer Per App VPN allowing users to hook on to a remote network for individual apps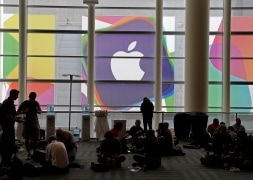 iOS 7 and other Apple launches in pics