Microsoft last night took the wraps off a number of ambitious products and feature updates centred around its Windows operating system. The company also exhibited and showed demonstrations of new hardware, apps and Web services that will all tie in to what it hopes will be a huge ecosystem touching people's lives at home, at work and on the move.
Windows on phones will not be treated as a separate operating system, but as Windows itself, just on smaller screens with touch-based input prioritised.
Windows 10 on smartphones, desktops, and everything in between will pivot users into treating Windows as just another Web service, with frequent updates and subscription-based payments.
Here are the most important things to know about
Microsoft's
announcements relating to Windows 10 on smartphones, and what we have to look forward to over the next year or so.


It will be free for Windows Phone 8.1 users, and there will be free updates
In order to encourage desktop users to stop clinging to their familiar Windows 7 interface, Microsoft will offer free Windows 10 upgrades for one year after it launches. Windows 8 and 8.1 users are also included, as are Windows Phone 8 and 8.1. Microsoft hopes that eventually, version numbers will go away altogether as pieces of the OS are updated as and when necessary. It's important for Microsoft to get everyone onto the latest platform, regardless of device type, so that it can concentrate on delivering coherent experiences (and probably also charge subscriptions for them). Windows Phone 7 early adopters are once again left out.

Experiences will flow between PCs and mobile devices
Interface elements will be
consistent between device classes
, such as the Action Centre which will work the same way and will have synced notifications. The desktop even inherits quick settings toggles, to keep things familiar.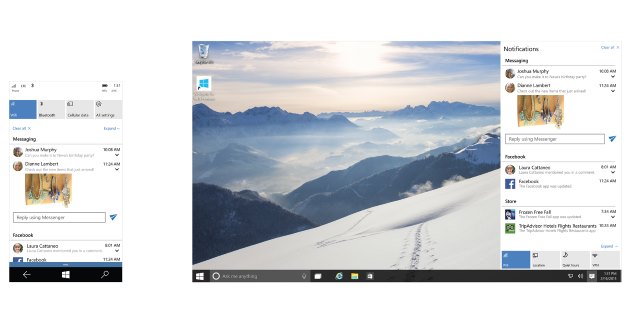 There will be lots of new apps, including Microsoft Office

Phones and small-screen devices will have free copies of the Office apps installed. These will be new universal apps designed for a common Windows foundation across device types and sizes, making life easier for developers who might not have supported the platform before now. Documents will be synced across devices using OneDrive, and mobile users will have rich functions and experiences equivalent to desktop users. There will also be touch-friendly controls suitable for finger and stylus inputs. Outlook will support touch gestures and work much like mail clients do on phones today.
Microsoft also talked about other apps, including a new Photos app that will keep photos synced across devices and automatically make corrections such as red-eye reduction. The built-in Maps, People, Messaging, Music and Videos apps will also get cloud-centric overhauls, so for example, people who store all their music in the cloud will be able to create and sync playlists across devices.
There will be UI tweaks
Users will finally be able to set an image as a wallpaper. Windows Phone 8.1's inverted backgrounds were pretty cool, but a lot of people still wanted regular wallpapers. Recently installed apps also find a new priority space on top of the app drawer.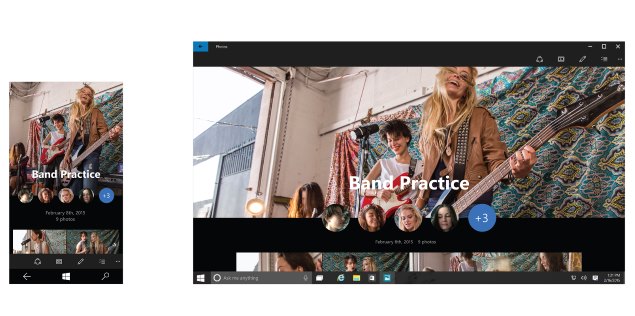 There will be new hardware
It was highly unlikely that Microsoft would let several months pass without new hardware introductions, but just to be clear, there will be at least one new flagship-level smartphone at the time of the formal Windows 10 launch. Staffers used an ageing Nokia Lumia 1520 on stage, so the experiences Microsoft would most like to show off are probably best suited for bigger phone screens. Expect a class-leading new phablet towards the end of this year.

Cortana gains new powers
Microsoft's answer to Siri will have an expanded role across smartphones and desktops. In Microsoft's demonstrations,
Cortana
appeared to have a more developed sense of humour and a personality. More interestingly, Cortana will learn about a user's personal preferences and schedules, so it can save you time when checking flight details, restaurant menus, and more.


Skype and OneDrive will be everywhere
Microsoft will be using its in-house Skype and OneDrive properties to power a lot of the Windows 10 ecosystem. Messaging will be tied in to Skype on the desktop and on mobile, and Windows 10 will automatically try to route SMS and other messages through its own network.
OneDrive will power syncing and file storage. Specifics such as pricing tiers have not been announced, but users will most likely need more than the default free allocation.