The
Samsung Galaxy S5
is a powerful new phone with a clutch of new features that weren't there in its predecessor, and while many of these new features (like the fingerprint sensor) seem inspired by the competition, there are also features unique to the device such as a heartbeat monitor. All this combined sounds like a perfectly reasonable advancement in smartphones, and looking back at the excitement around the launch of the
Samsung Galaxy S4
, or even the more recent launch of the
Apple iPhone 5s
, this sounds like it should be enough to keep people excited and talking about the device.
On the contrary though, the level of buzz around the phone before its launch could be described as tepid. Nokia's collection of low-end Android phones generated much more excitement instead. And the reaction to the phone, after it launched, could be summed up with the phrase, "that's nice."
(Also see: Samsung Galaxy S5: 10 big new features)
Bloggers around the world reacted with lightning speed, and wasted no time in trotting out phrases that belong in a marketing seminar, and not an article meant for actual readers. While Samsung's decision to make a phone that looks like a Band-Aid (have you seen the Copper Gold variant?) was questionable, the overuse of the words "innovate", "disrupt" and (worst of all) "fast follow", is the real assault on the public's sensibilities.
Samsung's put a smorgasbord of features on its latest flagship - a glance at the settings window in the video made it look like there are around 20 or so "smart" features that most of us will turn off after one week. This kind of feature creep is a common problem as products get older, and it's clear that there is a need to refine the interface, but while people might complain about Samsung not doing enough that is different, the fact remains that in terms of features at least, it's not possible to mix up the Galaxy S5 and the Galaxy S4. And while the HTC One was very different from its predecessors, HTC is struggling to sell its phone.
(Also see: Samsung Galaxy S5 vs. Samsung Galaxy S4)
The S5 does fall short
At the end of the day though Samsung is not doing enough to improve its reputation. Its reputation for blatantly copying ideas is not entirely deserved, but by focusing on features like a fingerprint scanner, selective camera focus and a waterproof design (which different competitors already do) or flooding the screen with features that most people will end up switching off, does reinforce the notion that the company is short on ideas.
Making things worse for Samsung is the steady levelling off-in terms of hardware. Much like the PC industry, smartphones are also moving towards a state of equilibrium in terms of hardware. This wasn't apparent at first, with the madly fast pace at which the hardware advanced, but today we are closer than ever to reaching a plateau. That means that you start to see comments where people say "only 2GB of RAM = #FAIL". At this point, we'd like to introduce you to our Windows laptop, which has 2GB of RAM. It also has a slower processor and a more resource intensive OS running on it.
(Also see: Samsung Galaxy S5 specifications)
A more valid concern is that the 16GB variant of the S5 is giving users 8GB (approximately) of usable data. This is a problem that is becoming all too common across Android devices - the box doesn't really give consumers a clue about what you're getting. Another concern some people have raised is with the exterior design of the device. Most people on Twitter seem to hate the S5's design, though of course, most people on Twitter seem to hate everything.
Yesterday was also Steve Jobs' birthday, and Apple CEO Tim Cook tweeted, "Remembering Steve on his birthday: Details matter, it's worth waiting to get it right." Samsung has done a great job in getting a lot of very interesting features to us. But Apple wins the attention by taking their time, and getting it right.
(Also see: Samsung Galaxy S5 price not revealed, gets an April 11 release date)
The Galaxy and the Note
But there's another facet to this discussion that people might not be taking into consideration. Smartphones are getting bigger and bigger, and the distinction between the smartphone and phablet categories is academic today. In such a scenario, the Note family of devices from Samsung seems poised to take over the flagship mantle from the S series of Galaxy smartphones.
Last year, there was still big size difference between the Galaxy S4 and the Samsung Galaxy Note 3. But while the S5's competitors are closer to 5.5-inches, the S5 remains relatively small at 5.1-inches. It's starting to seem like a workhorse device and not an Android flagship. Meanwhile, the Note 3 is already closely associated with the company's smartwatches, and is emerging as the premium brand alongside the Galaxy brand that also includes a vast array of budget smartphones.
(Also see: Samsung Galaxy S5 vs. Samsung Galaxy note 3)
In markets like Asia, the budget phones make the bulk of sales, and are defining the Galaxy brand in a way which is not fully compatible with the aspirational goal of devices like the S5 - that's where the Note family comes in, and Samsung deserves praise for the way they have steadily raised the profile of the sub-brand. In all this though, it is perhaps not a surprise that the S5 lost some buzz.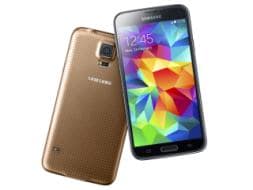 Samsung Galaxy S5 in pictures