Are you trying to decide which top-end smartphone to buy? It won't be an easy choice. The market has undergone its yearly refresh cycle and it's time to profile each brand's new offering. Top-end smartphones now cost anywhere between Rs. 45,000 and Rs. 50,000 so it's important to know everything there is to know about each option before making that purchase.
Three new contenders now vie for a place in your pocket and a share of your paycheque - Samsung started it off with the Galaxy S5 (Review | Pictures), HTC came in a bit later with the One (M8) (Review | Pictures), and Sony has only just entered the fray with the Xperia Z2 (Review | Pictures). Of course, they're in the same league as Apple's iPhone 5s (Pictures), which is now over six months old.
Here's a quick look at each of the three new Android flagships, and a comparison of the features that should be most important to you.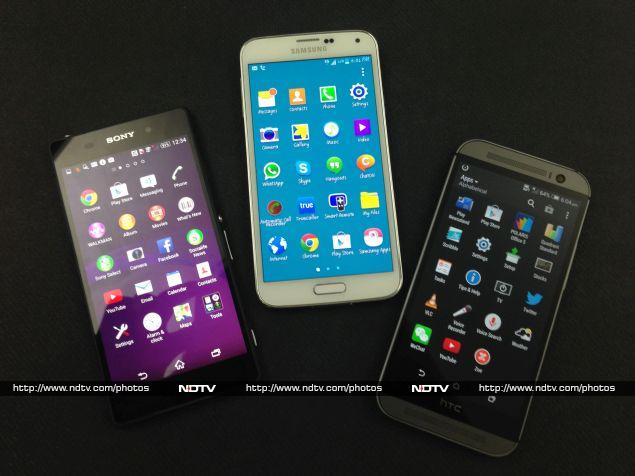 Look and feel
Samsung's approach hasn't changed much over the years, and the Galaxy S5's biggest problem might be that it just doesn't feel like it's totally new. Compared to its predecessors, the body is still plastic, although with a different texture.
Sony's Xperia Z2 also looks very much like last year's Z1, but the look is still fresh and the metal and glass body feels very strong - perhaps Sony isn't as much a victim of its own popularity as Samsung. The Z2 looks slick and subtle, with just a tiny bit of an accent around its edges.
HTC has gone for an all-metal body on the One (M8) which definitely feels more premium than the S5's plastic but isn't quite as understated as Sony's approach. The brushed metal finish stands out, especially when compared to the original HTC One.
The M8 is the curviest of the three and fits well in a palm despite the phone's ungainly proportions. The Z2 is the exact opposite; a solid rectangular block that's not always the most comfortable in a hand or a pocket. The S5 fits somewhere between them, and the only upside of its plastic body is that it doesn't get as hot or cold as the other two can.
The M8 has the most unique look, thanks to the large secondary camera on its rear. The S5 has a heart rate sensor, but it's disguised next to the camera flash. The Z2 doesn't have any externally visible new features. In fact the Z2's entire identity is about understated class - little things that might make a device feel premium - and it works very well.
Both the S5 and Z2 are waterproof and dustproof up to a point, but the M8 doesn't have any such protection. If you aren't concerned about exposure to the elements you might find the M8 more convenient, since the other two require fidgety flaps over their ports and slots. The Z2 has a magnetic dock connector for a more convenient charger, but on the other hand, the S5 is the only one with a removable rear panel and swappable battery.
Specifications
All three phones have roughly the same characteristics, but with slight differences. The M8 has the smallest screen (relatively) at 5 inches, followed by the S5 at 5.1 and the Z2 at 5.2. The difference is negligible, but Samsung's use of off-screen physical and capacitive buttons means there's bit more room for content most of the time.
The Z2 and M8 use the same quad-core Qualcomm Snapdragon 801 processor, though HTC's implementation is clocked a tiny bit higher at 2.5GHz rather than 2.3GHz. Samsung, on the other hand, goes with an in-house octa-core Exynos 5420 processor with four high-powered cores and four low-powered ones. The end result is comparable to the Snapdragon 801 in most cases.
Sony edges out the other two in terms of RAM, with 3GB instead of the standard 2GB. This should make multitasking easier, even with loads of browser tabs and heavy apps, especially a year or two down the line.
All three phones have 16GB of built-in storage space and thankfully, all three support microSDXC cards up to 128GB in capacity. They also all run Android 4.4.2 but each has its own custom UI overlay which adds different features and useful little shortcuts.
The M8 is the only one of the three that we know will support Indian LTE bands, though only after a promised software update. Neither Sony nor Samsung has made any indication that LTE support might come to their offerings in the future.

Software
It shouldn't be much of a surprise that the three brands use software to differentiate themselves the most. Internal hardware is homogenized but Android phone makers have nearly free reign when it comes to software. Typically, Samsung has thrown a thousand possible features into its device, while Sony has prioritised a slick look and HTC has taken a utilitarian approach.
Samsung's UI is bright and colourful, and there are hundreds of little features to discover at every turn. In fact the number of things to figure out can be quite overwhelming, and we're sure many users will never uncover a fair number of them unless they know exactly what they're looking for. It's excessive and confusing, but can make you feel like you're getting a lot for your money. The S-Health app is a fairly major addition, though you'll need an expensive accessory to get the most out of it.
HTC, quite the opposite, has pared it down to mostly the essentials. The lack of colour and activity almost makes the M8's software feel almost dull. There isn't anywhere near as much flair as Samsung's UI has, although one thing that both have in common is a magazine-style news and social stream that lives to the left of the primary home screen.
Sony offers what might be the best of both worlds - deep customisation and a lively interface, but with flair that can (and should) be turned off. The main problem here is the amount of preloaded Sony promotional material - apps, games, music and video are all derived from Sony properties, and multiple widgets, bordering on advertisements, are right on your home screen.
Camera
HTC stands out from all its competition by refusing to get caught up in the megapixel race, and instead stressing on sensor size and quality. The marketing term "Ultrapixel" was created to divert attention away from the low megapixel count - at 4 megapixels, the One (M8) would hardly seem competitive with today's mid-range offerings, let alone the high end. Still, there's lots to be said about the improved capacity of HTC's sensors to pick up light along with the innovative second camera which only senses depth and perspective.
For the sake of comparison, Samsung and Sony have outfitted their contenders with 16- and 21-megapixel cameras respectively. When tested side by side on the same subjects and light conditions, the three devices produced very different photos. When fully zoomed in, photos taken with the M8 were definitely not as clear as the ones taken with the other two phones. Details such as text on printed pages that were out of the M8's depth could be seen just fine on photos taken with the other two. In many cases, the decision to stick with a lower pixel count just doesn't pay off.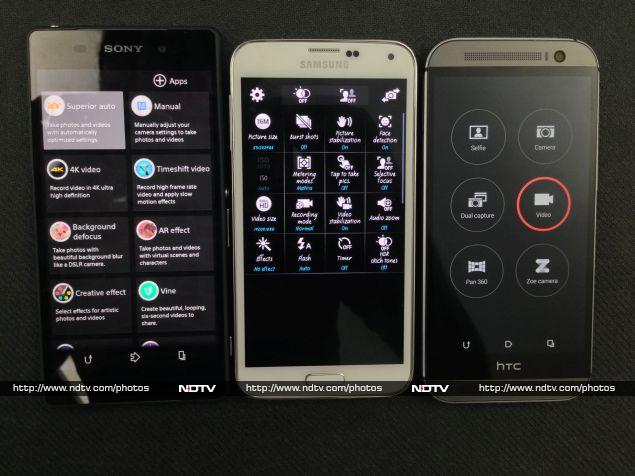 Samsung's tendency to exaggerate colours carries over to its camera. Photos look quite vivid, but not always lifelike. Sony's were the most balanced, but that comes at the cost of looking dull next to the competition. The One (M8) also had some trouble in scenes with both bright lights and shadows, which the other two managed well enough.
HTC's main advantage is in software. Thanks to data captured by the second sensor, you can apply some very neat depth effects to photos, cut people out from one scene and paste them into another, and create selectively refocus images after they've been shot.
When it comes to video, the M8 stands out again as the only one which can't record at 4K. Even though there are hardly any screens capable of playing 4K video natively, it's easy to see that there's way more detail in the video shot by the Galaxy S5 and Xperia Z2.
Performance
Each of the three phones managed to do well in some tests and lost out in others. The S5's main advantage is its ability to address all eight cores at once, leading to impressive gains in CPU-stressing benchmarks such as SunSpider and Mozilla Kraken. However, it lost out in graphics-intensive tests, thanks to Qualcomm's better integrated graphics implementation.
The One (M8)'s faster clock speeds gave it an advantage in some tests, but the exact effect of HTC's benchmark-friendly optimisations aren't known. Sony's decision to go with 3GB of RAM didn't have much impact on benchmark scores.
Samsung and Sony's offerings lasted almost exactly as long in our battery life test, both beating HTC's contender by just over an hour and a half. HTC's BoomSound speaker design was impressive, and we loved watching movie clips on this phone. Sony also designed twin front-firing speakers into the Z2, but these weren't as impressive.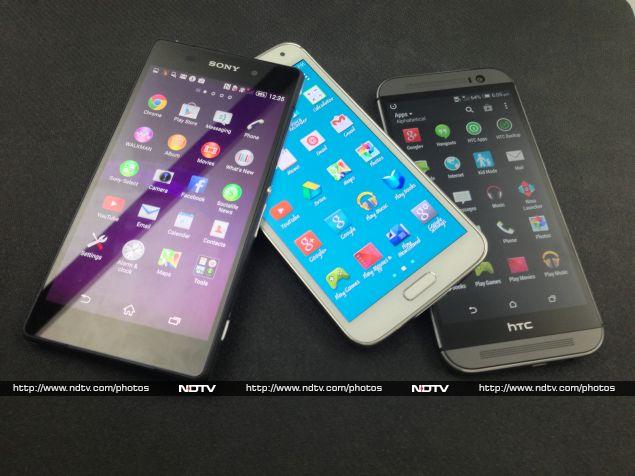 Verdict
All three of these smartphones, which are their respective manufacturers' current flagships, are extremely similar, yet have their own identities. Unfortunately, there are no easy variations such as physical size by which to decide. The one you choose will depend largely on your personal style.
The HTC One (M8) stands out from the other two largely due to its unconventional camera. If you like the tricks and effects, and will only ever share photos via Facebook or Instagram, you'll be very happy with the results. If you need larger format photos, this is the one to avoid.
If you like having a lot of features to explore and options to fiddle with, the Samsung Galaxy S5 will make you quite happy. It has a selection of unique accessories and a slight edge in performance too. Despite the plastic body, it's definitely recognisable and well known.
The Sony Xperia Z2 feels like a more balanced and understated combination of the other two - this is the kind of phone that you'll appreciate even if no one around you realises how premium it is. It's great for videos and music, and the camera is leagues ahead of most other phone cameras.