"We, the General trade dealers are writing you this mail in sheer distress," reads the opening line of an email sent last month by the Delhi Mobile Association (DMA) to Samsung executives in India. The email - a copy of which was seen by NDTV Gadgets - talks about the "very rough time" that offline retailers are going through in India, and concludes with words that sound very much like a warning: "We have reached at a juncture where we are forced to take necessary steps to safeguard the interest of general dealers."
The fact that online discounts and sales have come to dictate pricing in India is widely known. While customers benefit from reduced pricing and increased convenience, the extent of the impact that online retailers like Flipkart and Amazon are having on the day-to-day operations of brick-and-mortar stores is something very few have paused to think about.
The conflict between the offline retailers and their online counterparts has really come to a head, and for the traders at least, the situation has started to look desperate. Their continued survival could depend on the brands' support at this stage - but not every brand is giving that.
Another email accessed by NDTV Gadgets urged retailers across India to individually email representatives from "Samsung, Apple, Sony, LG, HTC & Micromax to issue advisory against online [retailers]" and "control pricing to take action on dealers & distributors" who are supplying stocks to online market places.
However, the retailers' pleas seem to have brought about little response so far.
"We formed our union now, and we were talking about a ban," says Sanjay Sahani, President (South) of the DMA, adding, "but we decided not to take that step right now. We have talked to Samsung and Apple, and asked them to reduce the number of units being made available to online sellers, which will also help bring fair play."
Most of the retailers we spoke to said they are being pushed against a wall by the changing scenario.
One such trader is Gagandeep Singh, the owner of Lakshmi Electronics, a large-sized retail store in Delhi that sells everything from televisions to mobile phones to ACs. His business has been hit hard by online competition, and he's starting to think about letting some staff go, or even moving to a smaller store.
"My father started the business. He was primarily selling household goods, fridges and mixies [food processors] and things like that," says Singh. "We had a smaller shop, just down the road," he adds, gesturing vaguely towards the door of his store in Mayur Vihar.
As the demand for electronics grew in the 90s, so did the Singh's business. After his father's death in 1997, Singh was the sole proprietor of the business, and in 2001, he decided that it needed a bigger store. The new shop has a small ground floor display area, where you can see row after row of digital cameras and smartphones. The larger items such as fridges, air conditioners, and televisions are arrayed in a larger basement area. Walking around the shop, you'll see that every item has a discount tag next to it.
"People won't buy anything at all now, unless it's on discount," Singh says. "You see all this e-commerce, this online shopping, and then you tell me, how is a shop like mine supposed to stay in business?"
The billion dollar competition
For customers, the problem of a shopkeeper like Singh might not seem important, and the deals and discounts being offered by e-commerce sites are hard to pass up on. Today with companies like Flipkart raising $1 billion in funding, and Amazon announcing a further $2 billion investment in India, it's clear that the e-commerce marketplaces are not going away anytime soon. This is going to make it harder for shops like Singh's to stay in business.
The rise of online stores has also led to a practice known as "showrooming", which fills Singh and others in the retail business with ire.
"People come to the shop, and ask to see a dozen different products. They ask my staff hundreds of questions. They take the best advice, try out the latest products. And then when the time comes to finally buy, they say, 'this is cheaper online.'"
Singh rightfully feels that the extra value that his shop has added - in terms of the ability to touch and feel the product, and the advice of his staff - is simply being used to further sales on sites like Flipkart and Amazon.
Gionee's India head Arvind Vohra says that he agrees with the traders.
"The traders are feeling cheated, and it is a 100 percent legitimate grievance," says Vohra. "That is why we have released an advisory telling the customers not to buy from online stores."
The problem, according to Vohra, is that a brand has no control over its products' positioning online.
"Online is obviously important, but the marketplace model doesn't allow you to control your pricing, and so for us right now, it is best to tell our customers to buy offline," he says.
Gionee's approach is in contrast to the likes of Motorola and, more recently, Xiaomi, which have followed an online-only approach.
"The brands that are launching only online now," says Vohra, "are the ones which don't have the capacity to launch offline. Whether it is because they don't have the bandwidth, or whether there's a bad history in India, there are strong reasons for certain brands to take the online only route. And for the customers, it obviously makes sense. But the offline guys are the ones that made it possible to make inroads in the market, and now that they have built the market, it is wrong to cut the floor out under them."
Predatory pricing?
Sahani of the DMA told NDTV Gadgets that part of the problem lies with the brands - some brands, he feels, are undercutting traders in a bid to build its visibility in India, and this is hurting the retail market across the board.
"We're being turned into a showroom," says Sahani. "They [e-commerce sites] can offer much lower prices."
He's clearly stressed by the subject, and complains about taxes, saying that the Delhi government is not able to help despite repeated requests.
"We have been talking to the brands as well, and if they do not take action either, then our next step will be to raise a court case about predatory pricing," Sahani adds.
The focus of these talks is on Samsung, which is the biggest brand that Sahani and his colleagues deal with.
"We formed our union now, and we were talking about a ban," says Sahani, adding, "but we decided not to take that step right now. We have talked to Samsung and Apple, and asked them to reduce the number of units being made available to online sellers, which will also help bring fair play."
The DMA will wait for some time to let the brands respond, before taking any further action, Sahani says. He adds that Samsung has so far given a positive response, and supports its concerns.
NDTV Gadgets made repeated attempts to get in touch with Samsung to seek comments for this story, but no response was forthcoming from the company. A source close to the company however told NDTV Gadgets that both online and offline channels are equally important for Samsung. Thus, even if the company does offer some support, it is not likely to make much difference to the traders' plight.
Earlier this year, many brands had in fact taken steps to encourage people to buy products offline. Lenovo had warned buyers that Amazon, Flipkart and Snapdeal are not authorised resellers, while Nikon had made a blog post that read: "Please note that Flipkart (Flipkart Internet Private Limited) and Snapdeal (Jasper Infotech Private Limited) are not our authorised partner/dealer in India for Nikon Products."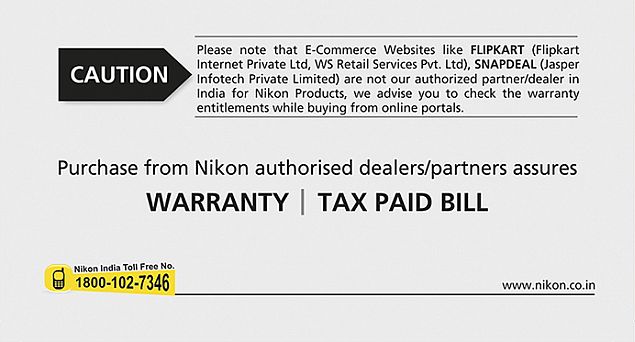 Toshiba and Canon have also issued similar statements. Canon has stated that they will give incentives to people who buy cameras offline, such as a 15-month warranty in lieu of the more standard 12-month warranty that will be given to people who buy products online at stores like Flipkart.
(Also see: Where's My Warranty? The Growing Perils of Shopping Online in India)
The marketplace makes its own rules
Flipkart's position is clear - as a marketplace, they do not have an input on price.
"As a marketplace, we simply facilitate a platform where the sellers can connect with potential customers," says Michael Adnani, VP - Retail and Head - Brand Alliances, Flipkart.
Without directly reacting to advisories from the likes of Lenovo and HP, Adnani reiterated that the role of Flipkart is to function as a platform for other sellers.
"We can assure our customers buying products on Flipkart.com that they are genuine," says Adnani. "Our customers will continue to enjoy the warranty and services extended to all original products as always."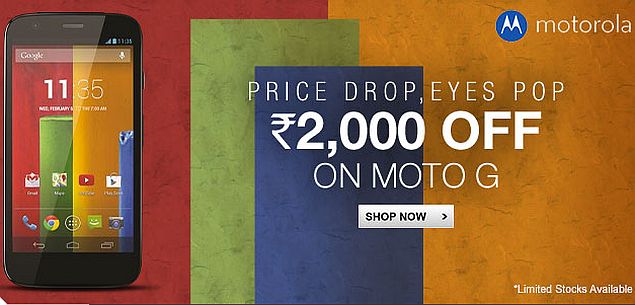 An Amazon India spokesperson gave a similar response, stating that merchants on Amazon.in independently decide price of products. The spokesperson also reiterated that Amazon.in works to assure that its merchants list genuine products, with manufacturer warranty. This applies to all brands.
Radhika Ghai Aggarwal, Co-founder and Corporate Vice President (Marketing and Merchandising) of ShopClues, another e-commerce marketplace in India, is much more frank.
Talking about the statements from brands urging customers to shop offline, Aggarwal says, "It was completely irrational behaviour. You can't just kill a channel. Not everyone wants to shop offline, and the brands will need to find ways to work with all channels."
She adds that on ShopClues two-thirds of all merchants are also offline retailers.
"We have one seller, Lakshmi Enterprises," she says. "It's a third-generation store, and it used to sell to people in a five kilometre radius. Thanks to our marketplace, they are growing and servicing clients around the country. They have started to import a wider range of products than before, and their price is lower on our marketplace than it is in the store."
Singh, in Mayur Vihar, also has a presence on the major online marketplaces, but he doesn't sound thrilled about it.
"They've turned my shop into a warehouse," he says. "I will stay in business like this, but I will have to lay off the people working in the store, and move to a smaller space. I don't have a choice. My business will also go down, and when the shops close, doesn't the customer also suffer?"