Thanksgiving, is it? I'll tell you what I'm thankful for: competition.
Because competition drives innovation. Innovation leads to improvement. Improvement begets happiness.
In the tech world, some companies do their most innovative work when their backs are against the wall - especially Microsoft. Last month, it took the wraps off Windows Phone 8, the most polished edition yet of its beautiful, crystal-clear software for touch-screen phones.
Unfortunately, as a Microsoft product manager told me understatedly, "We have an awareness problem." Translation: Nobody is buying Windows phones. And since nobody's buying them, nobody's writing apps for them. And since nobody's writing apps - well, you can see where this is going.
Still, Microsoft isn't giving up. This month, Windows Phone 8 arrives aboard two fascinating new phones: the Nokia Lumia 920 ($100 with a new AT&T contract) and the HTC Windows Phone 8X ($200 from AT&T, Verizon or T-Mobile). HTC 8X is available in India for Rs. 35,023 while Nokia Lumia 920 is yet to release in the country.
It's funny about Nokia and HTC; they, too, are fallen giants. Nokia was the world's largest cellphone maker for 14 years straight; not anymore. At the moment, it's in seventh place among smartphone makers. It has shed tens of thousands of employees. HTC is struggling, too, having sold 36 percent fewer smartphones this year than last.
How intriguing, then, that HTC and Nokia have each chosen Microsoft as its savior, and vice versa. Loser + loser = winner?
Yes, actually. The two new phones have a lot in common - for one thing, they're both awesome. For another, both have bigger, sharper screens than the iPhone's famous Retina screen. (The HTC and Nokia phones have 4.3- and 4.5-inch screens. That's 1,280 by 720 pixels, packed in 341 and 332 to the inch.)
Both have rounded backs and edges, which make them both exceptionally comfortable to hold. (The curve also makes it easy to pull them out of your pocket the right way.)
Both come in a choice of bright colors. Both phones have the same blazing fast processor. Both can get onto their respective carriers' 4G LTE data networks (meaning very fast Internet), in the cities where those are available.
And get this - both of these phones can also charge without being plugged in. That's right: magnetic charging is finally built right into phones. Come home at the end of the day, throw your keys in the bowl, set the phone down on the charging pad (a $50 option) - and a little chime tells you that it's happily charging, even though no cable is in sight.
It's pretty great. It will become even greater if this charging method (an industry standard called Qi, pronounced chee) catches on. Someday there may be charging surfaces at coffee shops, airports and hotel rooms. (Only the Verizon version of the HTC phone has this feature turned on - not the AT&T or T-Mobile versions.)
Both phones also have built-in NFC chips. These allow near-field communications, which means "this phone can do things when you tap it against another gadget." The promise is that you'll be able to tap on a cash-register terminal to pay for something; tap against an NFC-enabled bus shelter ad to download promotional goodies; tap two phones together to transfer a photo or address; and tap against a Bluetooth speaker to "pair" it with the phone.
In practice, there's more to it than that. Unfortunately, the tap only introduces the phones; Bluetooth or some other technology is needed to complete the connection. And Microsoft's coming tap-to-pay initiative is incompatible with the one Google has spent millions of dollars setting up at cash registers across the land. But we can always hope.
The HTC Windows Phone 8X is the smaller of the two new phones, but even so, it dwarfs the iPhone - it's wider, taller, heavier and thicker. If you get the Verizon model, your Internet experience will be faster and better in more cities than on the Nokia phone, which is available only on AT&T.
The back panel is faintly textured, so you're less likely to drop this phone than you are the shiny-backed Nokia. But the buttons - power, volume, camera - are skinny and utterly flush with the phone's body; you practically need an ice pick to push them in.
There's another hardware concern, too: no memory-card slot. The basic $200 model has 16 gigabytes of storage, and that's all you'll ever have. (AT&T also sells a $100 model with an even sillier eight gigabytes.) What's an app phone with no room for apps, photos, music or videos?
The 8X's battery is sometimes gasping by the time you get home for dinner (it's rated at eight hours of talk time). And, of course, it's nonremovable.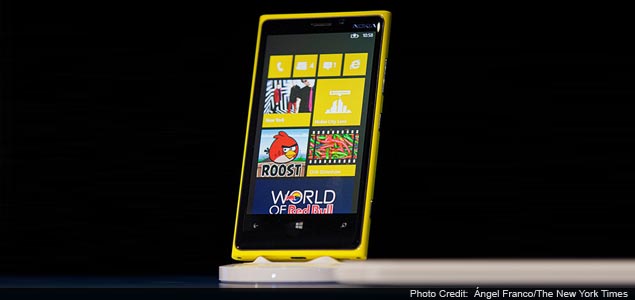 In category after category, Nokia's Lumia 920 beats the HTC. In battery life (10 hours of talk time). In price ($100 versus $200). In storage (32 gigabytes versus 16). In Bluetooth version (3.1 versus 2.1). In screen sensitivity; in one mode, you can operate this touch screen even with gloves on.
The 920 also wins as a GPS unit. The Maps app in all Windows phones comes from Nokia (which owns Navteq, one of the Big Two in map data). And it is really good. It shows traffic, aerial photography, public transportation, the works. And it has none of the problems that plague Apple's Maps app. It even lets you download map data to your phone, so you can search and navigate when you're offline or don't want to rack up astronomical roaming fees.
The one thing the Maps app doesn't have is spoken navigation instructions. On its own phone, however, Nokia supplies an app called Nokia Drive, which adds spoken turn-by-turn directions - another win for the 920.
Both phones have very good cameras. The HTC's eight-megapixel camera offers better color when the light is good, but stumbles badly in low light. The Nokia's 8.7-megapixel model, on the other hand, does really well in low light without the flash.
You pay a price for all of the Nokia's advantages, however: this phone is a monster. It's huge - the same 4.9 inches tall as the HTC, but wider, thicker and much, much heavier. At 6.5 ounces, it weighs 46 percent more than the HTC, and 62 percent more than the iPhone. Drop this thing the wrong way, and you could break your toes.
If you can stand the size, the Nokia is the better phone. They're both terrific, though. (I didn't experience the spontaneous restarts that have been reported by some early adopters of both phones; Microsoft says it's investigating.) Both have state-of-the-art hardware, superb design and Microsoft's spectacular phone software. Yes, that's right. You thought Microsoft operating systems were derivative, uninspired, bloated, plagued by featuritis? Windows Phone will change your mind fast.
And yet. And yet.
Microsoft has seen this movie before. It enters the marketplace years after Apple has already taken the lead (see also: Zune), and despite doing excellent work, never manages to build an ecosystem fast enough to close the lead.
As great as it is, the Windows Phone world will let you down in two huge ways.
First, speech. These phones respond to basic commands - "Call," "Text," "Find" (on the Web), "Note" and "Open" (an app) - but crudely; they don't even recognize punctuation. Worse, you can't talk-to-type, as you can on Android and Apple phones. Dictation is a core feature on phones that have no keyboards. You can't just leave that out.
Second, apps. Microsoft says that its phone store now stocks 120,000 apps. That's great progress - but soooo many important apps are among the missing.
Microsoft and its partners are teetering on the edge. Excellence has been attained; now it's up to market forces. If the wind blows one way, they'll rack up a few percentage points of market share (now at 4 percent). If it blows the other way, though, Windows Phone will fade away. It will join the Zune, the Kin phone and other hardware efforts in the Great Gadget Graveyard of Too Little, Too Late.
© 2012, The New York Times News Service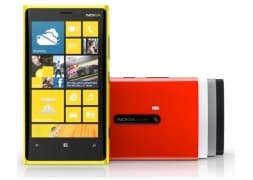 Nokia Lumia 920 and 820 in pics