Throughout this week, we've brought you everything you need to know about iOS 8, a list that includes
great new features
, the best new apps optimised for iOS 8,
extensions
,
third-party keyboards
, and
more
. For the weekend, we decided to do something a little bit different. We asked all our resident iOS users to pick their favourite new
iOS 8
feature and explain the reasons behind their choice. Here's what made the list.
Ershad's pick - Notification Center widgets
Apple's decision of opening up the Notification Center to third-party developers to include widgets in the 'Today' tab is according to me a nifty feature. While I keep my finger on the pulse of news from the world of technology, I don't have enough time to catch up with what is happening in the world otherwise. An app that helps me negate this issue is Yahoo News Digest.
(
Also see
:
The Best iOS 8 Notification Centre Widgets
)
Yahoo has a pick of eight news stories, which it thinks I should read, served in a visually engaging interface. Yes, there are no elaborate customisation options (except for the time you wish the news to be delivered to you) but it works like a charm for my use-case. And now, Yahoo has gone ahead and added support for a widget to be added to the Notification Center. This is very convenient. Huffington Post and NDTV have also updated their apps to make use of this feature. I think eventually all news-based apps will update for iOS 8 and include widgets support.
I do not want to start an Android vs, iOS debate here but in my opinion Apple's take on widgets trumps Android's because it is mostly unobtrusive. After all, I have the option of not sliding down the Notification Centre shade.
Gopal's pick - app bundles + auto-night theme for iBooks
A lot of the new features of iOS 8, such as tracking your battery life or the new share sheet are extremely useful and should not have taken this long to make it to iOS, but they aren't my favourite new things. For me, the big one is app bundles - developers can bundle their apps together and sell them for a group discount. The simplest example is the Rayman bundle - it has two Rayman games, and each is available for Rs. 190, or you can buy both together for Rs. 300. It's a great way to pick up new games and save a few bucks too.
(
Also see
:
iOS 8 App Bundles Allow Developers to Offer Discounts
)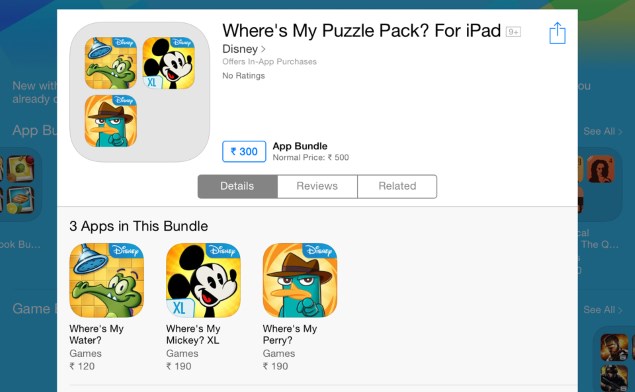 There are already some nice bundles available, but for now they're restricted to apps by a single developer. If different companies can submit a bundle of shared apps, we could get amazing bundles by genre.
The other thing that I love is the addition of an auto-night mode for iBooks. While most apps let you switch between light and dark themes for comfortable reading, most still have you going to settings and toggling a button to make it happen. With iOS 8, iBooks automatically switches to night mode if you're in a dark environment. It's not a big deal, but small touches are what bring the experience together.
Jamshed's pick - battery and storage management improvements
The iPhone is expensive and infuriatingly,
Apple
still charges an astronomical amount if you want any more space than the 16GB you get with the lowest priced version of each model. If you couldn't bring yourself to pay for at least 32GB and thought you'd somehow make do with 16GB, chances are you're regretting it now. Apps, photos and music are the obvious space hogs, but there are lots of other things that fill up your phone, and now, finally, iOS 8 gives you some control over them.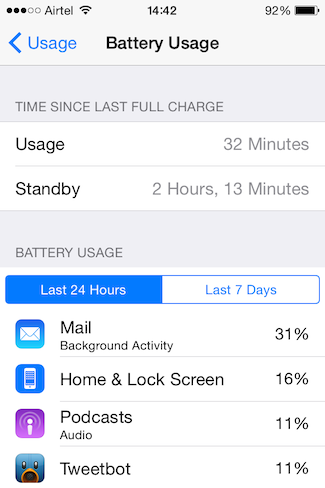 Text and multimedia messages tend to pile up and it's impossible to keep scrolling upwards in threads that have gone on for several years. All those funny pictures and video clips you forwarded to friends are eating up space - twice over, if they're also stored in your photo album. iOS 8 gives you an overview of all the photos, contacts, video clips, etc that you've shared.
Just hit
Details
in any message thread and you'll see all your attachments in place. You can delete these on the spot (though you'll have to do that one by one) to free up a surprising amount of space. If you have no use for old text messages, there's a new setting that will continuously and automatically delete them after either 30 days or a year. We would have liked a setting like this for individual threads, but it's useful as it is for those who delete messages manually.
The other thing that there's never enough of is battery life. In a page borrowed from the Android playbook, you can now see how each app is affecting your device's charge level (
Settings
>
General
>
Usage
>
Battery Usage
), and take action to kill (or find an alternative to) any app that's draining your battery faster than you'd like.
Kunal's pick - Continuity
As someone who relies on his
iPhone
,
iPad
,
iMac
, and
MacBook Air
to get through the work day, picking my favourite new iOS 8 feature was pretty simple: it's Continuity. I've been running iOS 8 betas and OS X Yosemite betas on my iOS devices and Macs respectively for a while, and I simply love the ability to make and receive calls (and SMS) on my iPad and Mac.
(
Also see
:
With iOS 8, Your iPad Can Now Make Voice Calls
)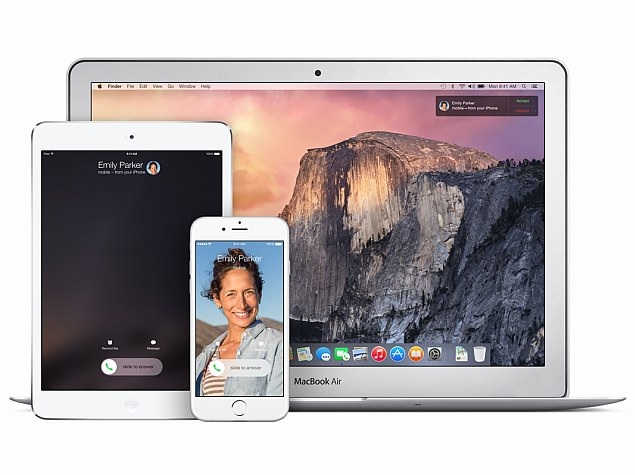 Yes, the feature is not revolutionary, and third-party solutions that let you do the same on your Mac have been around forever, but Apple is not so much about inventing things, as it is about making technology simple enough to be used for everyone. And with Continuity, Apple has hit it out of the park. The only configuration you require is use the same Apple ID on all your devices and be on the same Wi-Fi network.
Pranay's pick - Extensions, Touch ID enhancements, and Safari
In the 10 months that I've been using iOS, Safari has become my favourite iOS app. It's the first app I use every morning and the last one I use before sleeping. Because so much of my iOS usage revolves around
Safari
, I've always felt the need for better integration with other awesome apps such as
Tweetbot
,
Pocket
and
1Password
. That's why extensions are my favourite feature. Now I can save articles to Pocket right from Safari and use 1Password to import complex passwords. Thanks to this, most of my online accounts are far more secure and I no longer have to go through hoops to use my favourite apps.
(
Also see
:
Six iOS 8 Extensions You Should Not Miss
)
That brings me to Touch ID integration within third-party apps such as Day One and 1Password. It's quite convenient to secure my personal data using my fingerprint (stored locally on my iPhone) rather than use complex passwords for this.
As a regular user of Safari, I also like two slightly hidden features. The first is a
Request Desktop Site
button in Safari that lets me get away from certain terrible mobile websites. Just open any mobile website, tap the address bar and swipe down to reveal this option. The other great option is the ability to use DuckDuckGo as my default search engine (
Settings
>
Safari
>
Search Engines
>
DuckDuckGo).
It's a great search engine with a focus on respecting user privacy. I'm not switching to another browser anytime soon.