The Moto X Play and the OnePlus 2 are perhaps the two most sought-after mid-range phones today. We mean mid-range strictly in the sense of the price, since at least the OnePlus 2 has aspirations to slug it out with more expensive flagship phones when it comes to specifications and performance.
In case you've been living under a rock and have somehow missed the marketing blitz that has accompanied the Moto X Play launch, Motorola's latest offering comes to India carrying a price tag of Rs. 18,499 for the 16GB variant, though as we said in our review, if you are even considering buying the Moto X Play, you should spend the extra Rs. 1,500 and get the 32GB variant.
Meanwhile, the OnePlus 2 is available listed on Amazon India at Rs. 24,999, and if you are someone who believes in unicorns, fairies, and Santa Claus, you are among the handful who have a realistic chance of getting your hands the smartphone considering the supply constraints that are making OnePlus co-founder realise shipping products takes more effort than he'd imagined.
Based on availability alone, we'd recommend the Moto X Play over the OnePlus 2, and be done with it. But let's imagine for a second we live in an alternate reality where both phones are available in plenty, and go ahead with an in-depth comparison.
Design and display
Both the Moto X Play and the OnePlus 2 come with 5.5-inch full-HD displays. While there's nothing to choose between them on paper, in terms of real world performance, the Moto X Play comes out on top. As we noted in our review, the OnePlus 2 display appears almost washed-out, and the panel on the Moto X Play looks much better in comparison, without looking oversaturated.
Design is a rather subjective thing, and if you are someone who loves the Sandstone Black finish that OnePlus introduced in the One and is continuing with the OnePlus 2, your decision is already made. Personally, we like Motorola's recent designs, and the Moto X Play is no exception. Both smartphones come with alternate back cover options that let you change the default look and feel.
If you want to base your decisions on numbers, the Moto X Play (169 grams) is fractionally lighter than the OnePlus 2 (175 grams), though both phones weigh-in at the heavier side of the spectrum. The Play is thicker than the OnePlus 2, but just a little bit shorter.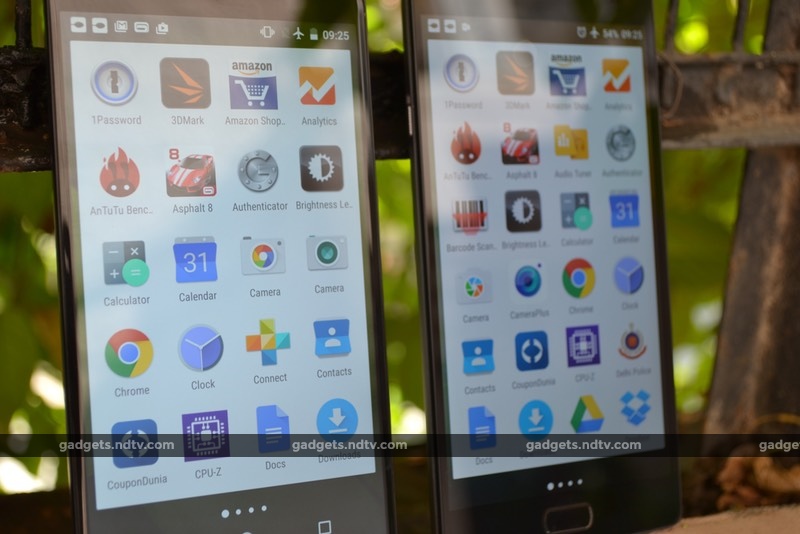 In terms of layout of ports, both phones are pretty standard, though the OnePlus 2 has a couple of extra things. The rectangular home button houses a fingerprint scanner, with capacitive buttons on either side. You can choose to enable on-screen buttons as well. The other deviation from typical design is the presence of the Alert Slider on the left edge, which is a fancy name for a button that toggles notification profiles on your phone - read our OnePlus 2 review for details.
(Also see: OnePlus 2 Review: Second Time's Almost the Charm)
Performance and battery life
The Moto X Play comes with a 1.7GHz Qualcomm Snapdragon 615 octa-core chipset with 2GB of RAM, while the OnePlus 2 runs the top-of-the-line 1.8GHz Qualcomm Snapdragon 810 octa-core chipset alongside 4GB of RAM. In terms of synthetic benchmarks, the OnePlus 2 is superior, but in terms of day to day performance, there's very little to chose between the two.
As we noted in our review, the OnePlus 2 has a tendency to get a little hot during extended gaming sessions. Apart from that, we noted various app compatibility issues with the OnePlus 2, something, that was never really a issue with the Moto X Play. Both phones struggle in terms of call quality in areas with poor cellular reception.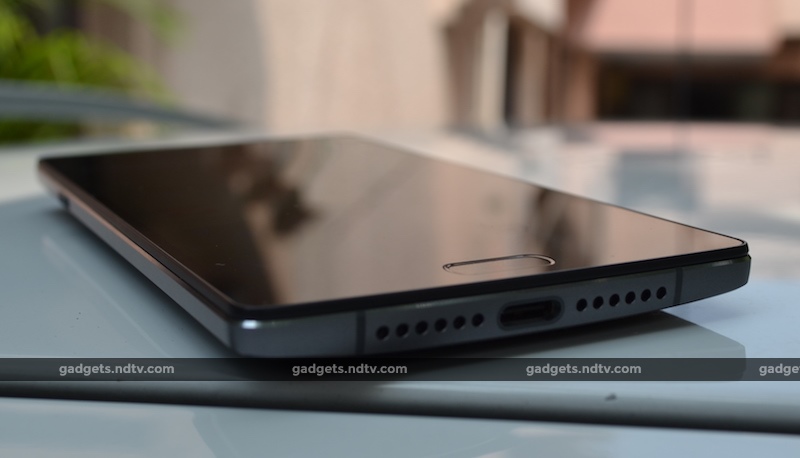 As far as battery life is concerned, while the Moto X Play performed significantly better than the OnePlus 2 in our video loop test, the OnePlus had a bit more juice left come end of a typical work day in the real world. Both phones should last you a day of moderate to heavy usage, which is what most are looking for in a smartphone these days.
Both smartphones support 4G on both SIMs, including compatibility with LTE bands deployed so far by Indian cellular operators.
(Also see: Moto X Play vs. OnePlus 2 specifications compared)
Software and camera
Both the Moto X Play and the OnePlus 2 run near stock versions of Android 5.1.1, though the latter probably has more additions/ customisations in place to make some of its extra hardware features work. We suggest you read our reviews of the Moto X Play and the OnePlus 2 to get an overview of their software features.
The OnePlus has additional features like app permissions manager and support for multiple users as well as guest mode that many will find useful. The Moto X Play meanwhile comes with Moto Display and Moto Assist, Motorola's virtual assistant that can automate some basic tasks. We love Moto Display but overall find OnePlus 2's additions to be more useful. Having said that, Motorola has a stellar track record in terms of shipping timely software updates to its consumers, something not many Android OEMs can say.
In terms of camera performance, both smartphones have their issues when it comes to focussing, but in terms of pure performance, the OnePlus 2 has a clear edge. In low light, especially, the OnePlus takes better pictures than the Moto X Play. The OnePlus 2 also comes with other goodies like 4K video recording and RAW support, which means if you are basing your decision on camera performance alone, the OnePlus 2 should be your pick, though you may have to put in a bit more effort to get the perfect shots (refer our review for details).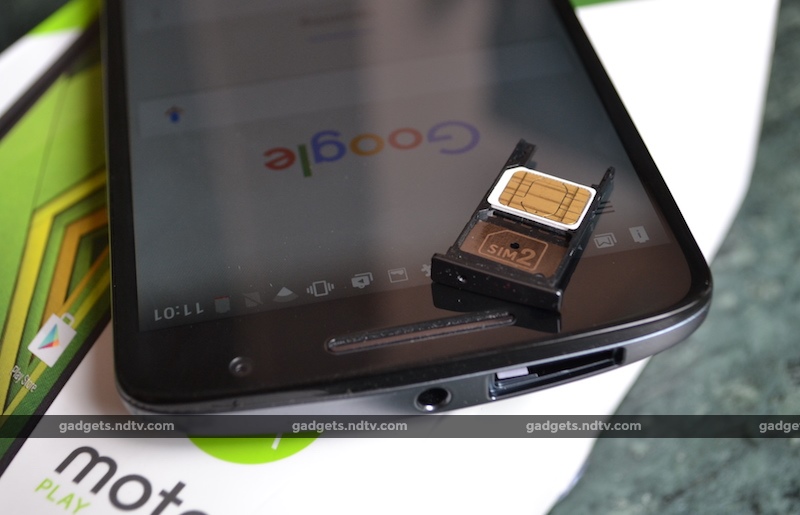 (Also see: Moto X Play Review: Boringly Good)
Extras
Both smartphones come with features that the other doesn't have - the Moto X Play has NFC and fast-charging, as well as a water repellant coating, though we are disappointed it doesn't feature IPX7 water resistance seen in the more affordable Moto G 3rd Gen (Review). The Moto X Play also comes with expandable storage, with cards up to 128GB capacities supported.
The OnePlus 2 comes with twice the storage and RAM compared to the 32GB Moto X Play, and includes a fingerprint scanner that works as advertised on most occasions. It also features 802.11ac Wi-Fi, though that is likely to be of limited value to most individuals. Another thing worth highlighting is that the OnePlus 2 comes with a USB Type-C port, which either makes it more future-proof, or more inconvenient to own right now - or a non-factor - depending upon how you see it. The Alert Slider may appeal to some users, but most wouldn't mind dropping into Settings to achieve the same results.
Verdict
Like we said before, only one of these smartphones is readily available right now, which means it's hard to really recommend the OnePlus 2 to anyone, without knowing when it will become available even with the shenanigans that come with its invitation system. Having said that, if you are looking for a phone that takes great pictures before anything else and know what settings to tweak, you might want to (endlessly?) wait for the OnePlus 2.
For everyone else, the Moto X Play is just as good - if not better - in most departments, and it comes with extras that are more likely to appeal to the average Indian consumer. Did we mention it's a full 20 percent cheaper than the OnePlus 2 - that is if you can buy the OneP... never mind, we won't go down that road again.
(Also see: Moto G 3rd Gen vs. Xiaomi Mi 4i: Which One Should You Buy?)