Apple
took the wraps off iOS 9 at its
annual Worldwide Developers Conference keynote
, and as rumours suggested, there wasn't very much to talk about in terms of new features. This release is intended to improve the user experience in terms of security, stability, and overall polish. Much of
what was rumoured
before the launch turned out to be accurate. Even so, there are some major changes that will make the iPhone and iPad usage experience very different. Apple's message is that
iOS 9
will add intelligence to users' day-to-day lives.
Those with older devices will love the improved performance and lower overheads, while those waiting for the next generation of devices to launch will be happy about the new multitasking functionality. Things like extended battery life and improved apps should also bring cheer to users across the board.
Here are the top new features of iOS 9: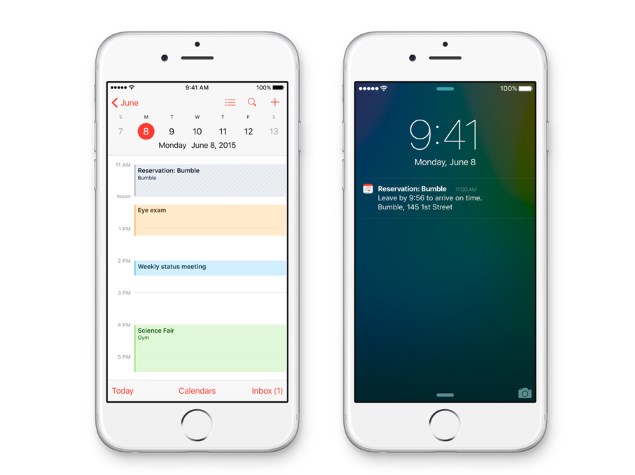 Proactive Assistant
iOS 9 learns from your habits and routines and will suggest actions, apps and other bits of information based on them. For example, if you usually exercise at the same time each day, your phone will offer you relevant apps, and will recognise that you want a particular playlist of suitable songs when you plug your earphones in.
iOS 9's apps will be able to recognise and act on information such as a meeting suggestion in an email, a flight number in a calendar event and a location in a reminder. Your iPhone will tell you when to leave for appointments based on traffic conditions, and will try to match unknown callers with numbers in your email inbox.
Spotlight and Siri
Spotlight is also proactive, with a full-screen interface that shows suggested contacts (again based on patterns), apps that you're likely to require, localised news snippets, and places of interest nearby. Search results will include information from within third-party apps. You can also call up sports scores, unit conversions and weather forecasts.
Siri will be able to process granular contextual cues. You can ask it to show you photos and videos taken in specific places or at events such as someone's birthday party. You can set reminders that trigger messages or notes. Apple also promises speed and accuracy improvements.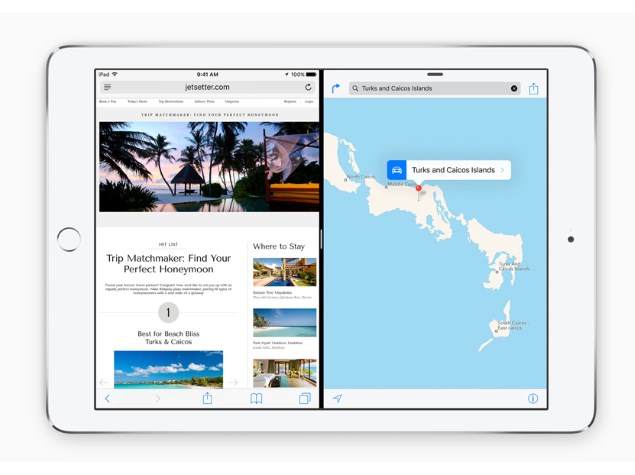 iPad experience
Split-screen multitasking comes to the iPad, though this is no surprise thanks to multiple leaks and rumours. A new app switcher interface will let iPad Air 2 owners run two apps side by side, while owners of older models will be able to quickly call up apps as narrow overlays on one side of the screen, get tasks done, and then return to what they were doing before. This could be a great way to look up information, reply to messages, or just check in on updates. Yet another option is available for video apps: you can have video, including FaceTime conversations, continue running in a floating Picture-in-Picture window while another app runs full-screen behind it.
News
One of the most visible new touches in iOS 9 will be the News app, feed reader that combines magazine, newspaper and blog content and presents it with layouts that match the branding and style of the original sources. News will ask about your interests and preferred sources, but will offer fine-grained suggestions beyond those. There will be embedded videos, galleries, infographics and live content. Publishers will be able to set limits on how much content a user can read for free.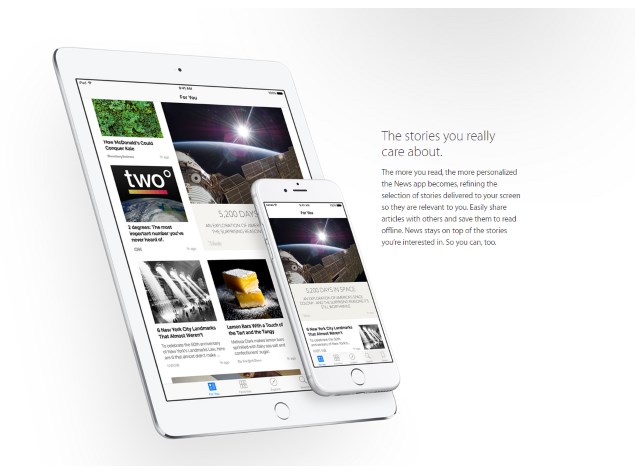 Wallet and Apple Pay
Passbook morphs into Wallet and takes on new functions that tie in with Apple Pay and the Apple Watch. It will be able to manage store-specific credit cards as well as loyalty and rewards schemes so that you can whip them when necessary. Maps will also highlight businesses that accept Apple Pay as a payment method.
New keyboard
The keyboard now shows lowercase characters to help you determine when Caps Lock is and isn't engaged. A new shortcut bar makes it easier to use formatting, clipboard functionality and more. Swiping around the keyboard area with two fingers will let you move the text cursor around and select text quickly.
Physical keyboard accessories will be able to implement shortcuts for multitasking and searching. Apps will be able to have their own shortcuts as well.
Notes
The Notes app becomes more versatile with a formatting toolbar, checklists, and embeddable content such as maps and photos. You can scribble with a finger and combine snippets in multiple formats. Notes are synced across all devices on the same iCloud account.
Security and privacy
You'll now have a six-digit passcode when you use TouchID, and there's also two-factor authentication for those who want to make sure that no one gains access to their iCloud account on an unauthorised device.
Despite all the emphasis on iOS learning your patterns and habits, Apple insists that no such information is collected or shared with third parties. This means privacy is assured without compromising on features that learn all about you.
Speed and battery life
Apple promises that iOS 9 is more nimble, thanks to the Metal graphics API that allow apps to make more efficient use of the CPU and GPU. Graphics render faster and animations should be more natural.
Better power management could result in up to an extra hour of battery life per charge. iPhones now know not to light up the screen if notifications come in when they're lying face down. A power saving mode can give you up to three more hours of life by throttling background tasks.
Breaking with its own traditions, iOS 9 will be available for devices more than three years old. iPhone models starting with the iPhone 4S, the fifth-generation iPod touch, the iPad 2 onwards, and all iPad mini models will be able to run iOS 9 (though possibily not all of its features). A public beta will be available in July followed by a final release later this year, presumably timed with the launch of the next iPhone and iPad models.