Continuum for Windows 10 mobile devices is a very interesting feature form Microsoft that hasn't quite been exploited to its full potential yet. When we tested this feature - which lets you use your phone as a PC, complete with a monitor, keyboard, and mouse - during our review of the Microsoft Lumia 950 XL, we were quite impressed as to how well Microsoft apps such as Word or Excel scaled to the big screen and also provided added functionality, just as you'd expect from a typical Windows desktop app. Now, HP's new Workspace feature aims to blur the line between your phone and your PC even more.
(Also see: Microsoft Lumia 950 XL Review)
Running apps on the phone means you are limited to using apps from the Windows Store and even then, not all apps that are universal run seamlessly in Continuum mode. That said, many of us still rely on some Windows 'desktop' applications for work. So, what if you wish to use a legacy app based on x86 or for SAP applications from your phone? This is something HP is working on for the Elite x3 smartphone, with a feature called HP Workspace.
During the launch of HP's business printers and mobile devices event in Macau on Thursday, Anneliese Olson, HP's General Manager and Vice President of Personal Systems Business, Asia Pacific and Japan, shared how the HP Elite x3 and the Workspace feature is being developed to help business work more efficiently. The idea here is to provide a platform for businesses to run their virtualised apps and have the employees access them through their HP Elite x3 in Continuum mode.
The HP Workspace will include a client-side app residing on your Windows 10 phone, and at the back-end, HP will rent out space in the cloud where companies can push their apps, be it legacy x86 apps, SAP applications, or any other custom programs that would be difficult to port for touchscreen devices. HP will not have access to any of this data as it will be encrypted. Furthermore, the IT department of the company will have full control over the apps running in the cloud and what sort of privilege a particular employee can have (read-only or the ability to modify data).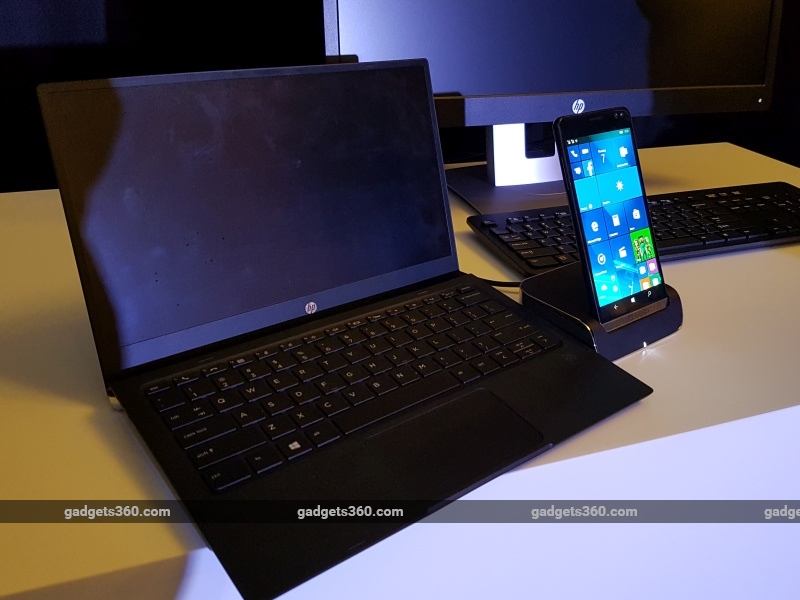 Once the employee enables Continuum on the HP Elite x3, he or she will have access to the company's apps from within his phone using the Workspace app. All the processing will be done on HP's servers so performance shouldn't be an issue as long as you have a good Internet connection.
The advantage here is that users will be able to access their sensitive data and work on specialised/ legacy apps right from their phone. The apps should also run a lot faster, maybe even better than they would on your laptop since the processing isn't done on the client side. HP's Lap Dock (a slim and light laptop-style display, keyboard, and trackpad) also negates the need for carrying around a separate keyboard and mouse for Continuum.
Currently Workspace is still a work in progress and HP hopes to finish it by the time the Elite x3 launches, which should be in September (late October for India). Anneliese did mention however that since the x3 is positioned purely as a business device, it will be sold only via B2B channels, so tough luck finding it in shopping malls or online. Nevertheless, Workspace sounds very promising for business and it certainly makes Continuum even more useful.
Disclosure: HP paid for the correspondent's flights and accommodation for its event in Macau, China.