The days of long check-in queues or struggling to get a waiter's attention when you're trying to order are being left behind. The hospitality industry is innovating quickly, and swiping through menus on a tablet or controlling the temperature of your suite using an iPod are becoming the new normal. With the advancements though come vulnerabilities, whether in the form of an app crashing, or even something as simple as training guests on how to enter their rooms.
Swipe to unlock
In case you think that this all sounds far-fetched for India, then you're behind the times. We're already seeing these kinds of uses for technology in hotels and restaurants here. The Radisson Hotel at Pune was one of the first places here to keep an iPod in rooms in 2010, to control basic functions like lights, the air conditioning, and to let you change channels on the TV through a custom touchscreen interface.
And at the ITC Grand Chola in Chennai guests will find an iPad in their rooms. A spokesperson for the hotel told NDTV Gadgets that guests will find a special app running that lets users order their room service from the iPad without having to find a menu and call. Aside from this, guests can also control the lights, and the air conditioning from the iPad, and if there's someone at the door, then the iPad can also show the video feed from the door security camera, and be used to unlock the door if guests choose. As with Radisson Pune, here too, the app can be used as a remote control for the television and guests can also use it to check their room bill - to see the damage they've been doing with room service during their stay!
The Sheraton Bangalore Hotel at Brigade Gateway meanwhile has a comprehensive programme that they call Link@Sheraton experienced with Microsoft. Link@Sheraton gives the guests a number of facilities such as free workstations, printouts through the cloud platform PrintMe.com and of course, free Wi-Fi access. That's all fairly standard these days, but an interesting new facility is free Wi-Fi access in cars booked from the hotel - guests can connect up to five devices to the in-car Wi-Fi. The hotel's general manager Suarabh Bakshi claims they are the first hotel to offer such a service to guests for free.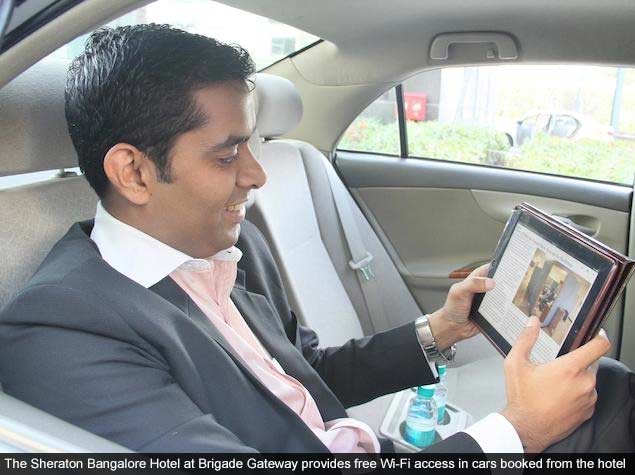 This is just the beginning though - in the US, Starwood Hotels and Resorts Worldwide is already experimenting with keyless entry systems in two of their hotels. The Stamford headquartered hotel chain is one of the largest companies in the industry and if the test is successful then it's safe to imagine that other hotel chains will follow suit.
Starwood has partnered with Swedish lock manufacturers Assa Abloy to develop a feature that lets guests use an app instead of a key or card to enter their rooms. The hotel chain is now testing the feature, which works by fitting a Bluetooth receiver in the lock that pairs with an app guests have to install on their phones.
The company already has iOS and Android apps for members of its Starwood Preferred Guest programme.The app can be used for making a booking, or looking up information about a hotel and the points of interest nearby. According to a Starwood spokesperson, guests can even skip the check-in formalities by using the app.
Companies, big and small, benefit
It's not just big hotels that are trying to catch up with global trends that are doing this. Smaller restaurants have enthusiastically embraced technology to increase efficiency and also to stand out from the competition.
At restaurants like Hai Bao in Mumbai, the entire menu is presented on an iPad - you can swipe through the items, see pictures and read descriptions, before ordering. Flambos, in Pune, has had Android tablets with the same type of interactivity, since 2012.
TJ's Brew Works is a brewery in Pune which takes things one step further. Here, the patrons are greeted with the menu on an iPad Mini, and once you make your selection, the order is sent to the kitchen and waiters who are carrying iPods. At the same time, when you order, you get points which are displayed on LCD screens around the pub, and people with the highest points can get free drinks and other prizes.
The brewery's owner TJ Venkateshwaran says, "Dining has moved beyond the age old concept of just going out, ordering the meal, eating it and paying the bill. It has become more of an interactive experience. With the iPads, the idea is also to reduce the downtime for serving the food and to eliminate errors that happen while delivering and serving an order."
Security needs to come first
Of course , there are some "what if" questions that need to be answered. For instance, if the application hangs or goes down, what is the backup? What if the hotel security is compromised? Or if the receiver on the hotel suite lock refuses to pair with a person's smartphone? These are questions that need to be answered as and when the technology is being developed.
For now, most hotels are reluctant to talk about what would happen in case an iPad fails, or what failsafes are in place to prevent someone from hacking your door using Bluetooth. One prominent Indian hotel - an insider tells us - had an issue with their app-based implementation because commands would take around two minutes to register. Users who didn't realise this would keep repeating commands, causing the app to crash.
When we reached out to security experts Symantec, they pointed us to an official blog post that highlights the importance of security in a world where everything's connected to everything else. Kevin Haley, Director, Symantec Security Technology and Response, Symantec says, "This is the nature of new trends - security is usually an afterthought. Companies are pushing forward quickly, trying to establish a market. They are thinking of how to meet customer needs, not their security. And no consumer buys into these new ideas because they are secure. They buy into them because they are new ideas."
While improvements in technology and the plausible impact on guests are huge for the hospitality industry, there is a marked caveat here that would be important to look into. Application and technology developers might well be advised to look into security first, rather than an afterthought, and work first on making the market secure rather than presenting a novel idea with a huge security threat.