More and more phone brands in India are looking at special sales and online-only products, but Gionee has steadfastly followed a different approach. Its focus is still largely on offline retail in India and it doesn't allow online sales unless e-commerce players agree to sell at the price set by the brand.
Brands such as Obi Worldphone, OnePlus, Qiku and Xiaomi are going for either online-only or largely online sales strategies. However, Gionee President William Lu says he's going to stick to his plan.
"China market, from market development [standpoint], is a little ahead of India. There's no growth [online in China]. This is number one," says Lu, in a conversation with Gadgets 360. Lu claims that online-only brands are facing slowing growth in China. "Number two, all online brands are in big trouble now in China. OnePlus, Qiku, Meizu, are all in big trouble," he says. "If you don't have offline you cannot survive."
Gionee isn't against having an online presence in India, but only if online players stick to Gionee's pricing. "From day one we said, in India we focus offline but obviously we go online," says Lu. "Online guys should respect our pricing. In China online players respect our price. This I think is the trick."
According to him, the lure of discounts is a big problem online, but it is not sustainable. This is a point that is repeated by Gionee India head Arvind Vohra, who tells Gadgets 360 he believes that in the long run acquiring customers through discounts isn't sustainable.
"Don't create a price difference... If you don't have pricing stability, in the long run it doesn't make sense," he says. "How long are you going to discount to get customer acquisition?"
Vohra is vocal in his criticism of online retailers, and also brands that are taking the online route in India. "Online has this belief that they are stronger than the brand. When you feel your shop is stronger than the product you're selling, you'll only get brands who don't have a serious strategy who just want to try out and go back," he says, adding, "They're not serious about business."
Echoing Lu's sentiments, Vohra says, "One thing is very clear. You can't build a brand by selling online. You have to be offline to build a brand. That's the reason why you don't see too many brands straddling across both the channels. I am trying to see if I can do it across all channels." Gionee India plans to do this with the upcoming Marathon M5 Lite smartphone. "For the Marathon M5 Lite we're planning to sell online, offline and large format retail on the same stage and with the same price. For the first time, if we're able to carry it out, we'll have online and offline together," Vohra says.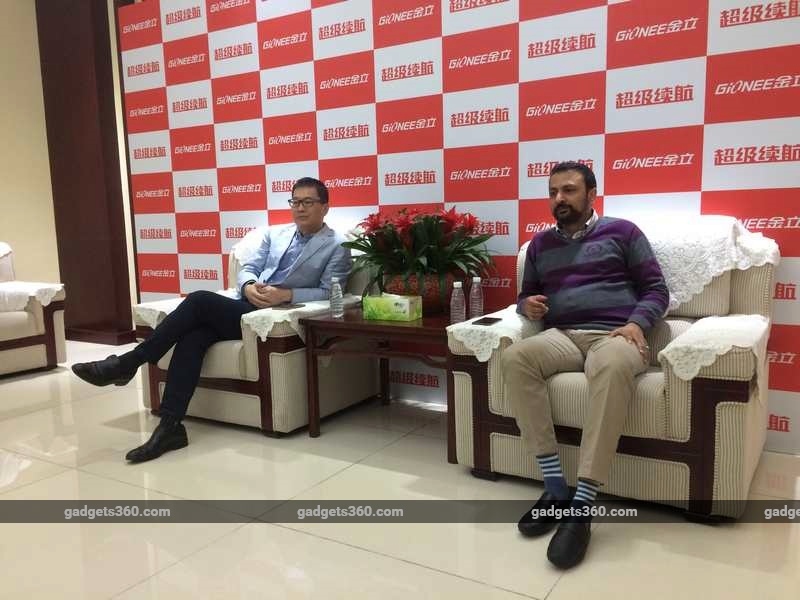 The company has recently stepped up its efforts to make smartphones in India. The company had branded its Gionee F103 smartphone as "made for India", and Vohra said more such devices are in the works. He said these would be entry-level LTE devices around the Rs. 6,000 price point. "We're not just looking at made for India, but made in India for overseas markets," he said.
(Also see: New Certification Rules Will Delay Gadget Launches in India Even Further)
He also spoke about the challenges of launching phones in India. "Earlier you were [launching] products and you could simultaneously launch them in India. Now with the BIS and so on and so forth, there is a huge lag that comes in," he says. "Those are new challenges that have come in. The lag now, because of certain governmental programmes that need to be kept in place, takes away 30-45 days," says Vohra.
Gadgets 360 spoke to William Lu and Arvind Vohra at the sidelines of Gionee's Marathon M5 Plus launch in Dongguan, China. Gionee sponsored the correspondent's flights and hotel for the trip.