The concept behind the Ringing Bells Freedom 251 is easy to grasp - a smartphone priced at Rs. 251 would be instantly accessible to an incredible number of people. We have been celebrating phones that are priced for as little as Rs. 4,000 for their ability to transform India, so Rs. 251 is a total game changer. The idea of skill development through digital India touches on a number of keywords that the government has been focusing on, and Noida-based Ringing Bells talks about Make in India as well. Its corporate video talks about employability through Skill India, direct and indirect employment, and talks about helping farmers gain information about scientific methods, and fishermen getting safety and weather updates.
(Also see: Freedom 251 - Your 5-Point Cheat Sheet to the Rs. 251 Smartphone)
The reality of the situation could be a little different, as we have reported - there are some doubts about the authenticity of Ringing Bells Freedom 251; whether or not this phone has even been made by the company is in doubt. What's more, even if it really is making its own phones, questions about licenses (an area where that other Indian success story, Micromax, also fell short) and BIS safety certification remain.
At the official Freedom 251 launch event on Wednesday night, attended by MP Murli Manohar Joshi, little was done by the Ringing Bells team to dispel these doubts.
(Also see: Freedom 251 in Pictures)
The Freedom 251 runs on Android 5.1, with a 4-inch display, a quad-core 1.3GHz processor, 1GB of RAM, and 8GB of storage (expandable to 32GB). That means that the microSD card in the phone could be more expensive than the phone itself. However, it's not clear how many people will actually get access to this phone in the first place. As of now, the phone is being sold through its website - which likely won't be accessible to most of the people who would be the target audience for this kind of device - with a delivery scheduled for June. Further plans for offline sales were not forthcoming. However, when we pointed this out, Ashok Chadha, the President of Ringing Bell, countered by asking: "Have you been to Azamgarh? It is a semi-urban area and I can tell you that the Internet has reached there."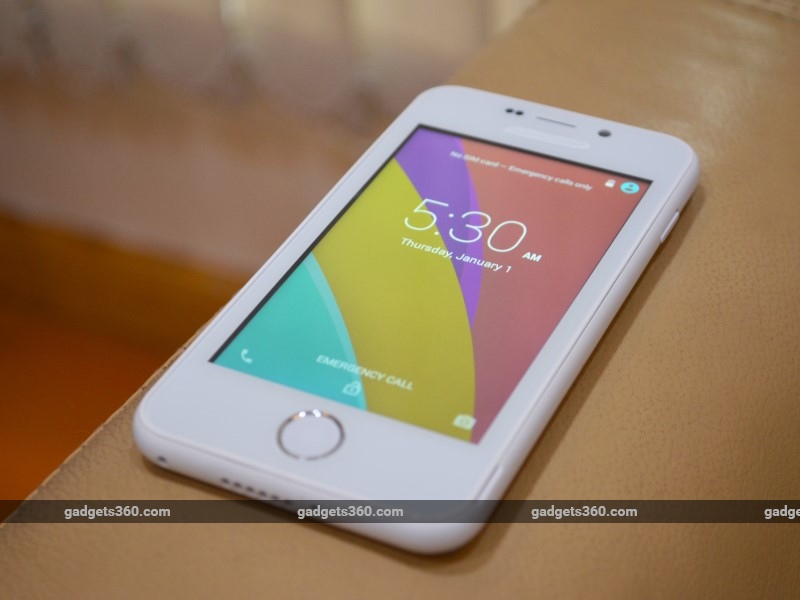 (Also see: Freedom 251 Bookings Now Open; Read This Before You Buy One)
With that said, many people in the mobile industry have raised doubts about the feasibility of the pricing of the phone.
"The bill of materials [cost of the parts] for a phone like this is around Rs. 2,000 - by making in India we take away around Rs. 400 from that; by selling online we cut overheads and save another Rs. 400," explained Chadha. "And as the numbers go up, we're not talking lakhs but much more, we save another Rs. 400 from economies of scale. And then, our platform becomes big, and attractive to others, so we can then highlight products that are worth buying for our customers, and this is another source of income. We will pass all of this on to the customers, we want to make only a small profit per unit."
(Also see: Freedom 251 full specifications)
This was a point Chadha repeated more than once, but although the points about making in India and economies of scale from increased manufacturing make sense, assuming a Rs. 400-500 saving through online sales seems a bit odd - while that is a saving on the total costs involved in selling phones, it doesn't cut into the bill of materials, which is the cost of the components of the phone, and won't be affected whether the phone is sold online or offline.
That the phone is being funded by a group which has no history in the business is not a problem in and of itself, but it does raise concerns about the ambitious scope of the company's plans. On being asked this however, Chadha immediately dismissed the concerns, and replied, "I don't know who you are but I'm answering your questions. I can tell you that in the science and technology world I am well known."
"The promoters are an agri-business, the Goel family and Mohit Goel is the Director of the company," he added.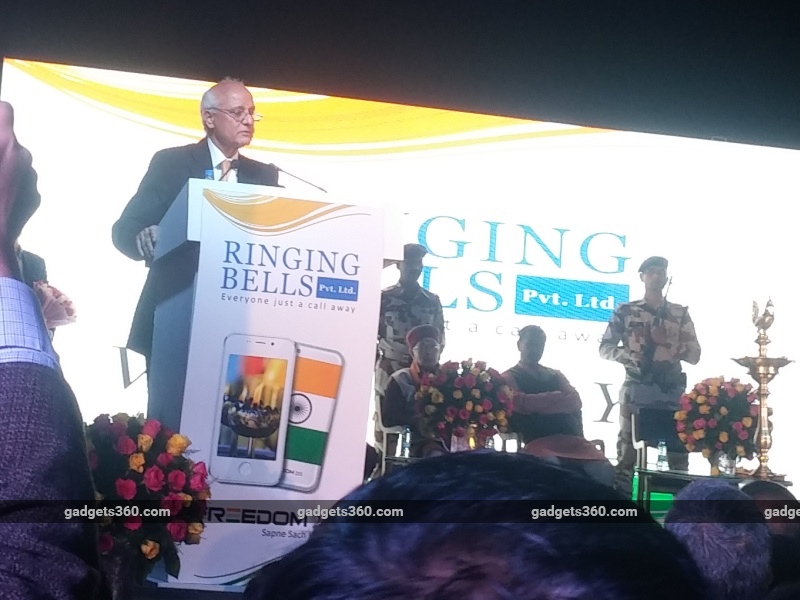 What about the Adcom branding on the review devices that have been handed out to the press? With a few months to go before the phone is supposed to actually start shipping, does this mean that Ringing Bells has not built the Freedom 251 yet? Is the Adcom Ikon 4 meant to be a template for the "cheapest phone in the world" to follow?
According to another member of the Ringing Bells team, whom Chadha introduced as the technical head, this is because the device handed out to the press is merely a prototype, and not the final product. That the company is already selling the phone without a final prototype of its own seems worrying, but equally so is the fact that this "prototype" of the Freedom 251 appears to be identical to the Adcom Ikon 4. Ringing Bells' technology head dismissed the question, and said that the prototype uses various parts, including a touch panel taken from Adcom's phone.
"We were building a prototype, and we have assembled it using different parts. So if some of it is similar to existing products, that does not mean we are using their phone," he said. Although this could be the case, the last of a more complete prototype, just months before the phone is supposed to be in customers' hands, and at a time when the phone is now going on sale, is a little worrying. After being asked the question repeatedly, he finally replied that the team just wanted to show a slim ID for the prototype and used Adcom's. "We have used the body and touch panel from Adcom, but the internals are from other sources," he said.
There's also the question of why the icons on the phone look identical to the ones in iOS - something that the team repeatedly insisted is not copyrighted by Apple, and therefore they can safely use. This seems unlikely, and could probably be a point of contention if and when the phone actually launches.
How about the missing apps for Swacch Bharat and other initiatives on the phone? Apparently these are going to be present when the final phone is launched; they are just not ready right now before actual availability. This was conveyed by the PR team however - the company did not acknowledge the question in the crowded press conference on Wednesday night in New Delhi.
And of course, without the BIS certification, the Freedom 251 can't be sold in India - this is a slow and expensive process, and could completely disrupt the company's plans, on cost and time both.
A group of IDC analysts we met at the launch told us that they had not found any details about the phone either. It does not appear to have gotten any licenses or certification, and there are no documents to show imports either, as far as they have been able to discover. "It looks like they're taking orders now, and then they will go to China to buy the phones," one hazarded privately.
As of now, it doesn't appear to be possible to buy the phone - which will actually cost you Rs. 291, because of a Rs. 40 shipping charge, from the Freedom 251 website - several users have been reporting that the site keeps crashing. In our own experience, the site worked but the buy button did not.

Even if it does work for you though, the question remains that the company is promising to deliver all units by June 30 - but its first priority, as mentioned above, is to now build two manufacturing plants to meet the demand. In other words, where are the phones that it is supposed to start selling now supposed to come from?
In fact, that brings up the biggest concern we have with Ringing Bells' plans - the company is going to finish its prototype, and it's going to finish its factories, and it's going to accomplish scale to make the parts affordable, and it's going to build an e-commerce platform to subsidise sales further finally making the Rs. 251 price point possible. It could all be true, well intentioned, and could even work out. It just doesn't look that way right now.
The Freedom 251 seems promising, but raises a lot of questions as well. Unfortunately, Ringing Bells has not been keen to provide answers. While making a low cost phone for the masses to use is a great aspiration, something like this has to be done properly, or not at all. We'll know soon enough which basket this phone falls in.
Affiliate links may be automatically generated - see our ethics statement for details.