"Own an iPhone for just Rs. 999 per month" - sounds like a fantastic deal, and it's no surprise then that everyone has been asking how they can avail these prices. The iPhone corporate leasing plans came to light last week, but in the absence of any official communication from Apple, details of the programme have been pretty scarce - until now.
Here's everything you need to know about the lease programme offered by Apple partners in India:
Q) What is the iPhone lease programme?
A) The lease programme lets you use an iPhone for a fixed monthly payment. You get to keep the iPhone for the duration of the lease, but you don't own the phone, similar to how car leasing works.
Q) Who can sign up for the lease?
A) The lease programme is available only for corporate entities - in other words, companies or registered business. As far as we've been able to find out, there's no criteria on the size of the corporate, you just need to commit to a minimum number of phones that you will lease.
Q) What is the minimum number of devices that I need to lease?
A) Based on our discussions with multiple distributors, you need to lease a minimum of 20 iPhone units as part of this programme. However, if you already have an existing relationship with the distributors, you may be able to negotiate a lower number.
Q) What is the lease duration?
A) The lease is available for 12, 18, or 24 months.
Q) What is the monthly amount I need to pay to get an iPhone?
A) It varies based on the iPhone model and lease duration. Expect to pay anywhere between Rs. 999 per month for an iPhone SE (16GB) on a 24 month lease, to Rs. 3,666 for an iPhone 6S Plus (128GB) on a 12 month lease. See all plans below: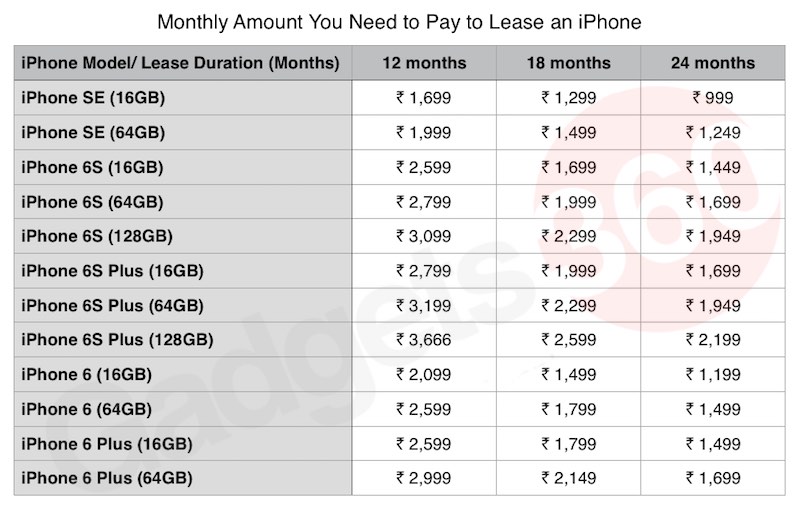 Q) Is there a down payment that needs to be made at the beginning of the lease period? Do I need to pay a deposit?
A) There's no down payment and you don't need to pay a deposit or security.
Q) What happens at the end of the lease period?
A) The iPhone needs to be returned to the Apple partner at the end of the lease period.
Q) Can I terminate the lease early?
A) In case of termination of the lease, you will need to pay termination charges as per the terms of the contract.
Q) What if the iPhone is damaged during the lease period?
A) Standard Apple warranty terms apply. If the damage is covered under Apple's warranty programme, then you will be given a replacement device, but if there's some physical damage, such as a damaged screen, you will need to pay for the cost of repairs/ replacement.
Q) I work for a 'corporate' - can I buy an iPhone under this programme?
A) No, as mentioned before, the programme is only offered to corporate entities. Talk to your company's HR/ admin/ IT department, and ask them to sign up for this programme to avail benefits.
Q) I am an individual ready to lease 20 phones for my family. Can I do that under this programme?
A) If you run a business, your company should be able to lease these phones, but you can't do it as an individual.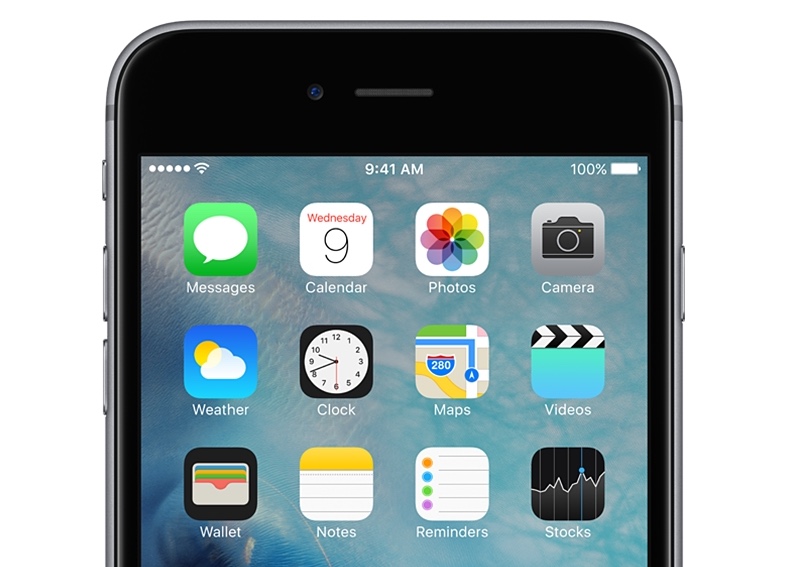 Q) This lease business sounds too good to be true - is it?
A) If you are eligible based on what we've described above, this programme is probably the most affordable way of using the latest iPhone all the time. But leasing an iPhone versus buying one is like renting an apartment versus buying one - you don't have to pay a big amount to start off, but you pay someone every month to use their property. If you think the money you pay every month as rent is a 'waste' and you'd rather be paying monthly EMIs towards a home loan, then the lease programme is probably not for you.
Having said that, electronics (like cars) depreciate in value pretty quickly, while (in an ideal world) your house's value goes up, so the comparison isn't strictly valid. Confused? Well, what did you expect looking for financial advice on a tech website in the first place?
Q) Does the lease programme extend to other Apple products as well?
A) Yes, you can get iPads and even MacBooks on a corporate lease, under similar terms - the monthly amounts will obviously vary.
Q) I went to an Apple/ Airtel/ Vodafone/ Croma/ other store, and they are clueless about this programme. What do I do?
A) The lease programme is offered via select Apple partners, and not all retail outlets may be aware of the details.
Q) How do I sign up for the programme/ find out more details?
A) Your best bet is to write to iphonecorporate@icloud.com with details of your organisation - an Apple partner will get in touch with you.
Do you have any other questions related to the iPhone leasing programme? Ask via the comments and we will try our best to answer them.