CES is the year's first major tech show that includes new launches, innovations, and discussions related to gadgets and other technologies. Much like every year, the CES 2015 brought a number of new entries in the smartphone segment from some popular OEMs, relatively new brands, and even some veteran companies that entered the segment first time.
Here are all the smartphones launched at this year's CES 2015, a list that may help you decide which your next handset is.
LG
LG was expected to showcase its much-anticipated G Flex successor smartphone at CES 2015 and the company didn't disappoint.
The South Korean company launched the LG G Flex2 flexible phone and announced that it will be available at the end of January in Korea, and release in global markets thereafter. No pricing was revealed for the G Flex2.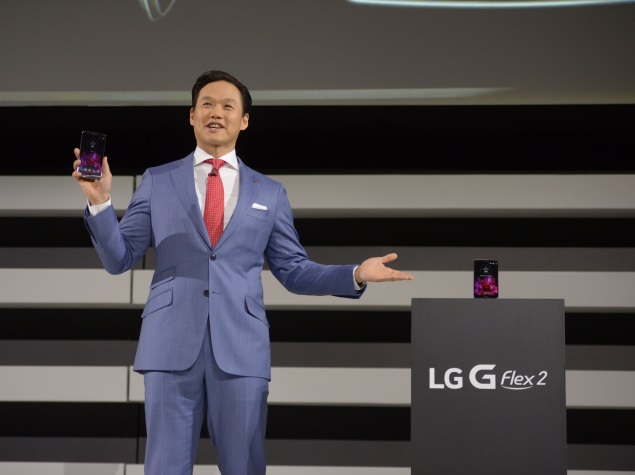 The LG G Flex2 is the first announced Qualcomm Snapdragon 810 (a 64-bit octa-core SoC) smartphone. It features a 5.5-inch full-HD curved P-OLED display with a 1080x1920 pixels resolution and a 403ppi pixel density. The Android 5.0 Lollipop-based LG G Flex2's display has a 700mm-radius curvature, while the back is slightly sharper with a 650mm-radius curvature for grip.
LG also said that it improved the 'Self Healing' back from the original LG G Flex, and it will now get healed within 10 seconds at room temperature - significantly lower than the last-generation's three minutes.
(Also see: CES 2015 Day 1 Highlights: Wireless Charging, Veteran Camera Brands, and a Surprising Star)
Asus
Asus was another major company that was expected to reveal the successor to its popular ZenFone series of smartphones and the company exactly did that - with a twist. The Taiwanese brand launched the Asus ZenFone 2 at CES 2015 alongside the ZenFone Zoom.
Announced at a starting price of $199 (Rs. 12,600 approximately), the ZenFone 2 will be available in Q2 2015 (March), while the Asus ZenFone Zoom has been priced at $399 (Rs. 25,300 approximately) before taxes and will also be available in Q2.
The ZenFone 2 is the "industry's first smartphone" packing 4GB of RAM and is powered by a 64-bit Intel Atom Z3580 quad-core processor running at 2.3GHz.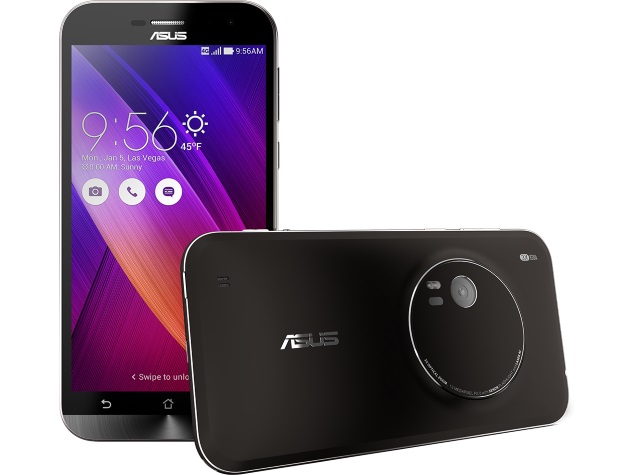 The Asus ZenFone Zoom, on the other hand, is said to be designed with the photographer in mind and supports 3x optical zoom.
Lenovo
Lenovo had a number of devices to showcase at this year's CES event including Vibe X2 Pro, Lenovo P90, and A6000 smartphones.
The Chinese brand initially showcased the Vibe X2 Pro and Lenovo P90 handsets without revealing prices. The Lenovo Vibe X2 Pro is the upgraded version of the previously announced Lenovo Vibe X2 and features the iconic 'layered' design.
The Lenovo P90, which was also introduced by the company at CES 2015, is the company's first device to run on a combination of a 64-bit Intel Atom Z3560 processor (2MB Cache, 4-Cores, 4-Threads, 1.8GHz Burst Frequency) with Intel's 5-mode XMM 7262 modem.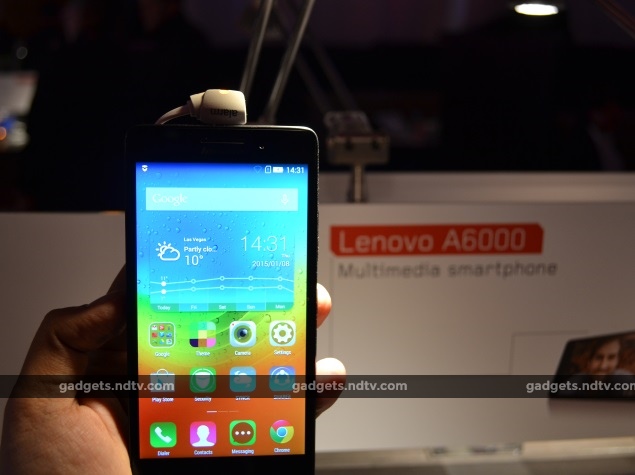 Lastly, the company revealed its affordable A6000 smartphone at the CES 2015. Lenovo's much-awaited competitor to Xiaomi Redmi Note 4G and Micromax's Yu Yureka, has been priced at $169, which translates to roughly Rs. 10,500. However, Flipkart confirmed to NDTV Gadgets that the phone will be priced "below Rs. 10,000 in India."
HTC
HTC at this year's CES 2015 expanded its Desire series smartphone with the launch of Android 5.0 Lollipop-based the Desire 826. The HTC Desire 826 will first launch in China followed by other Asian markets in early 2015.
The 4G-enabled Desire 826 smartphone will come in two variants (single-SIM and dual-SIM) depending upon region. It is powered by an octa-core (four cores at 1.5GHz and four cores at 1.0GHz) 64-bit Qualcomm Snapdragon 615 processor alongside Adreno 405 GPU and 2GB of RAM. The handset also packs a 4-UltraPixel shooter at the front.
ZTE
ZTE in partnership with Cricket Wireless launched the successor to the Grand X Max phablet called the Grand X Max+ at CES 2015.
The single-SIM ZTE Grand X Max+ runs Android 4.4 KitKat and features a large 6-inch HD (720x1280 pixels) display. The smartphone also features Dolby Audio technology and supports Qualcomm Quick Charge 1.0 for fast charging.
Alcatel
The TCL-owned Alcatel One Touch brand had a number of smartphones up its sleeves and the company kicked off its CES 2015 campaign with the launch of OS-agnostic One Touch Pixi 3 series.
Alcatel's Pixi 3 series smartphones can run Android, Firefox and Windows Phone operating systems depending on the user's choice. The series includes four smartphones of different screen sizes - 3.5-inch, 4-inch, 4.5-inch, and 5-inch.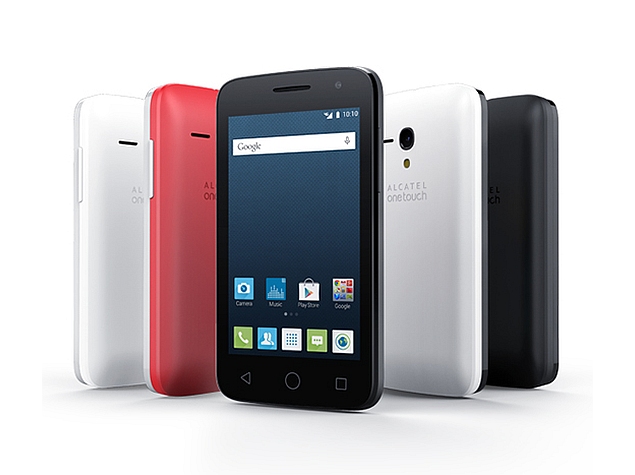 The Alcatel One Touch Hero 2C was also announced with first availability in Latin America followed by other regions. The handset is a toned-down successor to the already announced One Touch Hero 2.
(Also see: CES 2015 Day 2 Highlights: Cut Roaming Costs, Video Chat With Your Dog, and the 3 Big Trends)
Another handset series announced by Alcatel One Touch brand was the Pop 2 series. The new Alcatel One Touch Pop 2 smartphones come in screen sizes of 4-inch, 4.5-inch and 5-inch. All three smartphones are powered by the 64-bit quad-core Qualcomm Snapdragon 410 processor, which also offers Cat. 4 LTE connectivity with a 150Mbps downlink speed.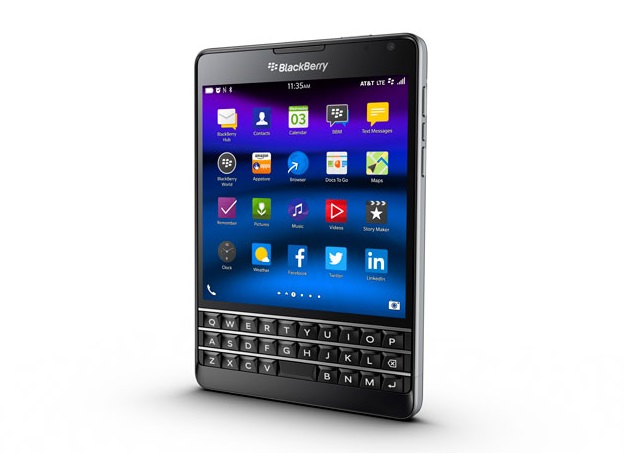 BlackBerry
AT&T and BlackBerry in partnership announced a redesigned Passport smartphone that will be exclusive to the mobile carrier. The redesigned BlackBerry Passport will be available via AT&T's online and retail stores. It has been designed exclusively for "AT&T users" touts the mobile carrier and sports rounded edges.
Tonino Lamborghini
Luxuxry brand Tonino Lamborghini was also an attendee of CES 2015 and while it didn't reveal a new smartphone, it announced the global launch of the stainless steel-and-leather handset, the Tonino Lamborghini 88 Tauri, priced at $6,000 (roughly Rs. 3.7 lakhs).
Acer
Acer launched its affordable Liquid Z410 smartphone, which will be available in Europe, Middle East, and Africa (EMEA) starting February end at a price of EUR 129 (Rs. 9,767 approximately).
The highlight of the Acer Liquid Z410 budget smartphone is that it supports 4G LTE (Cat. 4) connectivity and packs a 64-bit quad-core (unspecified chipset) processor.
(Also see: CES 2015 Day 3 Highlights: 8K TVs, VR Gaming Treadmill, and a Texan Surprise)
Kodak
One of the biggest surprises in the smartphone segment at CES came from camera-maker Kodak, as the company launched the dual-SIM Kodak IM5 smartphone.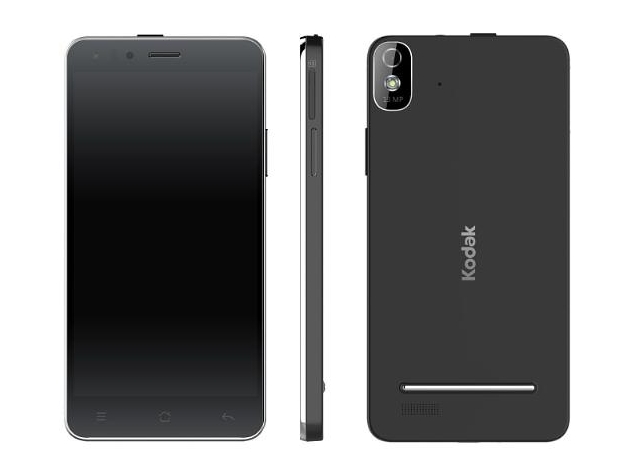 It will be available first in Europe followed by a global launch by the end of Q1 2015 at a price tag of EUR 299 or $249 (roughly Rs. 15,800). The handset's highlight is its autofocus 13-megapixel rear camera with flash and a 5-megapixel front-facing camera.
Archos
Archos, a French company, launched a slew of 4G-enabled Android 4.4 KitKat devices at CES. The company announced Archos 50 Diamond, Archos 45b Helium 4G, Archos 50b Helium 4G, and Archos 50c Helium 4G smartphones.
Polaroid
Polaroid was another brand that jumped into smartphone segment. It launched three Polaroid branded Android 5.0 Lollipop smartphones starting at $99 (factory unlocked, without contract).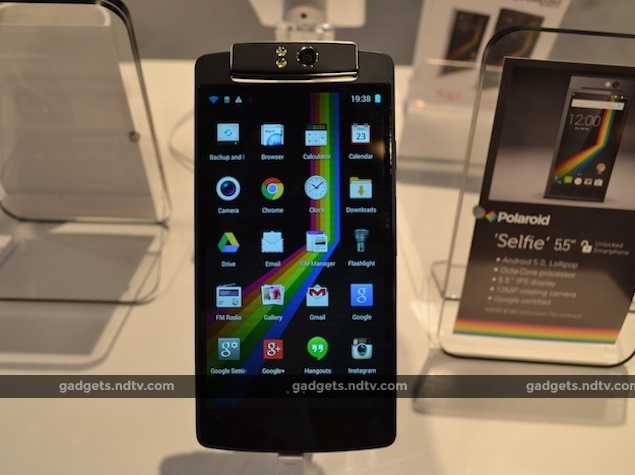 CES 2015 saw several smartphone brands such as Asus, Alcatel, HTC, and LG launching new and refreshed handset models.
There is no denying that the event missed some bigger names such as Huawei, Samsung, and Sony, which can be expected to showcase their next-generation smartphones at MWC next month.
We were delighted to see the new smartphone launches at the event. Do let us know which handset excited you the most in the comments section.