It's Day 3 of the International CES 2015 in Las Vegas and if you thought all the big announcements are done, think again. Lenovo has unveiled the A6000, an affordable 4G smartphone that is headed to India later this month as a Flipkart-exclusive, where it will slug it out against Micromax's Yu Yureka and the Xiaomi Redmi Note 4G in the sub-Rs. 10,000 segment. Whether 4G connectivity is something budget conscious users are looking for in a country where LTE networks aren't available even in the metros is a debate we'll leave for another day. For now, let's get on with our daily CES diary.
Ma, doesn't this SD show look awesome on our 8K TV?
Now that you, and everyone you know has a 4K TV and the market is flooded with 4K content everywhere, you are probably wondering what comes next - well 8K of course!
Since the Internet is not a medium that lends itself to sarcasm, let us clarify we are just kidding. 4K may not have taken off yet - thanks largely to expensive displays, but more importantly, the dearth of 4K content - but that hasn't stopped the likes of LG, Samsung, and Panasonic from showcasing 8K TVs at this year's CES.
We hear the "Because we can" department will now be shut down.
(Also see: CES 2015 Day 1 Highlights: Wireless Charging, Veteran Camera Brands, and a Surprising Star)
3D gaming smartphone and console
The W 3D is like a cross between PlayStation Vita and Android smartphone that comes with a glasses-free 3D display (with eye tracking) and physical controls alongside the screen for gaming. The phone sports a 5.5-inch display and is powered by a MediaTek octa-core processor. It feels solid, albeit a little too big for everyday use - then it's not really targeted at the typical user. Snail Games, the China-based developers of the console, claim a "huge library" of games is already in place.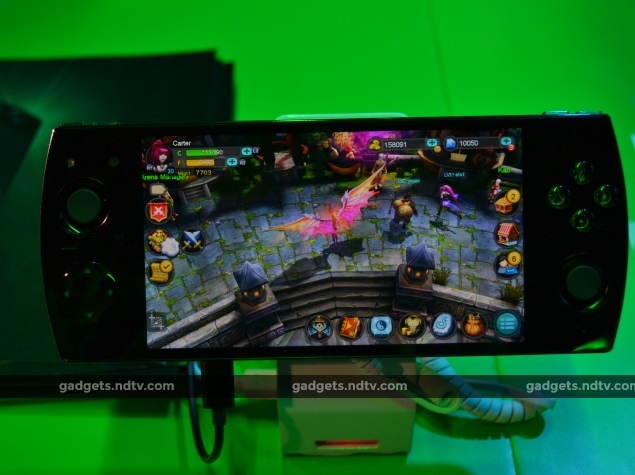 The gaming side of things looked pretty good in the brief time we spent with the device, though the company had locked units on display and wouldn't let us check out the Android experience.
Snail Games is also showcasing OBox, a Nvidia K1-powered Android-based gaming console that supports 3D and 4K output. The idea's not dissimilar to what we've seen with the likes of Ouya and GameStick. The problem with all these consoles (including the OBox and seemingly the W 3D) is they do not come with official access to the Google Play store, which means you have to pay again for games you already own, or worse, your favourite game may never be ported to the console.
That aside, if you are interested in the world of Android gaming, these two products are definitely worth keeping an eye on. The W 3D and OBox will start shipping later this year. The prices are yet to be announced.
(Also see: CES 2015 Day 2 Highlights: Cut Roaming Costs, Video Chat With Your Dog, and the 3 Big Trends)
Star of the day - Virtuix Omni
Virtual reality (VR) is another big theme at this year's CES, and our star of the day might be a familiar name for some. We first heard about Omni back in July 2013, when Virtuix launched a Kickstarter project to fund its ambitious vision of bringing to life a treadmill-like device that offers a complete VR experience. After a few bumps along the way - and several delays - the company is showcasing a fully functional device at CES 2015.
The Virtuix Omni booth is located right next to that of Oculus, perhaps the most famous name in VR post Rift and the acquisition by Facebook. While the Oculus booth had people queueing up to experience the VR goggles first-hand, most had a three-stage reaction to its neighbour Omni: doubt, disbelief, and amazement.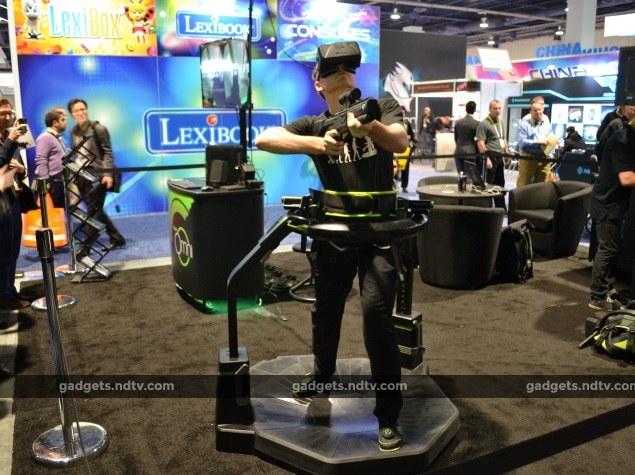 When the Omni booth first comes in sight, people try to process what they are seeing: a grown man, wearing VR goggles, carrying a toy gun, wearing funny shoes, turning around, running back and forth on a treadmill. Then their eyes turn to a screen that is showing a character inside a game moving about. Wait, this can't be happening! It's not mirroring the man's real-life movements, is it? Wow, it really is!
It's safe to say the Virtuix Omni demo at CES left many visitors open-mouthed. Yes, the product is super-niche and looks like too much work - the most exercise we like to do while video gaming is twiddling our thumbs - it definitely still makes for a cool demo. Check it out in action:

The eyewear used in the demo is indeed the Oculus Rift itself, though you also can hook up the Omni to a regular TV and use it just for control, if you so desire. The Virtuix Omni will set you back by $699 for the complete package (minus the Rift) - platform, shoes, belt, and tracking hardware as well as software. Early birds can grab it this month at $499.
Dude, where's the party
Two things overheard the most at this booth: "Why would I ever need something like this?" and, "It's the coolest thing ever!"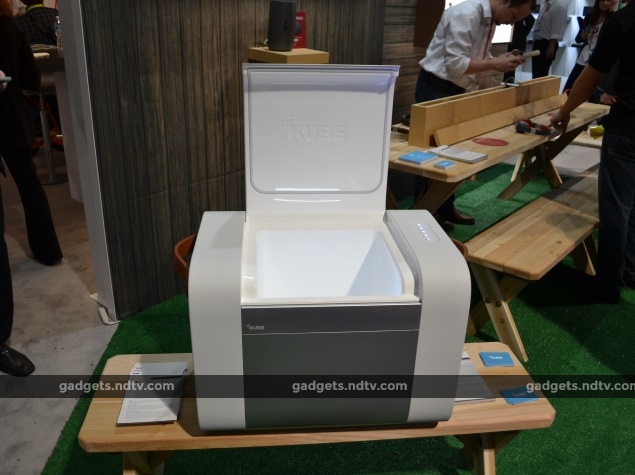 The Kube is a premium waterproof Bluetooth speaker that also doubles up as a cooler, making it the perfect outdoor party companion. It weighs a massive 9kgs - and that's when the 31L insulated storage is completely empty. The Kube is built using premium materials, and should easily handle rough use. It can last up to 20 hours on a single charge and go as loud as 110 decibels - in case you are wondering, that's REALLY loud.
The Kube will ship this summer and you can pre-book one today. Did we mention it's bulletproof? No surprise then it's designed in Texas.