Sony launched its 2014 flagship smartphone, the
Xperia Z2
in India at an
event in New Delhi
on May 8. The Xperia Z2 has been priced at Rs. 49,990 and will come bundled with a free Sony SmartBand fitness tracker for a limited period.
Sony has priced its new flagship smartly around the HTC One (M8) (Rs. 49,900) and Samsung Galaxy S5 (Rs. 51,500).
(Also see: Sony Xperia Z2 vs. Samsung Galaxy S5 vs. HTC One (M8))
The Japanese handset maker, unlike HTC and Samsung, will launch a refreshed flagship smartphone every six months, which is Sony's mantra to keep its smartphone up-to-date in terms of innards and software.
The Sony Xperia Z2 comes seven months after Xperia Z1's launch in India and looks like an incremental upgrade to last year's flagship.
We got a chance to play with the Xperia Z2 at the launch event. Read our first impressions below.
Build, design and display
Sony for the second consecutive year has followed the same minimalistic design language, which can be seen throughout the company's Xperia Z family.
The "OmniBalance" design of the Xperia Z2 is similar to its predecessor's look, including the solid aluminium frame surrounding the device. The Xperia Z2 sports chamfered edges with tempered glass on the front and rear panels. A Sony logo is in the middle of the back panel.
There's not much to differentiate the new Xperia Z2 from year's Xperia Z1 in terms of design, albeit the latter has larger screen.
The Xperia Z2 is sleeker and lighter, measuring 146.8x73.3x8.2mm and weighing 163 grams, compared to the Xperia Z1 at 144.4x73.9x8.5mm and 169 grams. Thanks to a bigger screen, the Xperia Z2 looks marginally taller than its predecessor. It will be available in black, purple and white.
The Sony Xperia Z2, much like other high-end Sony devices, is dustproof and waterproof up to IP55 and IP58 certification levels. It's worth noting that Samsung's latest flagship, the Galaxy S5 (Review | Pictures) also boasts a water resistant body.
The right edge houses all the physical buttons: power, volume rocker and camera shutter, as well as the microSD and SIM card slots covered by a common flap. The left panel houses the Micro-USB charging port, which also has a waterproof flap. The top has the 3.5mm headset port, while there is a magnetic dock connector on the left edge as well.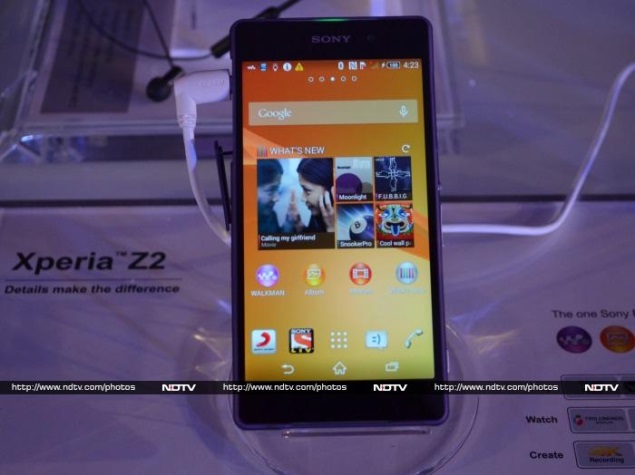 The Xperia Z2 features a 5.2-inch TRILUMINOS display with full-HD 1080x1920-pixel resolution. The smartphone's screen is powered by Sony's proprietary X-Reality for Mobile picture engine.
The Sony Xperia Z1's (Review | Pictures) screen received bad reviews due to its dullness, but our first impressions of the Z2's screen are good. Colours looked rich and vibrant on the Xperia Z2.
Specifications and performance
The Xperia Z2 is powered by a 2.3GHz quad-core Snapdragon 801 (MSM8974AB) processor with an Adreno 330 GPU, much like the international versions of the Samsung Galaxy S5 and HTC One (M8) (Review | Pictures).The Galaxy S5 in India is powered by a Samsung Exynos Octa 5420 while the Indian One (M8) has a Snapdragon 801 clocked at 2.5GHz. The Z2 features 3GB of RAM, which is more than the 2GB RAM found on Galaxy S5 and One (M8).
(Also see: Sony Xperia Z1 vs. Sony Xperia Z2)
The Xperia Z2 comes with 16GB of inbuilt storage, which can be expanded by up to 128GB using a microSD card. Going with the standard for most flagships launched recently, the Xperia Z2 takes a Micro-SIM.
The Sony Xperia Z2 outdoes other flagships in terms of battery capacity.It ships with 3,200mAh battery, which if compared to Galaxy S5 (2800mAh) and One (M8) (2600mAh) is considerably larger.
The Xperia Z2 easily handled multitasking, and we observed that apps opened and closed instantaneously. Performance wise, the Xperia Z2 fared well in our limited testing.
Camera and software
The Sony Xperia Z2 sports the same 20.7-megapixel rear camera with Exmor RS sensor as its predecessor. This camera is now capable of 4K (Ultra-HD) video recording, much like the one in the Galaxy S5. Also onboard is a 2.2-megapixel front camera. In our limited testing, the 4K video recording feature on the Xperia Z2 looked impressive and images in well-lit conditions looked brilliant.
Sony is touting a number of camera improvements on the Xperia Z2, such as AR (augmented reality) effects, object tracking, SteadyShot image stabilisation, and a superior auto mode.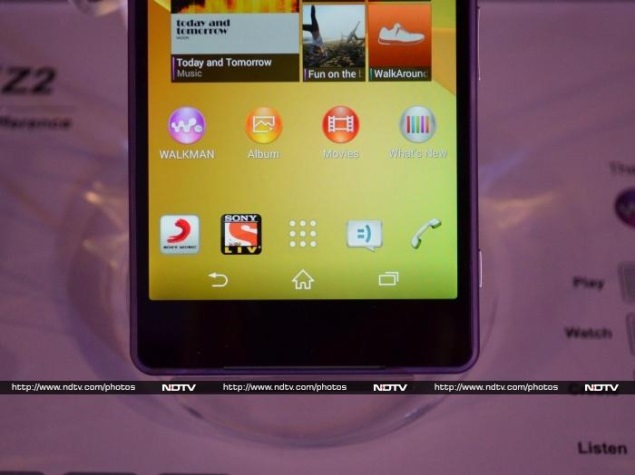 The Sony Xperia Z2 runs Android 4.4.2 KitKat outofthebox and features a wide array of tweaks on top of the OS. When we first looked at the Xperia Z2's home screen, the most noticeable thing was an all-new 'What's New' feature which pushes content from Sony's Video Unlimited, Music Unlimited and PlayStation apps.
The Xperia Z2, much like the Xperia Z1, features on-screen navigation keys and also includes small apps, a feature first seen on the Sony Xperia Z, which can run on top of other running apps. This is something we have also seen on LG and Samsung devices. LG calls the feature QSwipe, while Samsung's Pop-up Play feature allows video to play on top of other apps.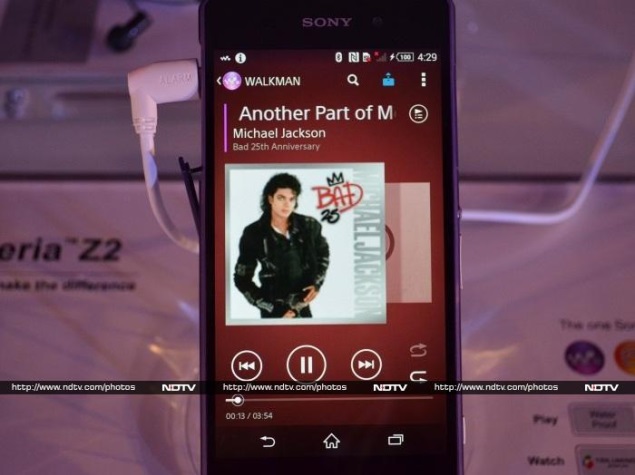 Some of the preloaded apps on the Xperia Z2 are File Commander, OfficeSuite, Pixlr Express, PlayStation Mobile, Sony Select, Socialife News, Sketch, TrackID TV, and Xperia Care. Overall the look and feel of Sony Xperia Z2's interface is very much as it has been on recent Xperia devices.
Accessories and other interesting things
Sony, in addition to announcing its Xperia Z2 smartphone in the country, also launched a fitness tracking band, the Sony SmartBand SWR10.This product will be available separately for Rs. 5,990.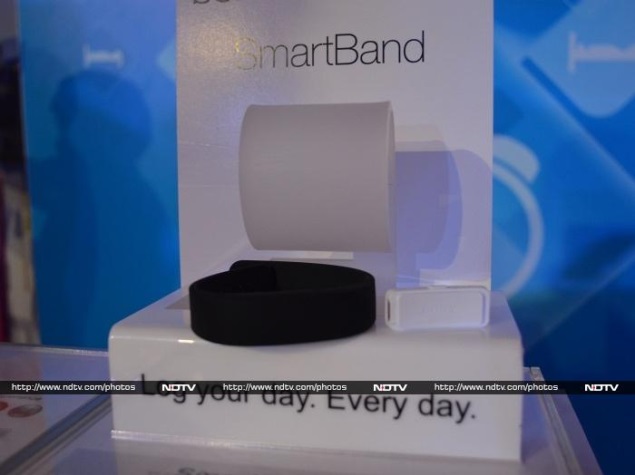 The Sony SmartBand focuses on tracking users' fitness and health, and also monitors sleep patterns. It can show notifications and control media playback. Notably, the SmartBand SWR10 will be available in the third week of May, and is compatible with all Android 4.4 smartphones.
The Sony SmartBand, like many of the firm's previous devices, is waterproof.It works with an app called Lifelogwhich is preloaded on the Xperia Z2. The app displays information such as communications, entertainment and the physical activities logged by the SmartBand's sensors.
Notably, Sony will be offering the SmartBand free with the Xperia Z2 for a limited time. Some other offers include six free HD movies for download, one full-HD cricket game, and a three-month Bigflix subscription. Sony will also throw in an original case worth Rs. 2,990 for free.
You can expect more detailed observations and testing when we review the Sony Xperia Z2.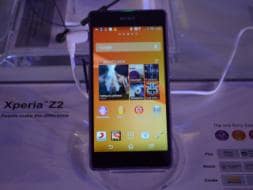 Sony Xperia Z2 in pictures