The world is getting smaller and keeping in touch is getting easier than ever before, but one of the problems of using a program like Skype to talk to your friends and family - particularly when they are living in another country, is co-ordinating the call. Most of us have gone through the hassle of exchanging emails to plan out the timing of a Skype call to make sure that everyone is online and logged into Skype at the same time.
In fact, you might have even had to make a phone call to confirm that the Skype call is happening; when you find that the person you were supposed to be talking to, isn't showing up as online!
But did you know that you can actually even use Skype to call people directly on their phones - both mobile phones, and land lines! You need to buy credit on Skype to be able to make the calls, and while the call is not free, but it's a lot easier than trying to co-ordinate to make sure everyone is logged into Skype at the right time!
Aside from Skype, here are some other apps you can install on your smartphone or PC, with which you can call up your friends or relatives on their phone numbers, usually for a fraction of the cost that your operator would charge.
Viber
One of the messaging apps that has been growing in popularity of late, Viber (Android, iOS, Windows Phone, BlackBerry, and computers) lets you chat with your friends and make free voice calls to other Viber users. But more than that, it also lets you call up people on their landline number or mobile phone. To do this, you have to pay for Viber Out credit; once you do, you can call up someone in the United States for just Rs. 1.16 per minute, to call either a landline or a mobile phone. It's the same rate for calling Singapore as well.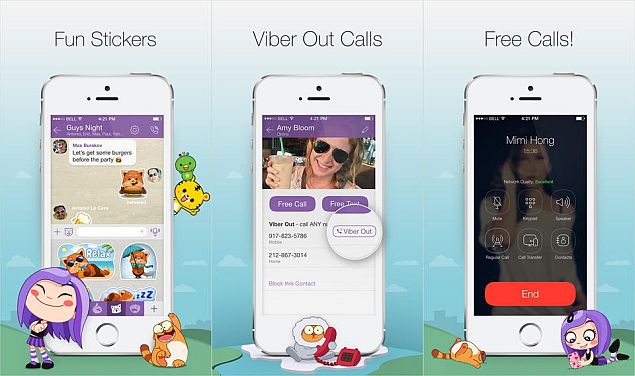 Calling a mobile phone in the United Kingdom is a more expensive proposition, and will set you back by Rs. 3.60; landlines are the same Rs. 1.16 per minute. Calling someone in the UAE on the other hand will set you back by a whopping Rs. 15.85 per minute, on cellphones and landlines. You can see the rates here.
Aside from offering voice calls, Viber is a full-fledged messaging application, with a large install base, and like most modern messaging apps, it uses your phone number as your registration ID, so there is almost no setup involved.
Line
The Line app (Android, iOS, Windows Phone, BlackBerry, and computers) is, like Viber, a full fledged messaging platform. It has features such as private messages which self-destruct on a deadline, file sharing, stickers and video chats. Aside from all this, you can also use Line to call phones around the world.
The app works without any fixed monthly charge, but you can subscribe to a monthly plan for lower per-minute rates as well. The rates are highly competitive - calling a landline in the United States costs 1 credit (Rs. 0.60) per minute, and 2 credits (Rs. 1.20) for mobiles. Calling China costs 2 credits for both landlines and cellphones, while the United Kingdoms charges are 1 credit per minute for landlines, and 5 credits (Rs. 3) per minute for mobile phones. To pay, you have to buy credits, and you get 100 credits for Rs. 60. You can see country specific prices here.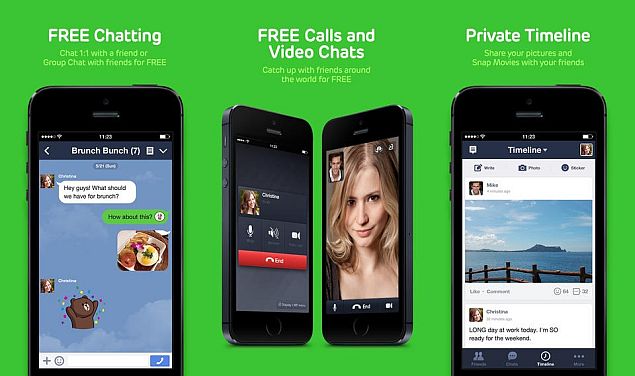 The monthly plan isn't a fixed rental - the credits you purchase expire after 30 days, but the call rates a slightly lower with those credits, so you'll need to figure out if you call any region often enough to make it worthwhile to buy the credits. It can be a little confusing, particularly when compared to Viber, but it is a good choice for many reasons.
An attractive design, competitive call rates, and additional features like Timeline - it's like a Facebook wall, but only the friends you've shared it with can see the posts - photos, pictures, and status updates are all available, but you have to explicitly choose who all can see the posts at the outset - make Line an attractive option.
Nimbuzz
Nimbuzz Messenger is a fairly plain looking app, but once you've figured out the layout, it works as promised. It is also available for almost every device (iOS, Android, Window Phone, BlackBerry, Symbian, and computers) out there, which is always a plus.
You have the option of calling a landline or mobile phone. The layout of the app makes finding the call option pretty complicated - in the BlackBerry app we used, you have to go into two different menus before you can make a call.
The feature - NimbuzzOut - claims to be the cheapest international calling option. The rates we checked were actually rock bottom - you have to buy credits in advance as usual, which you can do from the Nimbuzz website - and a call to the USA, for example, costs $0.008, or approximately Rs. 0.48.
Calls to other countries worked out to more or less the same rates as the other services, but if you're making a lot of calls to the United States, we would certainly recommend using Nimbuzz. It is the cheapest option on our list for calling the US, and it works reliably. One thing we didn't like about the app is that it makes you create a username and password to sign in (because of its chat platform) which feels very outdated today.
Bonus
In case you're not reading this from India, then you can also consider using Google Voice - you can't get a virtual number for incoming calls if you're not living in the United States, but you can use Google Voice to make calls at very competitive rates from most countries now. You can visit this page to see if your country is amongst those covered by Google Voice.
Google Hangouts and Facebook Messenger also support voice calls - since we are often logged into those services, if you see a green dot next to someone's name, you can tap that and start chatting. It's no different from a Skype to Skype or Hike to Hike call, but since people often keep Facebook and Gmail logged in all day, it can be a little easier to see people as they come online.
Affiliate links may be automatically generated - see our ethics statement for details.