Last week in Telangana, a school bus carrying nearly 40 children was hit by a train, and 17 children died while 21 others were injured. The driver, who was also killed,
was allegedly on his phone
and did not check to see if the road was clear while passing an unmanned railway crossing.
This whole tragedy could have been averted if a ten-year-old patent to keep people from talking while driving had found wider use. Four Delhi-based IT engineers, Yash Singh, Anirudh Singh, Manu Singh and Lakinder Singh Verma, hold a patent for a system that automatically disables a cellphone when in a moving vehicle. The patent has since been referenced by many other companies, including Research In Motion Ltd (now BlackBerry), and Nokia, but for now, people can drive and talk unimpeded.
According a paperpresented by Manisha Ruikar, Professor and Head of Department of Community and Family Medicine, All India Institute of Medical Sciences (AIIMS), Raipur, the total number of people killed in road accidents in India in 2002 were 84,674. A decade later the number had nearly doubled at 1,42,485. Obviously there are more factors to consider when accounting for the rise, than just the rapid adoption of cellphones in India. But it's also clear that we need a solution to help reduce the number of accidents taking place.
It is here that the patent might find an interesting application. The abstract for the patent reads that "This invention relates to a system for disabling a cellphone in the presence of certain conditions, and for switching it off in the presence of some other conditions, while allowing its use in the normal fashion in the absence of these two sets of conditions. Specifically, a first condition is an attempt to operate a cellphone by the driver of a vehicle having its ignition on and/or moving above a certain speed. In the second condition the system automatically switches off any cellphone in the ON condition being carried on the person of an individual occupying a seat in an aircraft, or a committee room, or any other such location where such a restriction is envisaged."
The circuit is designed to work in such a way that it won't disconnect passengers.
"So for instance if someone is speaking on the passenger seat next to the driver or behind him," says Verma, "they can talk on the cellphone. Since the driver is the one who is controlling the vehicle it is of optimum importance that he or she gives his or her full attention to the road and the people there."
When asked why the patent has not been implemented widely, Verma told NDTV Gadgets that the four inventors have not been able to find companies willing to lease their technology.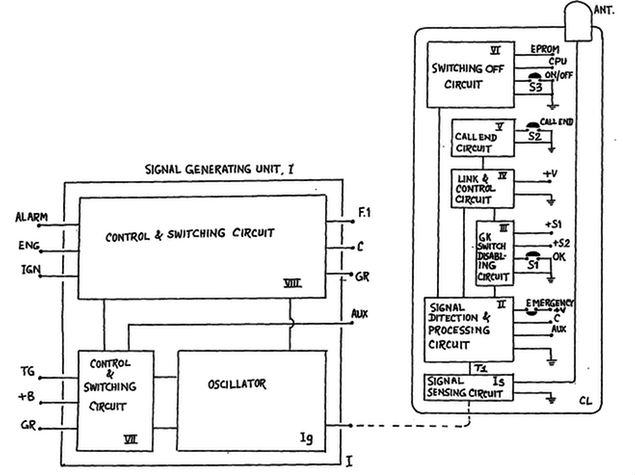 "We had been approached by mobile phone companies for a complete buyout of the patent, but we want to license it out to the firms rather than sell it off," he says, adding, "It's an Indian patent more than anything else, we would be more than happy to lease it out to mobile phone makers, so that they can incorporate it into their new cellphone designs."
Another possible solution involves mobile jamming on roads, being developed at Anna University in Chennai. Aside from these hardware-based solutions, there is also the possibility of app-based solutions which could stop people from talking while driving.
There has also been a rise in hardware solutions that prevent texting, instead of voice calls - not too surprising in light of this patent, perhaps. For example, RIM (now BlackBerry) also has a patent to prevent texting while driving, and Apple was awarded a patent this year for the same thing. Apple's patent describes a motion analyser, to see if you are in motion, and a scenery analyser, to see if you are driving. If both these conditions are met, the phone can be disabled.
However, some feel that the problem lies with the users, and not with technology.
SP Singh, Sr. Fellow and Coordinator, The Indian Foundation of Research and Training says that a major reason why cellphone-related accidents still occur is because the fine to deter drivers is too small.
"The fine for using a cellphone while driving is only Rs. 500," says Singh - this actually varies around the country, as the states can have their own rules aside from the Central Motor Vehicle Act, but typically, the amount is not more than Rs. 1,000 in most parts of India. "And even that is not enforced regularly or seriously," Singh adds, "moreover, the Motor Vehicles Amendment Bill is still waiting to be cleared in the Lok Sabha which is an added issue. The amendment will see the fine amount increase to Rs. 5,000 and a license suspension, which, if implemented across the nation strictly, will reduce such accidents."
Verma also would like the government to have a bigger role to play in guaranteeing people's safety, but says that he is afraid that excessive bureaucracy would get in the way of actual progress.
"It is very difficult to get things moving with the government because of the red tapism and the slow machinery involved in getting things to move," says Verma. "But if the government makes it mandatory for cellphones to have such features then it would in turn compel cellphone makers to use the feature that we have developed for helping prevent accidents."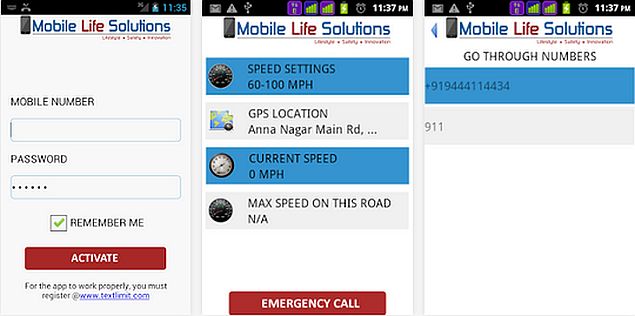 For now though, the only real options available are apps that can shut down your call facilities when the phone is detected as being in motion. The DriveOFF free Android app for instance turns off all notifications once it detects that you are moving at over 10mph. Text Limit is another free Android app that lets you set a designated speed, and then cuts off all communications from your phone except to emergency numbers.
The only problem with both these apps is that they can't tell the difference between someone driving the vehicle and the passenger - as long as you are in a moving vehicle, these apps will cut communications. If you're regularly driving though, then installing one of these apps makes a lot of sense - at least until there's a better all-around solution.