Small-form-factor PCs such as Zotac's long-running ZBOX models are appealing to those who prioritise appearance and space savings over upgradability and expansion. Honestly, there's no need for everyone's PC to be the size of a mid-90s ATX tower - if we can shove massive amounts of power into tiny notebooks, there's no reason why we can't do it on the desktop.
For many years now, Zotac has been selling shrunken PCs in various shapes and sizes; some so small they'll fit in the palm of your hand. They've all been shaped like ordinary boxes, though - unobtrusive little rectangles that free up space on your desk, or that can just hang off the back of an ordinary LCD monitor, out of sight. The ZBOX lineup has included models well suited for use in home theatre setups, but none of them would be out of place in a living room or bedroom.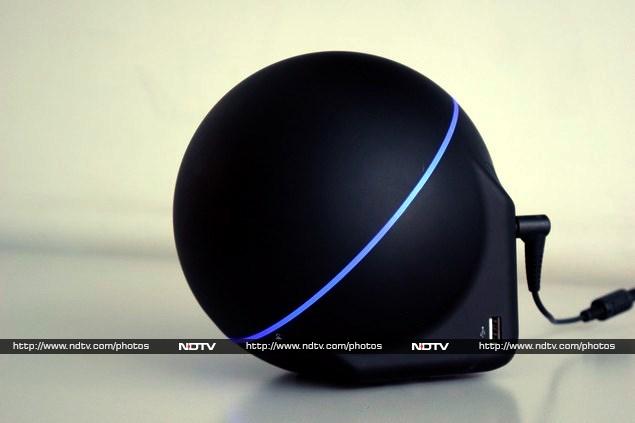 Of course, there are those who would rather show off their PCs - and that's where the new ZBOX Sphere comes in. It isn't tiny enough to be tucked away, but it could still look really cool on a desk. It's still a whole lot smaller than a PC tower, but isn't nearly as practical as the more traditional ZBOX models. Let's see if there's more to it than looks.
Look and feel
When set up and switched on, the ZBOX Sphere comes across as a bit menacing. When we first heard of it, we imagined that it would look quite goofy, but by leaving the dome completely blank and surrounding it with a blue LED ring, Zotac has given its latest creation quite a striking personality. It's not sleek or inconspicuous by any means, but it isn't ridiculous either. The Zbox sphere demands attention, but also simultaneously tries to be unassuming.
In terms of practicality, you can't tuck it away like most other SFF PCs. It needs to sit flat on a table and you can't balance anything on top of it either. The outer surface is matte black and has a soft texture. One extruded corner gives the sphere a flat base and rear panel, though the proportions are such that you really can't tell if you look at it head on. The seam around the dome is masked by a ring that lights up in blue when the Sphere is turned on. We can't help but imagine how much slicker this PC would have looked in a super-glossy piano black finish - unlike phones and tablets that need to be touched all the time, fingerprints wouldn't be such a problem here.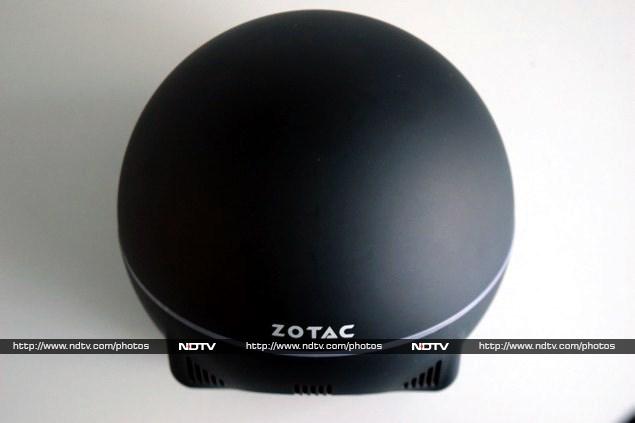 The dome pops off with a simple twist, and you can see that most of the internal volume is blank. The spherical shape thus has no practical purpose. Zotac's motherboard is still surprisingly small, though. It's densely packed with components on both sides and is actually mounted upside down, so what you see on top are the RAM slots and hard drive. The drive's SATA and power ports also appear to be fixed to the board. There's a fairly large heatsink and fan assembly on the bottom of the inside, facing the CPU.
The motherboard's orientation also explains the layout of the port cluster on the rear. There's a DC power inlet, 3.5mm audio input and output jacks, HDMI and DisplayPort video outputs, four USB 3.0 ports, two USB 2.0 ports and a Gigabit Ethernet socket. They're all upside down, which you'll have to remember when leaning over to wrangle with USB plugs. A separate SD card reader is also integrated onto the back.
There's one more USB 2.0 port on the right of the base, and a Kensington lock slot opposite it on the left. In fact, it's a little odd that Zotac incorporated a Kensington slot but didn't think it necessary for the dome to be lockable.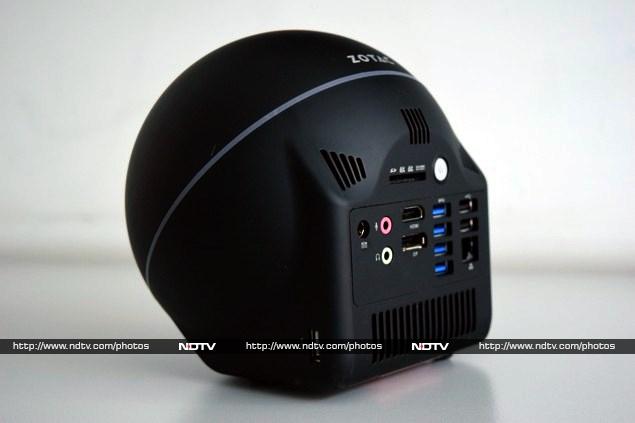 Specifications
The interior of the ZBOX Sphere is not cramped and so thermal headroom is not a problem. Thus, we have an Intel Core i5-4200U processor, which we've seen before in premium notebooks such as the Dell Inspiron 7000 series models and Acer Aspire S7. The U suffix to the model number signifies that this is an ultra-low-voltage mobile processor, so it can't be compared do desktop Core i5 models in terms of performance. You get two cores with a base speed of 1.6GHz which can ramp up to 2.6GHz under heavy load. Intel's HD 4400 graphics processor is integrated - not the latest or greatest, but still quite competent.
Zotac sells two versions of most of its ZBOXes - a barebones model without RAM and storage devices, and a "Plus" model which has them preinstalled. This lets you customise your own PC, so for instance you might want to use an SSD for speed, or recycle old components. Our OI520 Plus came with 4GB of DDR3 RAM and a 500GB Samsung hard drive.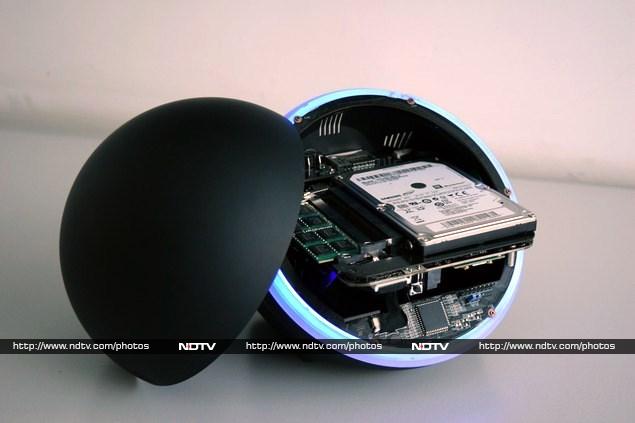 On the inside, you'll also find a mini-PCIe slot occupied by a Wi-Fi card and an unused mSATA header which will be the only way to add an SSD if you use the sole SATA port for a hard drive. The two slots along with the hard drive and RAM are very easily accessible, which is very pleasant.
Bluetooth 4.0 and Wi-Fi b/g/n/ac mean you can use the Sphere wirelessly except for its power and display cables. That will go a long way in capitalising on its look. If that isn't a priority, there are still plenty of USB ports and Gigabit Ethernet.
Zotac doesn't include an OS with the Plus version, though thankfully all drivers are included on a small USB pen drive. This is a really neat touch, though the drive seems like something that could get lost very easily.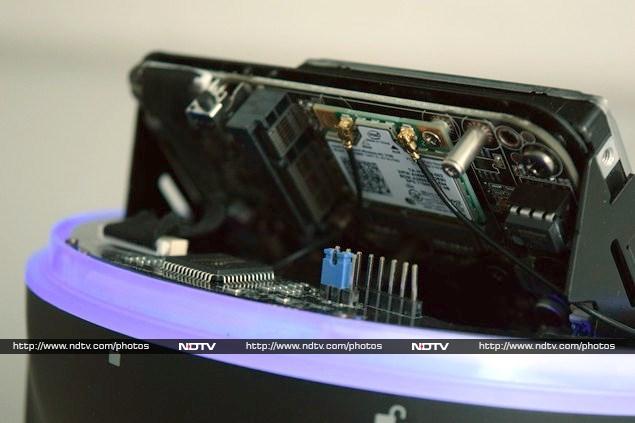 Performance and usability
We loaded our own copy of Windows 7 and began using the ZBOX Sphere. It definitely wasn't as snappy as it would have been with an SSD, and we noticed how different it felt when booting up and shutting down. This is the sort of thing you could improve upon by buying the barebones version and kitting it out with an SSD.
We also have to note that Zotac's UEFI BIOS is really not as well developed as the ones we've seen on motherboards from Asus, Gigabyte and other big brands. It makes even simple things such as selecting the boot device priority more complicated than they need to be, and is full of obscure commands with inadequate descriptions.
Once you're booted into the OS of your choice though, everything is smooth sailing. We were done with driver installation in around 20 minutes and everything worked just fine. We had no problems with the Sphere's performance in day-to-day tasks - we could have a dozen or so browser tabs open and still switch between apps with little to no lag.
We recorded good scores in our benchmark tests, and found the Sphere to be on par with notebooks that use the same processor. We got results of 2727 and 3824 points in PCMark 8's Home (Accelerated) and Work scenarios, and 527 in 3DMark overall at 1080p. Cinebench R15 posted 232 points in the multi-threaded CPU run, which is good for a dual-core processor. POVRay finished rendering its test scene in exactly nine minutes.
SiSoft SANDRA put various subsystems through their paces, and we came away with decent scores in all but the physical drive tests, thanks to the use of a slower spinning drive as compared to an SSD. However, we can't complain about having 500GB of storage space at a decent price, which is the necessary tradeoff.
Videos played well, including 1080p clips. The Sphere's box has a badge announcing that it is capable of playing back 4K video, but we were unable to test this claim. There are other ZBOX models which are more suited to life in a home theatre rack, but it's nice to know the capability is there to be exploited.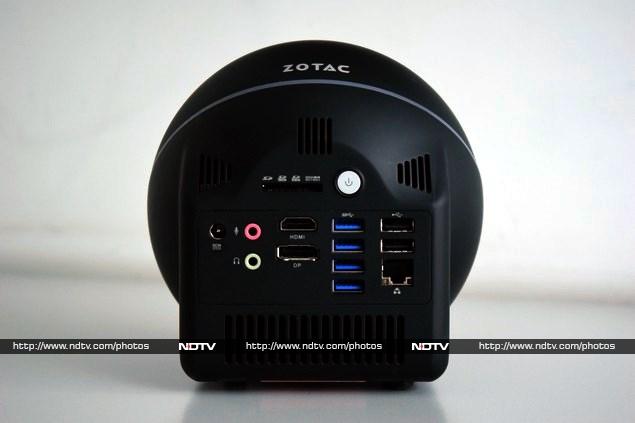 Verdict
The ZBOX Sphere is by no means an unobtrusive device - the glowing blue ring around its equator pretty much rules out keeping it in a bedroom or sitting it on a TV stand to serve as an HTPC. This is a showpiece and you'll have to treat it as such. We're not completely sold on the spherical shape and the dull look, but we do have to admit it lends itself to some very interesting possibilities for modding. That, and the fact that components are easily accessible and replaceable make us even more interested.
We think SFF PCs make a lot of sense for most home and office users who aren't ever going to need huge graphics cards, power supplies and coolers. With tiny SSDs replacing desktop HDDs and optical drives disappearing altogether, there is little to no reason to waste space on a full-sized tower. The SFF route gives users more flexibility and versatility than a laptop or all-in-one flat-panel PC might, which makes it a highly satisfactory compromise.

If you're comfortable with PC components, we would recommend picking up the vanilla version and putting your own RAM and SSD in. You could also buy the Plus model and add a small mSATA SSD for the OS before beginning the software installation process, which would add to the cost but would definitely pay off in terms of performance improvements.

We also like the fact that Zotac has done something offbeat here. It isn't for everyone, but there will be people who fall in love with it at first sight. If you aren't looking for the absolute tiniest PC and want something that will turn heads, the ZBOX Sphere is a superb choice.
Price:
Rs. 34,499 (ZBOX Sphere OI520 Plus); Rs. 27,999 (ZBOX Sphere OI520)
Pros:

Unique look

Good performance

Easy to access and upgrade RAM, storage and PCIe card

Cons:

No OS included

Distracting LED ring can't be controlled

Ratings (out of 5):

Design: 4
Performance: 4

Value for Money: 3.5
Overall: 4