It isn't often that a product comes along and totally shatters our ideas of what should and shouldn't even be physically possible. Even when that does happen, it's usually got to do with how thin and light a device is or how high its test scores are, compared to its predecessors. It's rare to find something that deserves to have a whole new product category created just for it.
That's exactly what we have today in the form of the Zotac ZBOX Pico. Believe it or not, this tiny little box is a fully functional Windows 8 PC. It is literally pocketable - barely larger than a common portable hard drive - but it really does contain everything a desktop PC needs: processor, motherboard, RAM, SSD and even Wi-Fi.
Zotac has been selling shrunken PCs for years now, but even these have been at least the size of small lunchboxes. New advances in hardware have made the ZBOX Pico possible, and new dynamics in software licensing have made it astonishingly cheap. If it can get our work done, desktop towers might soon become dinosaurs; unnecessary and impractical for everyone other than gamers and professionals with high-end needs. It's a tantalising thought, so let's see what the ZBOX Pico has to offer.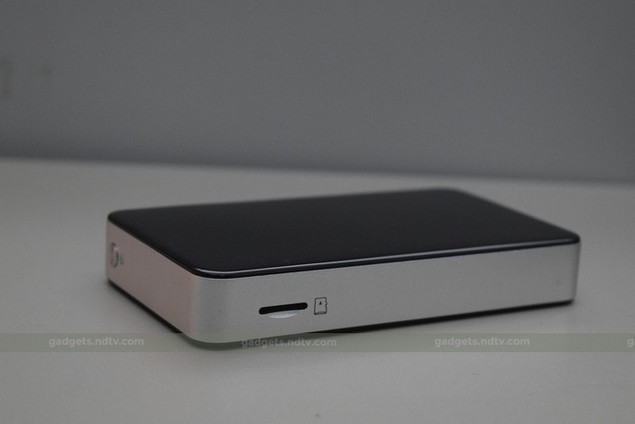 Look and feel
It's really hard to get over how tiny this thing really is. It just doesn't seem like a PC. At 115.5 x 66 x 19.2mm, it's around as wide and tall as smartphones that would be considered "compact" by today's standards, but maybe twice as thick. It's just a little larger than the original line of iPods. We've seen laptop power bricks that are larger than this! Most of the people we showed it to assumed it was a portable battery pack, and that's honestly the most accurate way to describe its size and proportions.
To put it another way, we would roughly estimate that it is one tenth the size of an average laptop. You could easily fit a hundred or more of these inside an average desktop PC tower. You could toss one of these in any bag for emergencies, stick it on the back of a TV in any room, mod it into all sorts of innovative projects, or just keep it around as a spare. The closest we've seen to this level of miniaturisation has been Intel's NUC series, which is still a lot bigger and hasn't really taken off due to limitations in terms of performance and flexibility.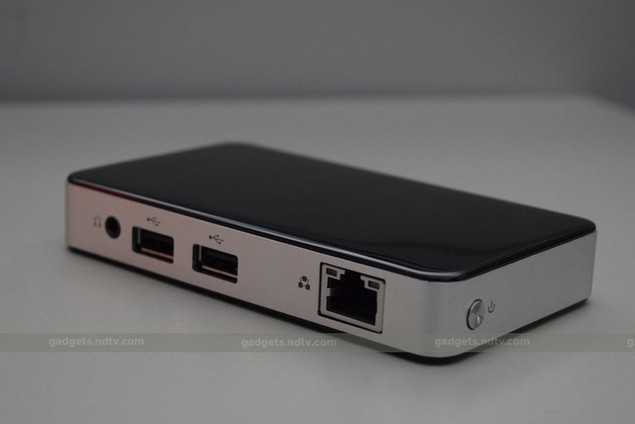 The ZBOX Pico is passively cooled and so there are no vents or openings on its body. There's no fan and no other moving parts, making it completely silent. The flat top and bottom are made of shiny black plastic, while a continuous metallic silver strip runs around the edges. The overall look is really slick, even though it is derivative of the iPhone 4/4S look which has become quite common.
You might think there's no branding on the ZBOX Pico at all, but a hidden Zotac logo and the trademark blue ring light up on the black lid when the device is turned on. If you don't like this, you can control both independently through the BIOS.
What we found most interesting is that Zotac didn't go with a flat, slim body, and so there is room for quite a few ports. On the back, we were delighted to see a full-sized 10/100 Ethernet port, two USB 2.0 ports and a 3.5mm audio out socket. There's another USB port and an HDMI video output on the right edge, alongside the DC input socket. There's only a microSD card slot on the front, and a small power button on the left. Bluetooth 4.0 and Wi-Fi n are built in, but there are no external antennas.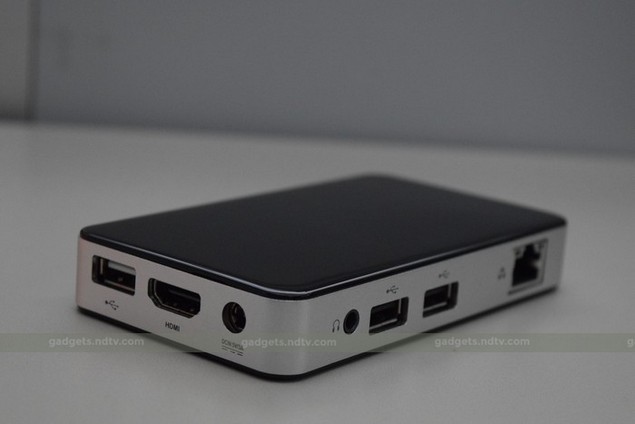 Like most other ZBOX models, the Pico can be clipped on to the back of any VESA mountable monitor. The VESA standard requires four screw mounts placed in a square - the plastic bracket included with the ZBOX Pico is small enough that it will stay firmly in place with only two screws. The power adapter is a standard wall-wart, no different from the ones that come with small peripherals.
If you can use Wi-Fi for connectivity and a wireless keyboard and mouse, you'll only need HDMI for video (plus audio) and the power cable. With both these ports on the narrow edge, the ZBOX Pico can be very unobtrusive indeed.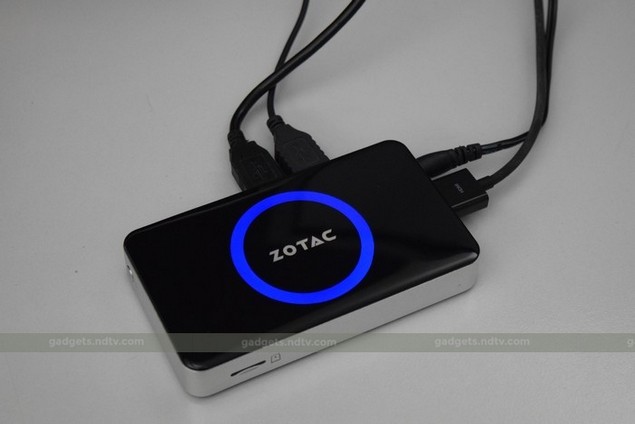 Specifications
Minature PCs have long used hardware originally conceived for laptops or even netbooks, but this time Zotac has essentially taken parts equivalent to those inside today's tablets. There are plenty of small x86 tablets running Windows today - strip away the screen and battery, and you'll be left with the ingredients for a device just like the ZBOX Pico.
The processor is an Intel Atom Z3735F, which is based on the Bay Trail architecture. It has four cores and has a rated base frequency of 1.33GHz, which can go up to 1.83GHz in bursts. The thermal envelope is a remarkably low 2.2W, according to Intel's documentation. This makes the processor practically identical to the Atom Z3735D which powers the tablets such as the Notion Ink Cain (Review | Photos) Intel HD Graphics is integrated, which should come as no surprise.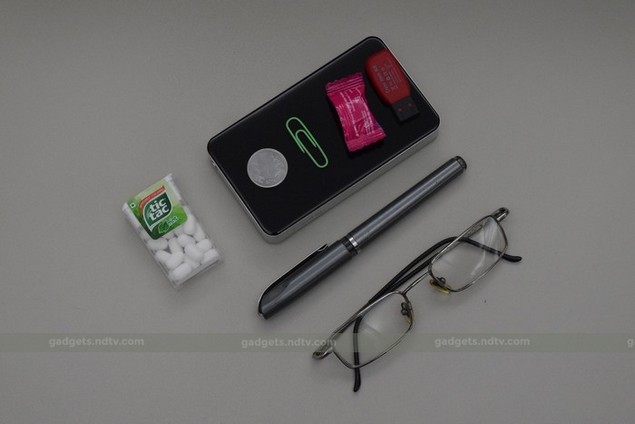 Zotac sells most of its ZBOX models as barebones, leaving the user to install his or her own RAM and storage. The super-integrated nature of the ZBOX Pico means this approach isn't possible. There's 2GB of RAM and 32GB of storage in the form of an embedded MMC card, presumably soldered right onto the mainboard. Neither is upgradeable - Zotac's website does list a 64GB model, but it isn't being sold in India at this time. You can of course use USB storage of any size or a microSD card of up to 128GB.
Windows 8.1 comes preinstalled, which is a surprise considering the ZBOX Pico's price and Zotac's usual DIY approach. We imagine that the ZBOX Pico qualifies for a free Windows license - Microsoft recently began giving its operating system away to OEMs to enable them to sell low-cost tablets to compete with Android models. Although it's only a 32-bit build, it's a whole lot better than Windows RT and more attractive to most people than any flavour of Linux. No additional software is preinstalled, which is a relief.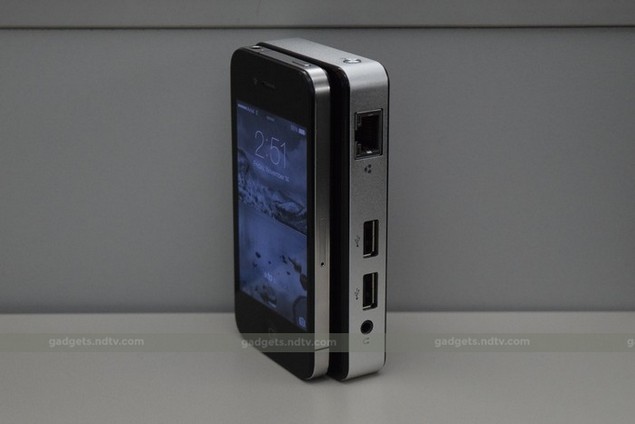 Performance
We are truly impressed by Zotac's ability to stuff so much hardware into a single pocketable device, but the whole concept will fall apart if you can't actually do anything with it. We're happy to report that the ZBOX Pico is in fact a pretty capable machine. For most ordinary tasks such as creating documents, browsing the Web, and playing videos, performance was indistinguishable from that of any ordinary low-end laptop, tablet or PC. In a blind test, we would not have been able to tell there was anything special about it.
The ZBOX Pico's video capabilities top out at 1080p, so we set it up with a monitor at that resolution. It managed to hop onto our office Wi-Fi network with no problem. Initial setup was perfectly normal, and we were up and running on the Windows desktop within just a few minutes.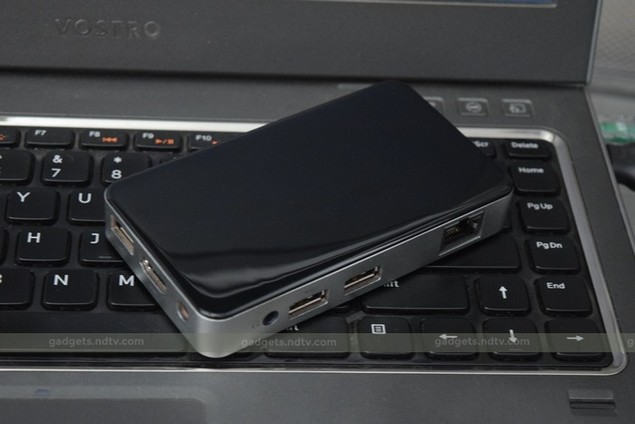 We eased into our benchmark routine with the high-definition video playback tests. The ZBOX Pico had no problem even with the most heavily encoded sample, but we did feel it getting pretty hot as we went on. We had to rule out some tests since 64-bit software won't run. POVRay took 33 minutes, 16 seconds to render its built-in benchmark, which is nearly three times as long as the larger Zotac ZBOX Sphere took, and also surprisingly slower than the Notion Ink Cain.
We were not expecting stellar scores in 3DMark or PCMark 8, but both actually failed to run, which was a little surprising. The browser-based SunSpider and Mozilla Kraken took 522.6 and 9840.7ms respectively, which are roughly on par with the scores of the Cain tablet but far weaker than even a Celeron-based entry-level notebook such as the Acer Aspire E3-111.
SiSoft SANDRA illustrated again that the ZBOX Pico performed considerably poorer in all departments than the Notion Ink Cain, which has roughly the same specifications - even in tests independent of screen resolution. The 32GB of embedded storage was a particular weakness, with decent enough read speeds but very slow writes. We strongly suspect that the Atom Z3735F processor is being throttled because of heat buildup - the Cain has a large metal plate on the rear which acts as a heatsink, whereas the ZBOX Pico has far less surface area to exploit.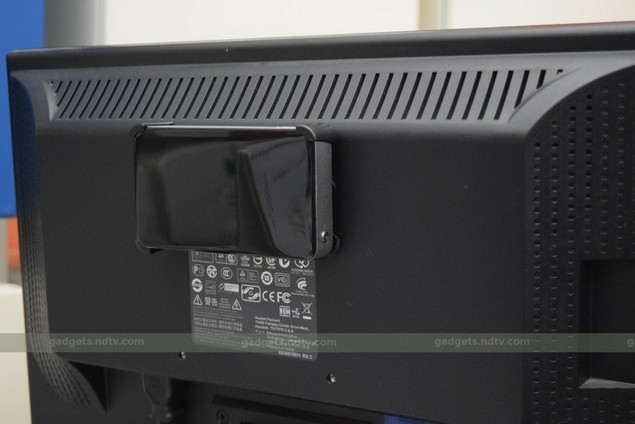 Verdict
There is no shortage of use case scenarios for a PC as tiny and quiet as the ZBOX Pico. It can be a HD playback machine for your TV; a simple workhorse for homes, schools and offices; an emergency standby system; or even a platform for hobbyists and experimenters to build new things around. Sure, it isn't a speed demon, but it can get a lot of things done.
The performance is definitely not good enough for gaming, beyond light 2D puzzle games such as those found in the Windows store. It also won't satisfy anyone who needs to edit photos, create content, or multitask heavily. However, at just a hair under Rs. 16,000 (including storage, RAM and full Windows license), this is a brilliant entry-level PC for anyone.
PC buyers whose only concern is cost should definitely take a look at the ZBOX Pico. However, if you don't already have a keyboard, monitor and mouse that you can use, those costs will have to be factored in - in which case you might want to buy an entry-level Windows 8 tablet or laptop instead, which might work out to be more useful.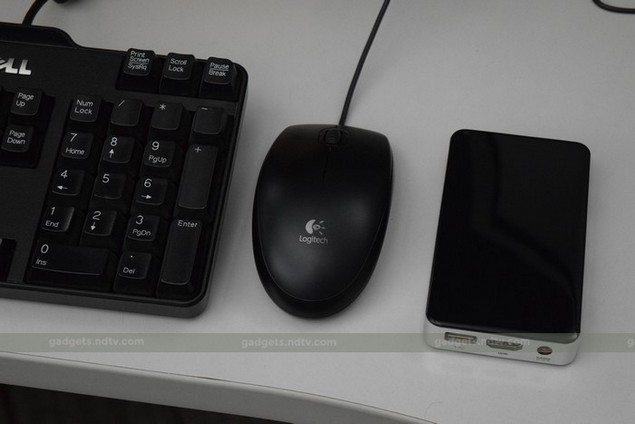 If size is your primary concern and you want more power or flexibility, Intel's NUC series and Zotac's own ZBOX Nano lineup offer many more choices, with prices scaling up depending on the capabilities you want.
People might look at the ZBOX Pico and use it as proof that the desktop PC is dying. It isn't, though; it's just evolving and changing shape. Industry-wide sales figures show that people in general prefer laptops and tablets to bulky desktop PCs - other than gamers and those with demanding workloads, no one really needs a huge box that can be opened out and parts that can be changed or upgraded. It's devices like this that will keep desktops relevant and competitive.
Price (MRP):
Rs. 15,999
Pros
Unbelievably small size

Looks good
Lots of ports and connectivity

Windows 8.1 license included

Cons

Tends to get hot in use
Not upgradeable or user-serviceable at all

Ratings (Out of 5)
Design: 4
Performance: 2.5
Value for Money: 4
Overall: 3.5