Chromebooks are simple, cut-down devices that do most of what a computer can do, with more comfort and familiarity than Android tablets can provide, but less overall versatility. They are the direct result of everything moving online - if you examine your PC usage patterns and find that you're doing practically everything inside a Web browser, you might not actually miss any of the rest of it when it is stripped away.
Google's Chrome OS obviously rides heavily on the company's own Web services and software, and in fact assumes that you are online all the time. There's no need, in the company's opinion, for local storage when you can have everything online, backed up automatically and accessible from anywhere. It's a nice theory but has proven difficult to implement.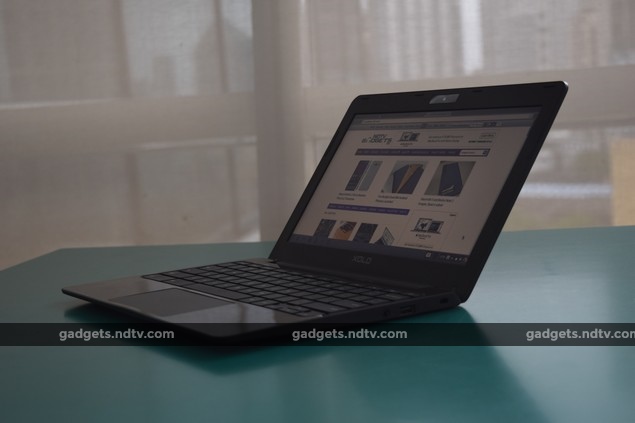 Not only is the infrastructure for always-on data sorely lacking in India, but Chromebooks have cost far too much to justify not simply getting a regular laptop or even a tablet instead. That might be set to change now that Xolo has launched its take on the concept, bringing the cost down to a previously unseen level.
If you (or anyone you know) are nervous around computers, or only want to get a few things done with minimal fuss, a Chrome OS device might actually be of immense help. Xolo might have a huge opportunity on its hands.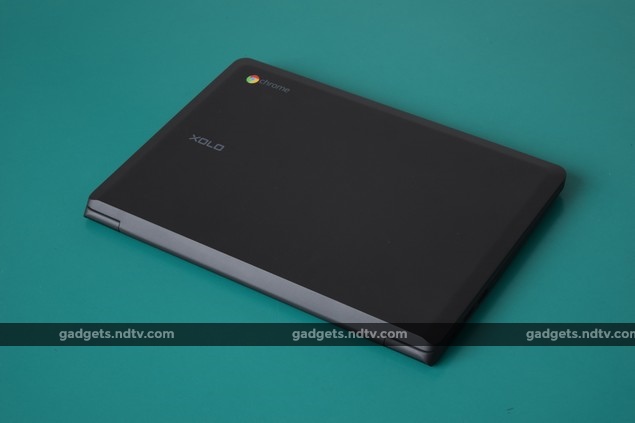 Look and feel
The Xolo Chromebook (which doesn't have any model number) looks like a budget laptop, but is distinct because of its textured matte grey plastic body and bright Chrome logo in one corner. The device is not unattractive, but comes across as more utilitarian than anything else. It has some nice lines and the hinge has a taper that makes the body fit well in the curve of your fingers when carrying it with one hand.
The body material reminded us of the slightly ruggedized laptops we've seen developed especially for students, which makes a lot of sense considering this product's likely use cases. When open, however, there's glossy patterned plastic surrounding the keyboard. We found that this surface attracted a lot of smudges.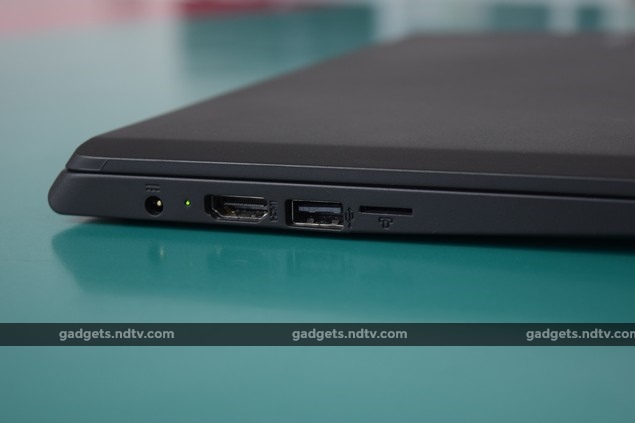 The keyboard is fairly large, but you'll immediately notice the that layout doesn't quite match that of most laptops. Below it there's a standard trackpad with no buttons. A panel above the matte, non-touch screen holds the webcam and its status LED. Beyond these things, there's nothing important of note.
You'll find one USB 2.0 port on either side. On the left, it's accompanied by a power inlet and status LED, an HDMI video output, and an exposed microSD card slot. On the right, there's only a 3.5mm headset socket and a Kensington lock slot. There are two tiny speaker cutouts on the bottom, but not close enough to the sides to fire outwards cleanly. The bottom is blank, and there appears to be no need for vents.
If you're looking for a fashion statement, you should turn your attention elsewhere. But as far as budget products go, we were happy with the overall appearance and construction quality of the Xolo Chromebook.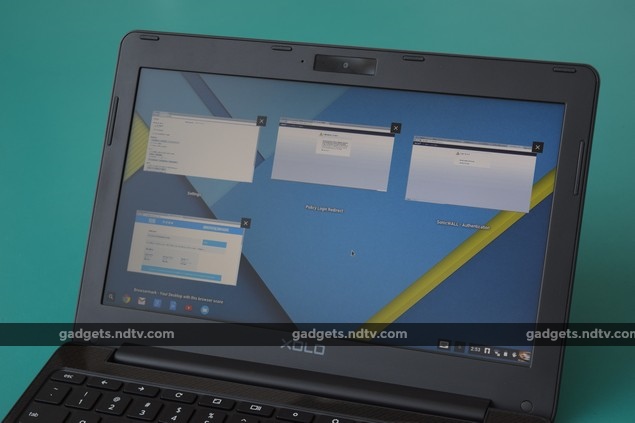 Specifications and software
Don't expect screaming fast components here, even by Android tablet standards. The processor is a Rockchip RK3288 with four ARM Cortex-A17 cores running at up to 1.88GHz and an integrated Mali-T624 GPU. The RK3288 supports up to 4K video output and HD video decoding in most popular formats. There's 2GB of RAM and 16GB of onboard storage, with a microSD card slot if you need more. Additionally, buyers will get 100GB of Google Drive space free for two years.
The 11.6-inch, 1366x768-pixel screen would be right at home in a budget laptop, though the 1-megapixel webcam is weak for a device that's meant to be used online all the time. There's also Wi-Fi b/g/n/ac and Bluetooth 4.0. Xolo claims that the 4,200mAH battery will last for up to 10 hours, though doesn't specify under what conditions. Cellular data capabilities are not built in.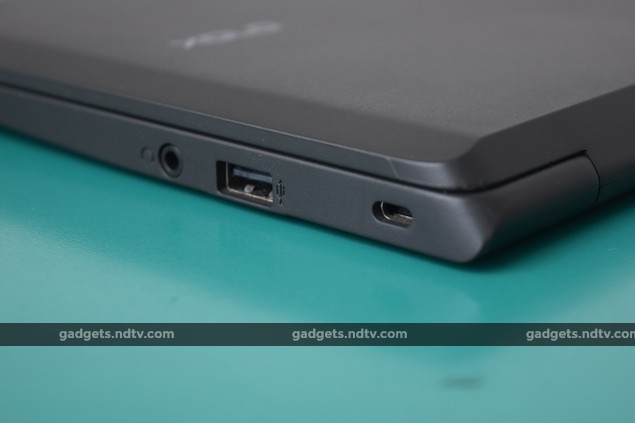 We received our review unit with Chrome OS version 42.0.2311.153, and received an update to version 43.0.2357.130 mid-review. Updating was as painless as clicking a button and waiting a minute for the device to reboot. Google releases tiny incremental updates very often, and major visible changes don't happen each time.
Even so, things have changed quite a bit since the last time we reviewed a Chrome OS device, the hideously overpriced Asus Chromebox CN60. Many of Google's Material Design touches, such as icons, shadows and layered panels have been translated over to Chrome OS and things actually look really slick. The launcher menu has been replaced with a search interface that also shows Google Now cards - a few frequently used apps are shown, but the rest are another click away under an "All apps" submenu. You can enable automatic voice search with the "OK Google" command via the Chrome settings page.
As expected, everything syncs to the Google account you use to sign in from. If you use the same account on an Android device or Chrome browser on the desktop, you'll find that a lot of your personal information carries over.
Performance and usability
The Xolo Chromebook can't really be compared to budget laptops. You have to think of it as a physical Web browser rather than a laptop in the traditional sense. If you spend most of your day working in Chrome anyway, you won't find that you've lost much. Multiple user profiles can be set up, each with its own Google account, and there's also a guest mode if you like.
Apps can be pretty powerful - and now quite a few Android apps can run on Chrome OS too. The platform could become even more versatile in the future, but right now you'll be a little frustrated when it comes to multitasking, managing files, playing any media that isn't streamed online, and generally getting work done outside of cloud services.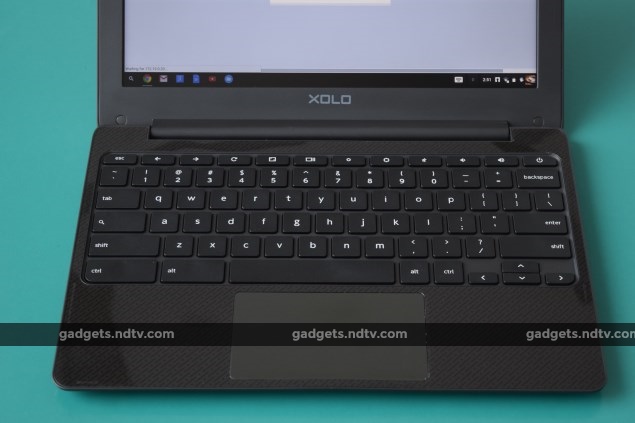 Chromebooks in general require you to get used to other concepts and limitations too. The keyboard has no "home" key, which is a little disconcerting, and no Fn key row, which is frustrating for those used to keyboard shortcuts such as F5 to refresh a Web page. There are dedicated buttons for back, forward and refresh; brightness up and down; volume up, down and mute; power/lock; fullscreen; and an Expose-style view that shows all open windows.
The Xolo Chromebook in particular has its own quirks. The screen is thankfully not glossy, but it isn't particularly sharp or vibrant either. Colours are just about okay but viewing angles are pretty good. The keyboard is particularly bad, with mushy shallow keys. The keycaps tended to wobble and hit the surrounding plastic of the keybed when struck quickly, which made our typing accuracy plummet. The trackpad is just about okay, but felt a little too concave for our comfort. We were disappointed by the webcam's low quality.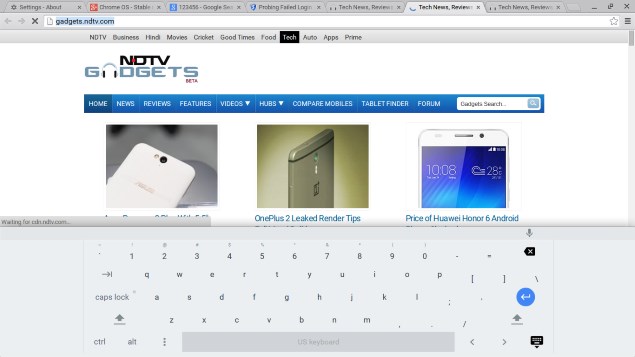 One awkward thing that kept happening was that the Chrome OS soft keyboard popped up whenever we clicked in a text entry field to begin typing. This is what should happen on a tablet, not on a non-touch device with a full keyboard right there.

We played some streaming media and tried a few files played off a USB drive. We had no trouble playing files, but the Xolo Chromebook's tiny down-firing speakers were predictably muffled and shallow. BrowserMark gave us a score of 2,160 points and SunSpider came in at 654ms, which are decent scores for low-cost devices. We tried running multiple Chrome browser windows with multiple tabs open and didn't perceive major slowdowns when switching between them.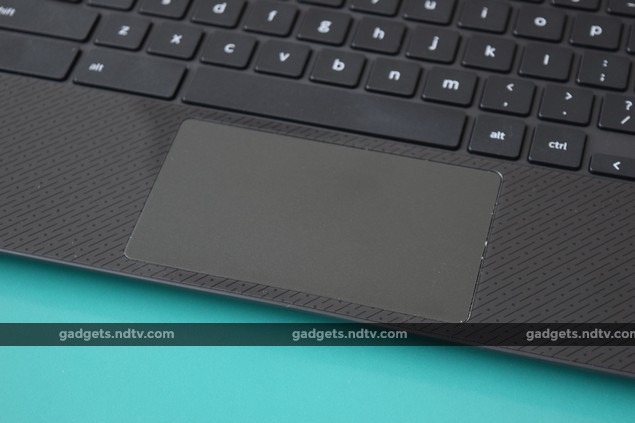 One area in which the Xolo Chromebook stood out was battery life. In informal testing, we found that the 10 hour claim was pretty accurate. The Chromebook not only kept running but also stayed on standby for a day or two uninterrupted without losing any significant amount of power. We also liked the fact that it took only a few seconds to boot up and shut down.
Verdict
Performance really doesn't matter for a device like this if you're only going to browse the Web, play light games and stream video, which the Xolo Chromebook is easily able to handle even with its basic hardware. At Rs. 12,999, the Xolo Chromebook presents some interesting opportunities for those who need only a simple machine for communications and light entertainment. Students, mobile workers and the elderly in particular might appreciate it, and it could be an interesting secondary device for those who want something like a tablet but with a keyboard.
However, for anything beyond the browser, you'll have to be willing to be heavily invested in cloud-based software and services, and also live with the realities of Indian broadband connectivity. Thankfully you aren't restricted to Google's own apps and services, but there will still be a learning curve for many people.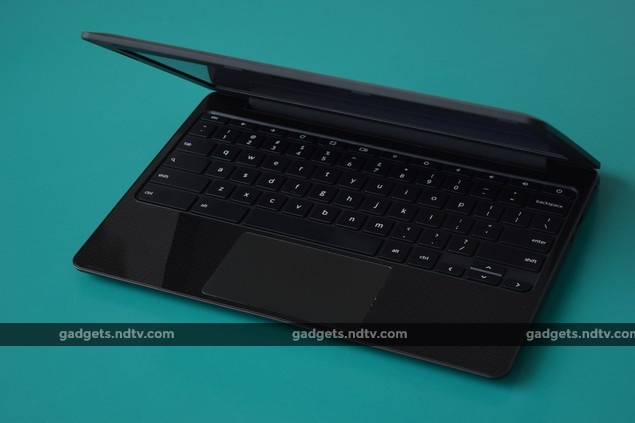 Previous Chromebooks haven't done well in India because of connectivity and cost, and while infrastructure is a huge problem that requires multiple parties to get on the same page and will take time to improve, Xolo appears to have done a great job of addressing the latter issue.
As before, we advise anyone considering a Chromebook to approach the possibility with both eyes open. If you're comfortable with exactly what this device is and isn't, and what it can and cannot do, it could prove to be a very worthwhile investment.
Price (MRP):
Rs. 12,999
Pros
Lightweight and well built

Affordable

Good battery life
Cons

Not very versatile
Requires constant Internet access

Mediocre keyboard and trackpad

Ratings (Out of 5)
Design: 3.5
Display: 3

Performance: 3

Software: 3.5
Battery life: 4

Value for Money: 4
Overall: 3.5