AMD's current GPU lineup, the Radeon R 300 series, looks a lot less fresh than Nvidia's. The struggling chipmaker has been making iterative improvements to the same architecture for years, while its sole competitor has jumped ahead. However, the two are still evenly matched when it comes to performance, mainly because AMD has been clever about optimising its hardware and drivers to squeeze out more performance with each revision.
AMD has also been quite smart about identifying gaps in Nvidia's lineup, such as with the recent launch of the Radeon R9 380X GPU, which specifically targets the space between the GeForce GTX 960 and GeForce GTX 970. Cards based on the GTX 960 retail starting at around Rs. 16,500 and those based on the 970 can be had for around Rs. 26,000 which leaves a lot of room to be exploited.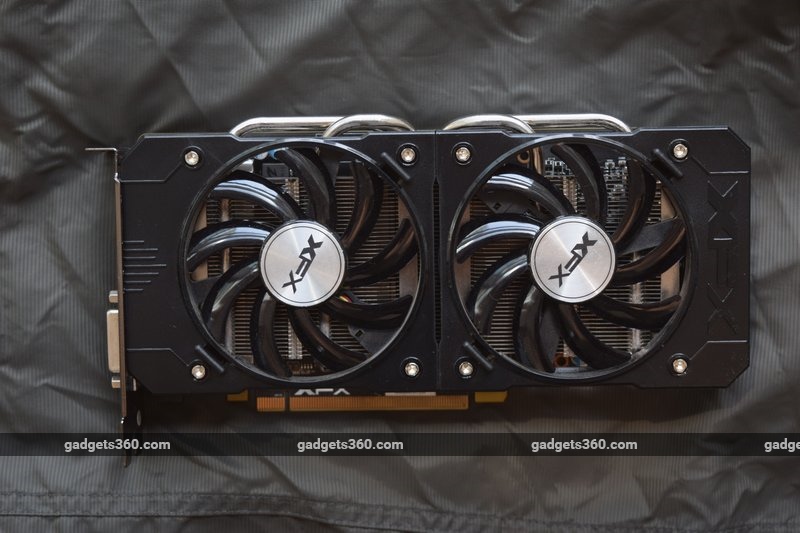 However, AMD's pricing for graphics cards in India is generally inflated, compared to Nvidia's. That's definitely going to factor into our opinion of any product based on the new R9 380X. Before we get to that though, let's take a close look at the performance characteristics of the GPU and the sample graphics card that AMD has sent us.
The Radeon R9 380X GPU
Officially launched in late 2015, the R9 380X comes to us much later than its siblings. It slots in with the rest of the 300-series quite nicely, leading us to believe that it was always a part of AMD's strategy, not an afterthought or strategic reaction. The R9 380X is based on the same "Tonga" GPU as the Radeon R9 380, but without parts of it disabled; a common practice called "binning" which lets companies sell imperfect chips by building in some redundancy. That means AMD was either holding one piece of ammunition in reserve, or waiting for yields to improve to the point that it would be able to ship significant quantities of flawless GPUs.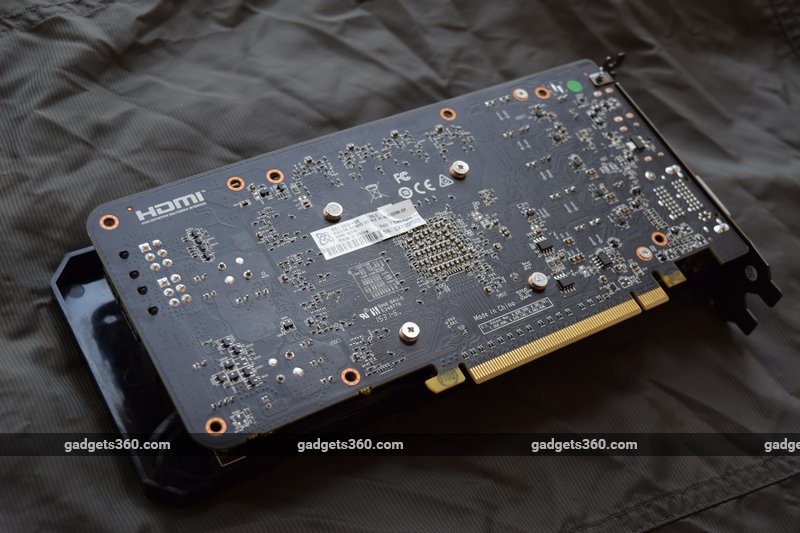 As we stated in our review of the Radeon R9 380, AMD has been happy tweaking and renaming its Rx 200 series GPUs for the Rx 300 generation, many of which were in turn tweaked versions of the Radeon 7xxx series. We'll see a major leap later this year, with a shiny new architecture called Polaris on a whole new 14nm manufacturing process. Till then, we get to see how AMD has continued to refine its 28nm products.
The Radeon R9 380X has 2048 "stream processors", or parallel execution units, as opposed to the R9 380's count of 1792. The peak clock speed is also a little higher, at 970MHz compared to 918MHz. The memory path is still 256-bit, but 4GB of GDDR5 is now the default, whereas the R9 380 is available with either 2GB or 4GB, and 2GB is much more common. Both GPUs have their TDPs rated at 190W.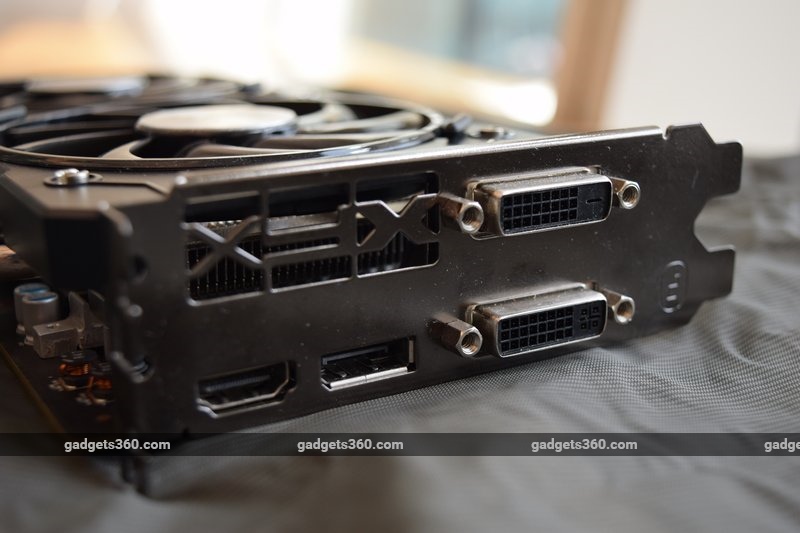 The XFX Radeon R9 380X DD BLK OC 4GB DDR5
Rather than sending a reference card with a stock cooler, AMD sent us an XFX Radeon R9 380X DD BLK OG 4GB DDR5 model to check out the performance of its GPU. This particular implementation features a custom cooler and a clock speed of 1030MHz. The card looks pretty good - it doesn't have fancy touches like LEDs or a sculpted metal shroud, but it's understated and smart in its own way.
The card measures 9.21 inches long, which is pretty standard. The backplate features two DVI ports (only one of which will support an analog VGA adapter), one DisplayPort output, and one HDMI output. On the other end, you'll find two six-pin PCIe power connectors pointing straight out the back. The plastic shroud extends to cover these connectors, so it sticks out a little more than the circuit board - you might not end up with much wiggle room in smaller cases.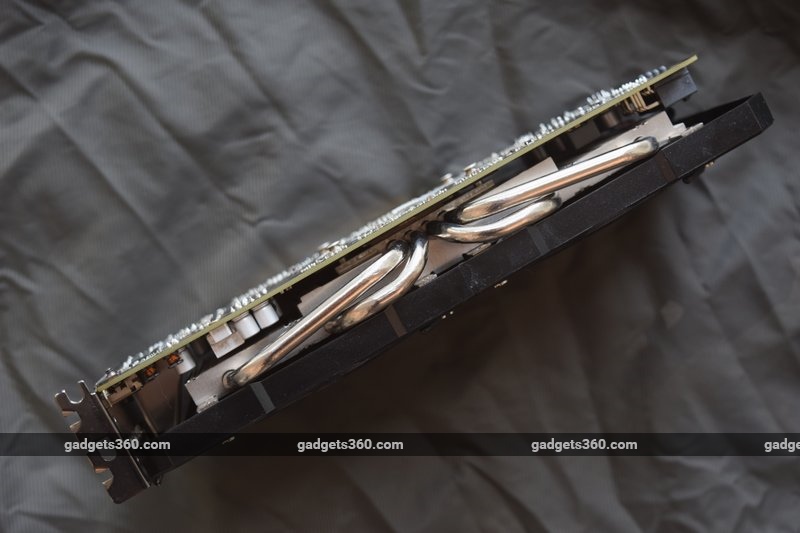 The DD in that mouthful of a model name stands for Double Dissipation - XFX's name for its dual-fan design. This is the interesting part of the card's design because the two fans can be unclipped from the shroud surrounding them. You can't really detach them completely or reposition them (not that there would ever be any need to), but at least you can clean them out thoroughly once in a while, which is nice. We hope the clips don't loosen and lead to vibrations and noise down the line.
The fans don't ever spin down completely, but they're near-silent when the card isn't being taxed. Unfortunately, noise is quite a factor when games and benchmarks are running - in addition to the considerable thrum, we heard a distinct fluttering noise from one of the fans, which we hope was a problem with our specific review unit because the two are otherwise identical.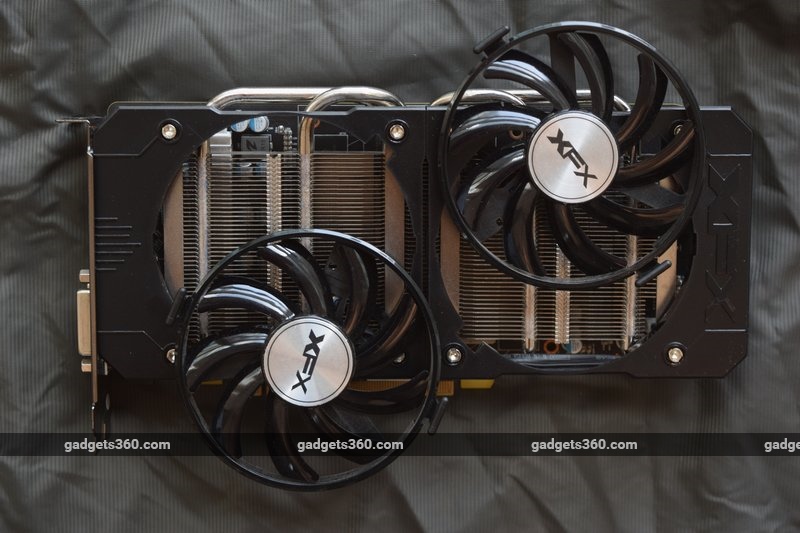 Performance
We tested the XFX Radeon R9 380 card on a rig with the following components:
Intel Core i7-4770K CPU at stock speeds
Asus Z97-Pro (Wi-Fi ac) motherboard
8GB of Kingston 1600MHz DDR3 RAM
240GB Kingston HyperX Savage SSD
Cooler Master Hyper 212X CPU cooler
Corsair RM650 power supply
Dell U2711 monitor
Windows 10
We used Windows 10 and the latest version of AMD's driver suite, 16.2.1. Starting with 3DMark, we found that the Radeon R9 380 managed to push 7,976 points in 3DMark Fire Strike, and 4,000 in Fire Strike Extreme. This is right in between our GeForce GTX 960 samples and an overclocked GeForce GTX 970, which tells us that while 1080p should be quite forgiving, we can't count on this card to run today's heavier games at or above 1440p with very high settings.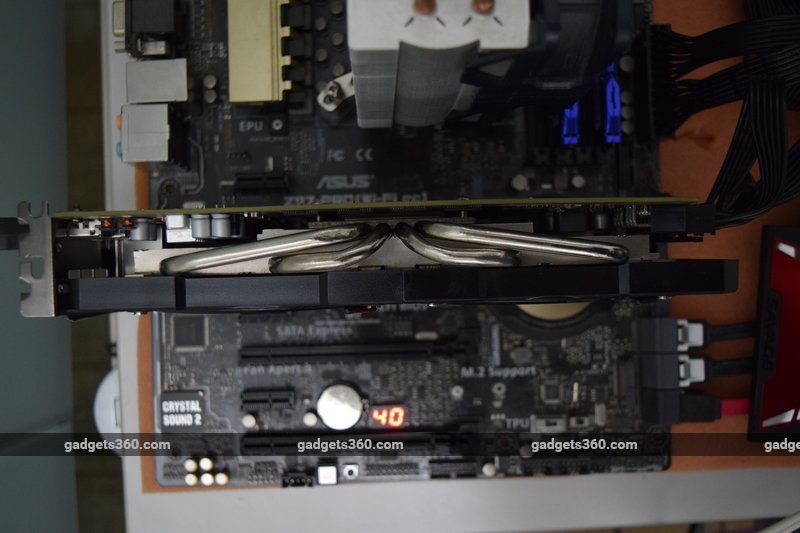 Unigine Valley ran at an average of 24.5fps but dipped as low as 12.1fps when run at 1440p using the Ultra quality preset. We ran Star Swarm, another synthetic game simulation, using AMD's low-level Mantle API (now deprecated, but still the foundation of Vulkan) and recorded an average of 52.61fps.
We ran through Metro Last Light Redux's built-in benchmark at 1080p, trying to find playable settings. We tried the Very High preset with 4xAF, SSAA, and tessellation set to High, which resulted in an average frame rate of 35.67 with a minimum of 17.36fps. We had to drop down to High quality and Normal tessellation when we tried the same run at 1440p, and still ended up with an average of 27.52fps and minimum of 12.51fps. The same held true in GTA V's benchmark - we dropped from a playable average of 32fps to merely 19fps when bumping up the resolution. Lag, measured in terms of frame times, went up from an average of 31fps to 51fps.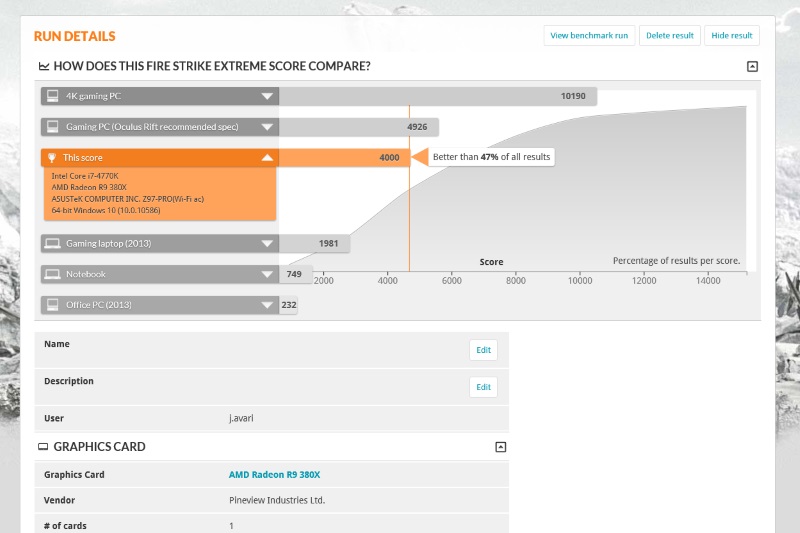 Far Cry 4 is a great game for testing with. We did a manual run just moving and jumping through a section of the jungle, measuring frame rates and frame times with FRAPS. We were able to maintain a decent 44fps average, with reasonable variance between the overall frame time of 22.9ms and 29.2fps at the 99th percentile. Screen resolution was set to 1440p, with the quality settings at Ultra. Battlefield 4 also looked good at 1440p, with an average frame rate of 46fps and frame times of 21.7ms overall and 30.7fps at the 99th percentile which should be smooth enough for most people.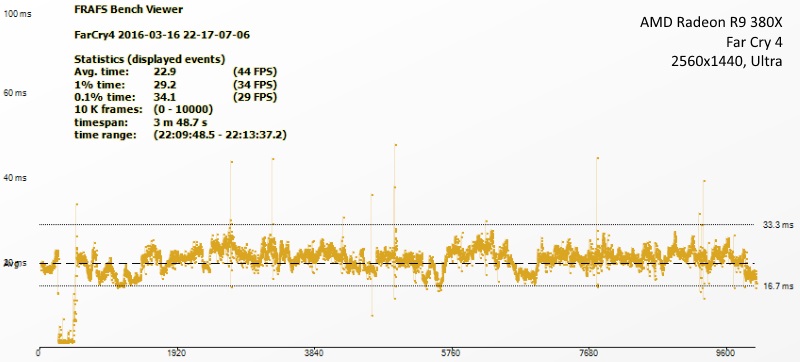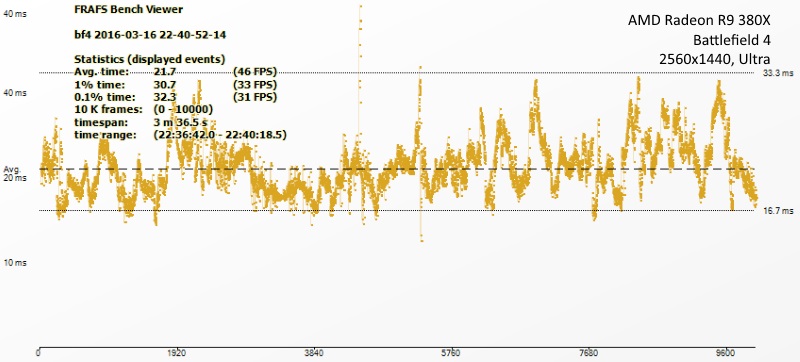 The most interesting thing about this review will be performance in DirectX 12 tests, which AMD has been claiming an advantage in. While there are barely any DX12 tests available right now, let alone games, performance in such situations could swing the decisions of buyers who intend to hold on to their graphics cards for 2-3 years. We got our hands on a pre-release version of Ashes of the Singularity - thanks to AMD - and ran it through a few loops. At 1080p, with 2xMSAA, we got 45.22fps and 22.11ms frame timing on average. Switching to DX11, we saw the frame rate dip to 35.29fps, and frame time rise to 28.33ms. We also tried running at 1440p in DX12 mode, with all quality settings pushed to their highest and 4xMSAA. The fps and frame time averages were 23.10fps and 43.20ms respectively.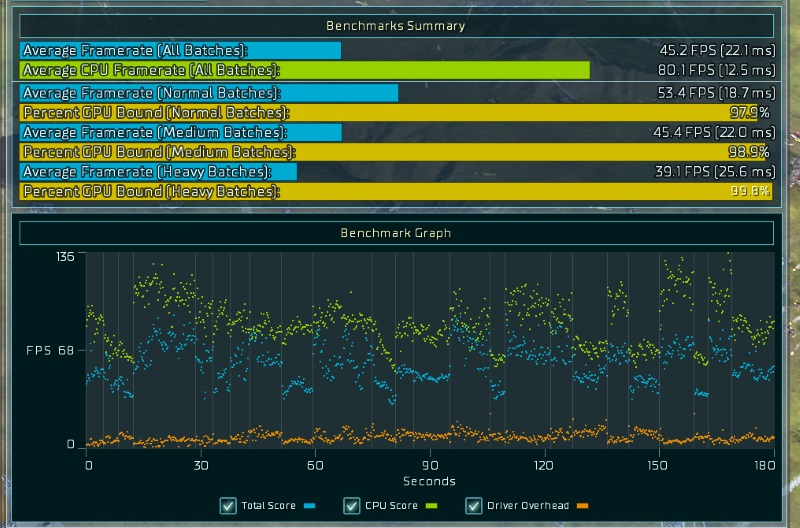 Verdict
AMD has problems in India with the pricing and availability of graphics cards. Higher-end models are hard to come by, and pricing is way out of sync with international standards. Even when the company makes manoeuvers to counter Nvidia's strong offerings, these don't reflect here. It's no wonder that industry sources estimate that AMD's market share in India is just about 15 percent.
It's in this context that we come to the most telling part of our review - Radeon R9 380X graphics cards should have been in our market long ago, but none of the card partners we spoke to have plans to bring them in. AMD tells us that Sapphire and MSI units will become available in a few weeks, which is hardly encouraging.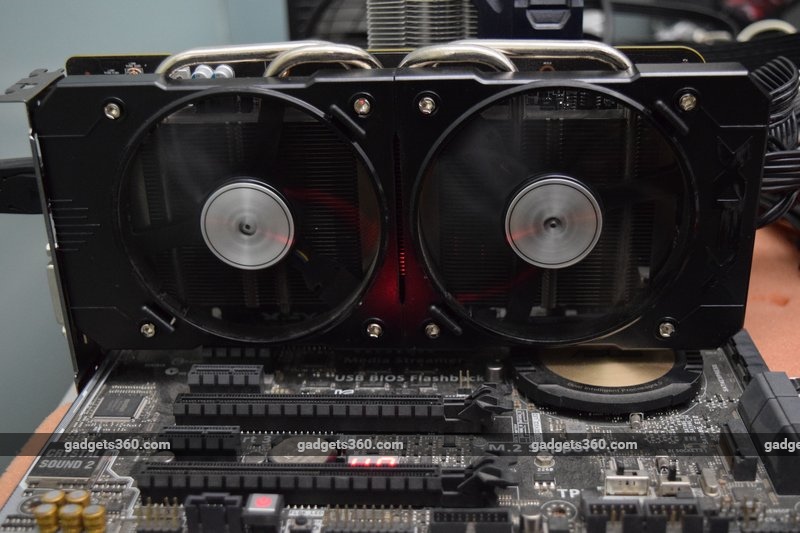 The XFX Radeon R9 380X DD BLK OG 4GB DDR5 is officially priced at 25,999 which is a far cry from the $229 (approximately Rs. 15,217) recommended retail price in the US. Published reports of the same XFX card being priced at Rs. 20,000 in India are incorrect; this is the channel price, not retail. Even Radeon R9 380 cards sell for more than that here - prices average around Rs. 22,000. This means that the R9 380X looks a lot less like a sensible step up from the GeForce GTX 960 and more like a poor substitute for the GTX 970.
We're excited about DirectX12 and VR readiness, but in all fairness these don't seem like enough reason to settle for the lower performance of a Radeon R9 380X right now, even if you're planning to use it for a few years. AMD does have one other trick up its sleeve though - it is currently giving all Radeon R9 380 and R9 380X buyers free codes for Hitman and Ashes of The Singularity, which together would cost about Rs. 2,000 on Steam. Maybe that will tilt the value proposition back in AMD's favour for some people.
Because of pricing alone, we'd recommend going with a GeForce GTX 970 which would perform better, run quieter, and consume less power. If at all possible, we'd suggest waiting just a few months to see what both AMD and Nvidia have in store for us with their top-to-bottom refreshes later this year.
Price (MRP):
Rs. 25,999
Pros
Future-ready with DirectX 12 support

Fans and heatsink and easy to clean

Cons

Highly overpriced

Runs hot

Ratings (Out of 5)
Performance: 3
Value for Money: 2.5
Overall: 3