You can never have enough storage space, and unfortunately today's smartphones and tablets don't offer very much of it. Apple is perhaps the most famous offender, charging an enormous amount of money to step up from the basic 16GB models of each of its portable products, but others also sacrifice expandability in the name of simplicity or aesthetics. Even with a microSD card slot, you aren't going to get more than 128GB of space, which isn't enough to store a serious music or movie collection.
Unless you're willing to pay a massive amount of money, spinning drives are your best bet for storage when it comes to requirements of 1TB or more. Unfortunately, very few phones and tablets allow you to simply plug a hard drive in, and even then, using it would be a pain. There is one workaround though: your smart device's Wi-Fi connection can be used to hook it up to a network-based storage device.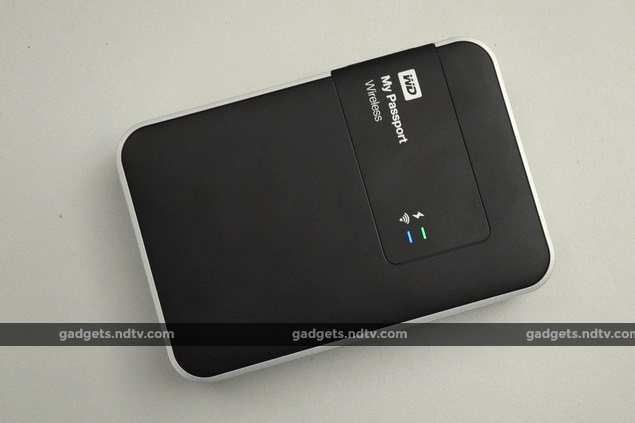 WD isn't the first to introduce a portable hard drive with integrated wireless networking hardware and a battery. We previously reviewed the Seagate Wireless Plus and also the Kingston MobileLite Wireless, which substitutes a hard drive for an SD card slot.
WD's take combines both - a hard drive and an SD card slot. We're curious to see how this combination pans out, and whether the usage experience is better than what we've seen before.
Look and feel
The WD My Passport Wireless is definitely one bulky hard drive. It's quite a bit thicker but also longer, wider and heavier than a regular portable hard drive thanks to the battery and Wi-Fi hardware. It will still slip into a bag without much hassle, but that's the tradeoff for 1TB of storage space.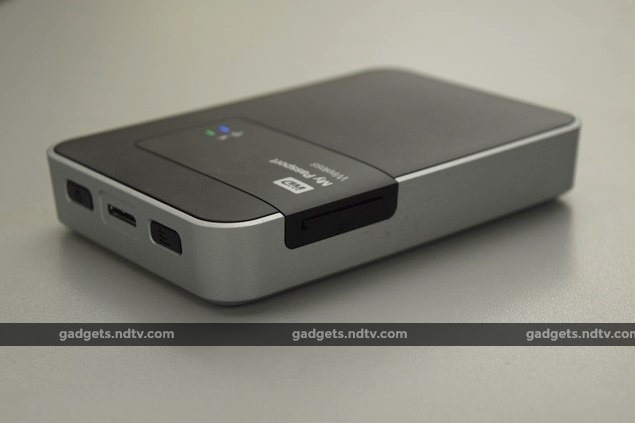 It looks plasticky but sedate. The grey sides of our review unit had quite a few scuffs even before it reached us, which goes to show that WD might not have taken into account how this product will typically be used. The top is plain black, with a panel slightly overlapping one edge where the SD card slot is, reminding us of the styling of WD's external desktop hard drives. Two multi-coloured LEDs show the battery and wireless connection status.
The Micro-USB 3.0 port is flanked by a power button and a WPS (Wi-Fi Protected Setup) button. Other than that, there isn't much to see. You get a short, flat USB 3.0 cable in the box along with an AC wall charger that has American pins but can accept a British or Indian/European adapter.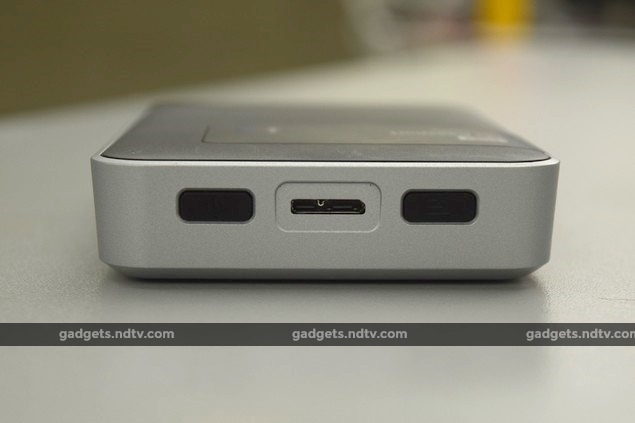 Setup and usage
The best thing about the My Passport Wireless is that you can use it in a variety of different ways. First and foremost, it's a traditional USB hard drive which you can plug into any PC. Beyond that, it broadcasts its own Wi-Fi hotspot, which you can connect any device to directly. In this way, it works like any network-attached storage (NAS) device and media server - an SD card will show up as a subfolder, just like any USB drive plugged into a router or NAS. There's a handy app that you can use to browse and play the contents of the My Passport Wireless, but you can also explore its contents through a Web interface, a file manager, or any app that recognises network servers on your PC, laptop, tablet or phone.
DLNA server functionality means you can also find it from a game console, networked media streamer, or networked TV. Finally, if you don't want to connect devices directly to the My Passport Wireless, you can just have it sit on your home or office network as a NAS that can be accessed by all other devices. As one final trick, the drive can also act as an FTP server. This is turned off by default for security reasons, but it's there if you want it.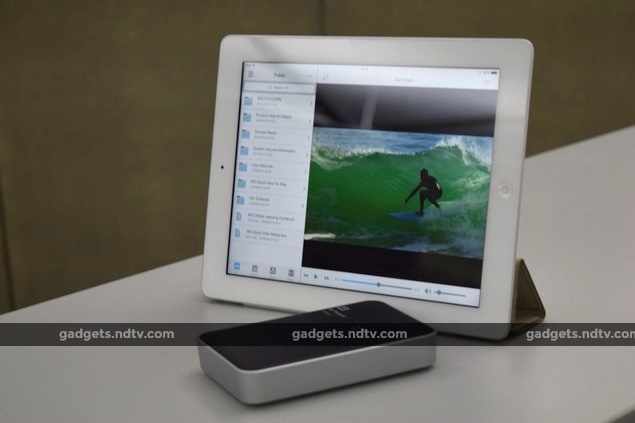 All of this means that you can use the My Passport Wireless as a traditional hard drive, which would probably be the quickest way to load it up with media, but also as a wireless media server. When you're out on the road, just connect directly to it. When you're at home, you have the more convenient option of hooking up through your existing Wi-Fi network.
Setup was painless. We turned on the My Passport Wireless and connected to its Wi-Fi signal using an iPad. WD's My Cloud app - the same one that works with its My Cloud NAS hard drives - recognised it immediately and took us through a short routine during which we were forced to set up a password for network security. We could then decide whether to connect the My Cloud to our existing Wi-Fi network, which would provide pass-through Internet connectivity as well as expose its contents to other network devices.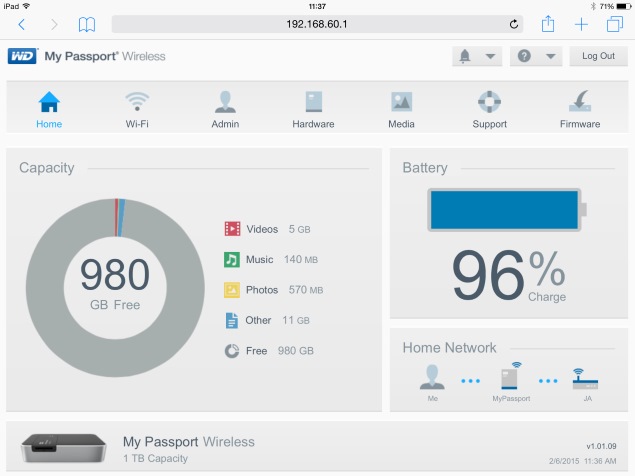 The only thing users will potentially be confused by is the fact that when connecting directly to the My Passport Wireless, you have to disconnect from the usual Wi-Fi network you use. Internet access won't work till you set it up again through the My Cloud app or Web interface, allowing the drive to act as a go-between. This isn't WD's fault; devices can only hook up to one Wi-Fi network at a time.
Performance
Our 1TB test drive reported a capacity of 927.48GB when formatted. There are some tutorial videos and sample media files that you can delete without worry. Plugging it in to a PC's USB port will cut off Wi-Fi functionality, but it can still broadcast when plugged into a wall outlet.
The Web interface is really good - all routers and NAS devices should aspire to be so easy to understand. In fact, you don't need the My Cloud app at all if you're comfortable with browser-based setup. Simply type mypassport into the address bar (or use the default IP address 192.168.60.1) when connected directly. You'll be able to see how much space is used by what kind of media, set up security, disable USB, update firmware, and perform diagnostics. There don't appear to be per-user permissions though.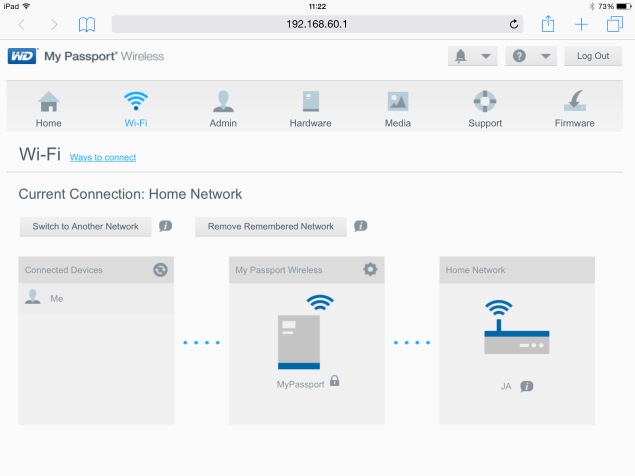 You can choose whether content on SD cards is imported automatically, and whether it is erased from the card after being copied. These functions could come in handy for pro photographers who need to swap images off their cards and don't have the time or space to whip out a laptop.
We had no problems browsing through the drive's contents through Windows Explorer, VLC Media Player on iOS, and of course the My Cloud app itself. We liked that the app let us browse by folder as well as by media type. Both audio and video files needed to buffer a little bit but otherwise worked well.
Freshly copied files weren't always visible to DLNA apps immediately, and in some cases, files that had been deleted still showed up. The Web interface includes tools for refreshing and rebuilding the database, but this shouldn't have cropped up at all.
We also plugged the drive into our PC test bench and recorded its performance scores using SiSoft SANDRA. Speeds were surprisingly lower than those recorded with the Seagate Wireless Plus - 103.49Mbps and 104.32Mbps sequential read and write respectively, and 33.74Mbps and 27.47Mbps random read and write respectively.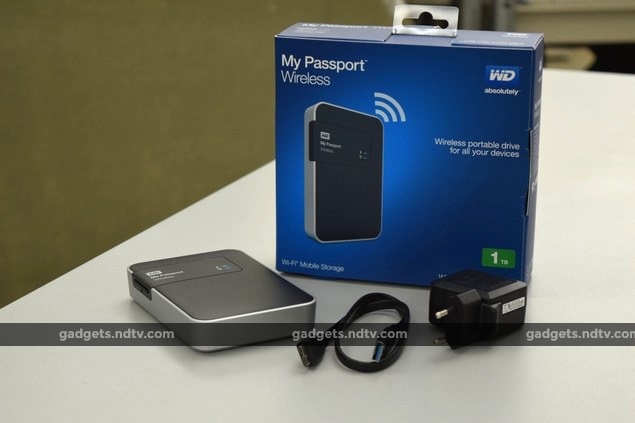 Verdict
Both WD and Seagate now have largely similar portable Wi-Fi drives on the market. WD's added SD card slot is a nice value addition, but won't be a game changer for most buyers. WD seems to have a slight price advantage in terms of MRP and its app and interface are a little more user-friendly. Even so, you can't go wrong with either one.
Drives like these two won't necessarily allow you to leave your laptop at home all the time, but they're fantastically convenient if you're the type who would love to be able to carry your collection of movies and music around with you wherever you travel - and if money is no object.
Price:
Rs. 11,000 (500GB); Rs. 13,000 (1TB); Rs. 17,500 (2TB)
Pros
SD card slot

Supports multiple platforms

Good app and Web UI

Cons

Ratings (Out of 5)

Design: 4
Performance: 3.5
Value for Money: 3.5

Overall: 3.5