Synology and QNAP are perhaps the two most well-known vendors of NAS products. While the likes of Netgear, Seagate, and many others have their offerings in the space, the two Taiwanese companies - along with the American Drobo - have established themselves as major players in the segment.
Today we have for review the Synology DiskStation DS215j, but before we look at the product itself, let's briefly understand what a NAS is and who is it for.
What is a NAS?
Many people use external drives to store their music, collection of movies, and other types of data. While that's a good enough solution for most, things start to get a little tricky if you are looking to access that data from multiple devices, and not just the computer to which the drive is connected. Sure, you could enable file sharing on the computer and set it up as a server, but not everyone is technically equipped to handle all that.
Another problem with this solution is that your 'server' now needs to be powered on all the time. With desktop computers becoming rare in the household, this many not be a practical solution, unless you have a spare computer computer lying around for just this purpose. This is where Network Attached Storage (NAS) products can help.
As the name suggests, in its simplest terms, a NAS is storage media that is connected to the network so it can be easily be accessed by more than one device at the same time. You obviously need a functional network at your home or office to make the most of a NAS. If you are already using Internet at home on multiple devices or have Wi-Fi, you will almost certainly be able to plugin a NAS to your network - all you need is a free Ethernet port on the router.
But NAS systems are more than just drive enclosures. In fact, they are full-fledged computers that run an operating system of their own, not very different from Windows or OS X that run on your computers (well, technically most NAS operating systems are closer to Linux, but let's leave that aside for now).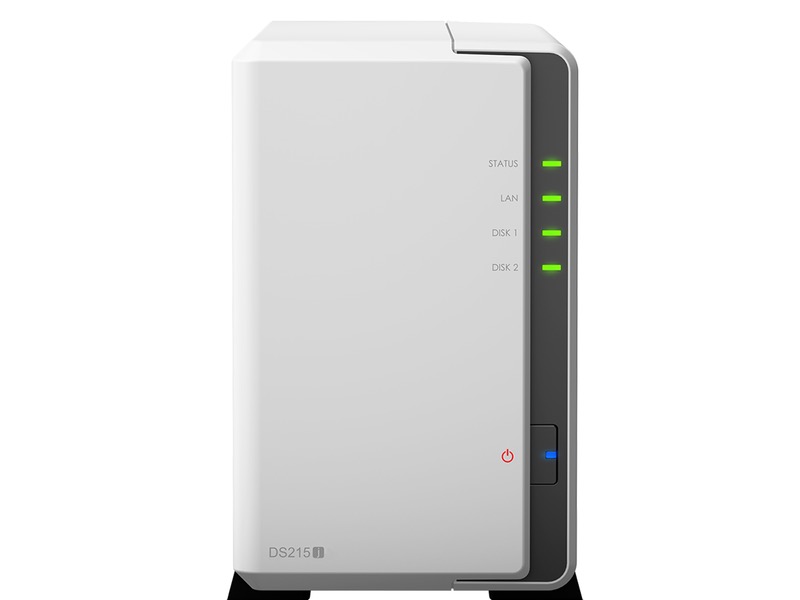 This means your NAS system can do many tasks that you associate with your computer, like downloading torrents, being the media server for your phone or TV to play movies or music from, and a whole lot more, depending upon the features and specifications of the model in question. A NAS can of course function as the central repository for storing and sharing data from/ across different devices and even be used as the backup destination for all your devices. All this at a running cost (in terms of power consumption) that's usually a fraction of most traditional PCs.
Since it's a PC, a NAS system does require reliable power supply, so if you are reading this in India or any other country with power issues, getting a UPS may be good idea, just like you would for a desktop.
So do you need a NAS? Well, if any of the use cases described above appeal to you, then a NAS could be a good fit at your home or office. If you are unsure, read the rest of this review as we get into the features and performance of the Synology DiskStation DS215j, and maybe something will catch your eye. Even if you realise you don't really need a NAS, you may learn something new along the way. So let's dive right in.
Design and setup
The DiskStation DS215j comes in white colour with Synology branding on left and right walls of the enclosure. The device can hold two 3.5-inch drives - you need to buy a disk holder if you want to use 2.5-inch drives with the unit - with a maximum capacity of 8TB for each drive, giving you a potential 16TB storage in total if you opt to do away with redundancy features that are turned on by default (more on that later).
The back of the device is dominated by a big fan, but there's enough room to house 2 USB ports - one USB 3.0 and one USB 2.0 - which you can use to connect external drives or printers to the device, a Gigabit Ethernet port, the power socket, and a Kensington security slot. That's pretty standard fare, though we wish both ports were USB 3.0. The front has the power switch with a built-in blue LED to indicate the device is powered on, and 4 LEDs - Status, LAN, Disk 1, and Disk 2. The first stays a solid green when everything is fine and the device is ready for use, while the last three blink as and when there's LAN/ disk activity.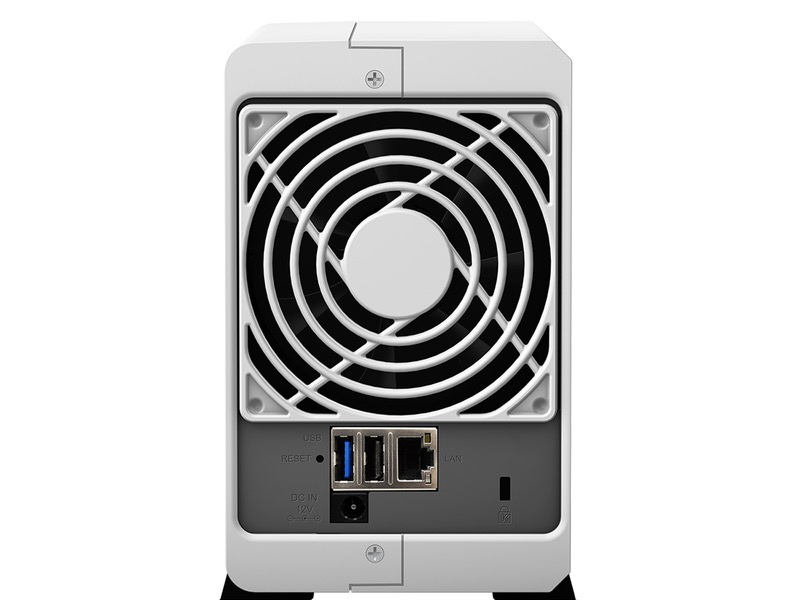 Setting up the Synology DiskStation DS215j is simple enough. Install one or both drives in the device, connect it to the network and power it on. Point your browser to find.synology.com and follow the on screen instructions. You will need an active Internet connection to do this, as the process involves downloading and installing the latest version of the DiskStation Manager (DMS), the operating system powering your Synology unit.
Note that your drives will be formatted during the installation process, which means you will lose all data that's currently on them. If you put in two drives of identical capacity in the unit (like we did), by default they will be set up in Synology Hybrid RAID, which mirrors the data on the two drives. If that sounds like a load of jargon to you, you just need to understand that it means both drives will contain identical data at all times, halving the total capacity in the process.
For example, if you put in two 4TB drives in the unit, by default, you will get 4TB total storage. You can go to settings and change this if you so desire - to get 8TB of total storage, for example - though we recommend you leave this as is, to get an extra layer of protection. This way, if one hard drive fails, your data is still safe. You should still backup the data on the Synology unit to an offsite location like the cloud - the OS comes with software packages that make this very simple - but having this mirroring protects you from failure of a single drive, which is sadly all too common. You can of course use the Synology DiskStation DS215j with just one drive as well.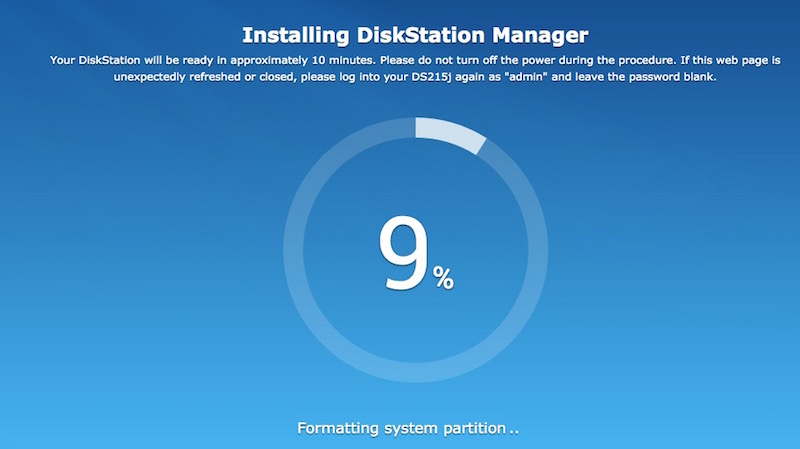 By default, the Synology software creates three volumes, one each for photos, videos, and music, though you are free to store any kind of data on each of these volumes. You can of course create more volumes (drives) from the Control Panel at a later stage. By default, the drives come with Recycle Bin switched off, so anything you delete on these drives is removed immediately, but it's easy to change this setting - we recommend enabling this functionality on all your drives.
As the last stage of setup, you are asked to choose a QuickConnect id (you can set it up later as well), which can be used to connect to the Synology NAS from anywhere in the world, even if your NAS sits behind a firewall. By entering this ID and your username/ password in the DS File app, for example, you can browse the contents of your NAS unit from a remote location.
Software and performance
When the setup completes, you will be greeted by the Synology Web interface - or the DiskStation Manager UI to be precise - which looks a lot like Windows desktop. You'll see four apps on the desktop by default - Package Center, which is like the app store for your Synology unit; Control Panel, where you can tweak various settings; File Station, the Explorer/ Finder equivalent for browsing the contents of the disk, and a help app.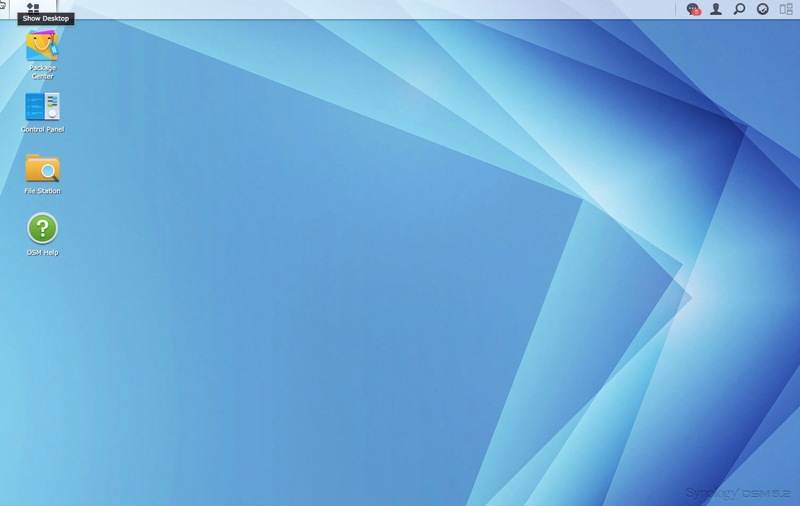 Once your NAS is up and running, it's easy to access your data from your Windows or Mac computer, and mobile devices via Synology's own apps and even several third-party apps that are compatible with standard file sharing protocols. The help app that we mentioned earlier is searchable and includes pretty extensive documentation that you can refer to anytime you feel stuck. Synology has also shared a a bunch of videos that can help you get started.
The Package Center is perhaps the biggest strength of the Synology units. The company has done an excellent job of making the relatively complex job of adding features to a NAS relatively simply via the package system. Think of packages as apps for your NAS unit - they let you extend the capabilities of your Synology unit so it can become a video/ music/ photos server; a client that can download torrents and other files from the Internet; sync Dropbox and other cloud services with your Synology unit; or turn it into a full-fledged Web or email server, all at the click of a few buttons, without having to mess around with the command line or installation files.
One package you'd definitely want to install is Synology video server. It comes with DLNA support, which means most smart TVs and mobile apps will be able to play content straight from the Synology DS215j, without the need of any additional software. While that will be good enough for most, if you want you can also install the official Plex server. Be warned that the Synology DS215j hardware isn't powerful enough to support transcoding, which means some features like external subtitles may not be available to Plex clients.
Synology has a range of other mobile apps (for Android, iOS, and even Windows mobile devices) including ones that go with the music, photos, and video servers, making it easier to access your media on the go. More importantly, since the Synology uses industry standard protocols, you don't need to use these apps to get to your data - you can use any app of your choice.
Synology claims the DS215j is capable of average reading speed over 111.41MBps and writing over 87.49MBps, though the actual performance will depend on a variety of a factors including the drives you use inside the unit. While the DS215j is rather modest in terms of specifications and performance compared to some of its more expensive brethren, it packs enough punch to keep most home users happy.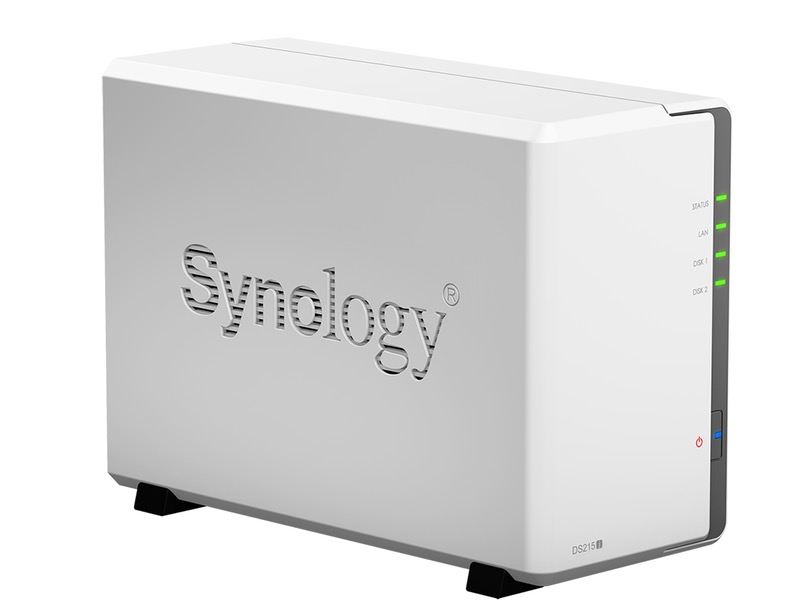 Fan noise wasn't a problem during the several weeks that we spent sitting right next to the unit, even after we tweaked the settings to let the fan run at its loudest instead of the 'quiet' mode. As mentioned earlier, you can connect external drives or printers to the Synology DS215j, and you can even pair it with IP cameras on the same network, converting your Synology unit into a surveillance server that's storing footage from all connected cameras.
Verdict
At Rs. 19,000 for a diskless unit, the Synology DiskStation DS215j is certainly not something you'd pick up on a whim. You could, theoretically, build your own NAS system with better configuration at the same cost, but then these systems are not aimed at the DIY enthusiasts. They are targeted at home users and small businesses that are looking for network-attached storage that can also offer some features of a headless PC. Thanks to its good performance and robust software with a wide variety of packages, the Synology DiskStation DS-215J is a great entry-level NAS that we have no hesitation in recommending.
The DiskStation DS215j is available in India via Synology's authorised partner(s) at Rs. 19,000 plus taxes. It comes with a two-year warranty.
The Synology DiskStation DS215j is a two-bay NAS that's perfect for home users.