Strontium
seems to have jumped into mobile storage in a big way. After our encounter with the
Nitro iDrive for iOS
, the company brought our attention to a couple of products aimed at Android devices which support USB On-The-Go. We've seen flash drives with Micro-USB connectors before, but we haven't seen an external card reader.
An increasing number of Android smartphones do not allow storage expansion, and some older ones don't support high-capacity microSD cards. Putting new data onto a card and sharing large files with others is sometimes a pain, requiring you to take your phone apart and pull out its battery or plug your phone into a PC.
USB-OTG can come in handy in some of those situations. While a flash drive sticking out of your phone is no substitute for a tiny microSD card, it can be really handy. You can store large files such as movies that you don't need immediate access to all the time, without filling up your phone's limited storage space. You can transfer files between PCs and Android devices and share them with friends. Most importantly, you can always be sure that your files are accessible no matter what kind of device you have at your disposal.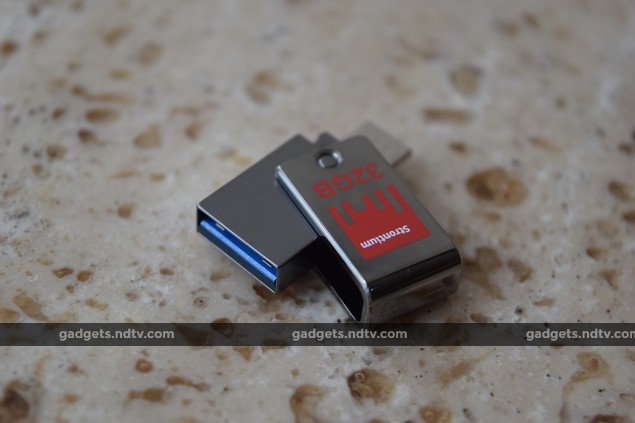 Strontium Nitro Plus USB On-The-Go 3.0
We've tested dual-interface flash drives from Kingston and SanDisk in the recent past, and this one is no different. It's really tiny, with a design that won't get in the way too much when plugged into a phone. It supports USB 3.0 on the PC side which is a huge speed improvement over USB 2.0.
The body looks metallic but feels like plastic. The gunmetal finish is quite nice and didn't seem as though it would wear off soon. A large red Strontium logo and the capacity of the drive are printed on the front of the swivelling lid. We received a 32GB unit for review.
This drive would be really easy to lose - the company does not provide a lanyard or tag and there's no hook for you to attach one of your own. The two ends are pretty much always exposed, so you might want to check the larger USB-A plug for pocket lint now and then. Other than these things, we have no issues with the design or construction quality.
We tested the Nitro On-The-Go's USB 3.0 speeds and found it to perform quite well. SiSoft SANDRA and CrystalDiskMark both reported consistent speeds. Sequential read speed, which is the best-case scenario for such drives, averaged at 144MBps which exceeded Strontium's own claim of 120MBps. Sequential reads were of course slower, averaging at 26.68MBps. Random speeds were measured at 133.71MBps for reads and 6.65MBps for writes. These scores were all a bit higher than those of the Kingston DataTraveler microDuo 3.0.
Price:
Rs. 749 (16GB); Rs. 1,349 (32GB); Rs. 2,399 (64GB)
Pros
Small and light
USB 3.0 speed

Cons

Ratings (Out of 5)

Design: 3
Performance: 3.5

Value for Money: 4

Overall: 3.5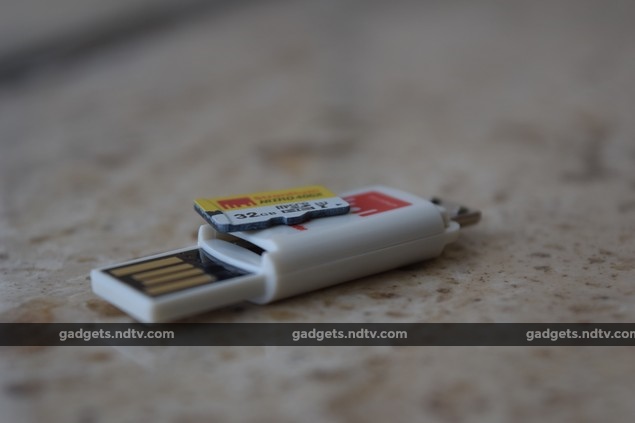 Strontium Nitro Micro SDHC UHS-1 With OTG Card Reader
The second product we're looking at is something quite unique. It is essentially the same sort of dual-interface drive but with a removable microSD card instead of built-in flash memory. This of course allows for added flexibility when copying photos or making backups - both the card and the reader could be very useful on their own and when used together.
We aren't really impressed with the card reader's build quality. The plastic feels relatively low-quality and the USB A plug is of the flat variety with exposed contacts. A red LED shines through the bottom of the body when it is plugged in. The unit is around the size of a standard flash drive if not longer, and won't be easy to misplace.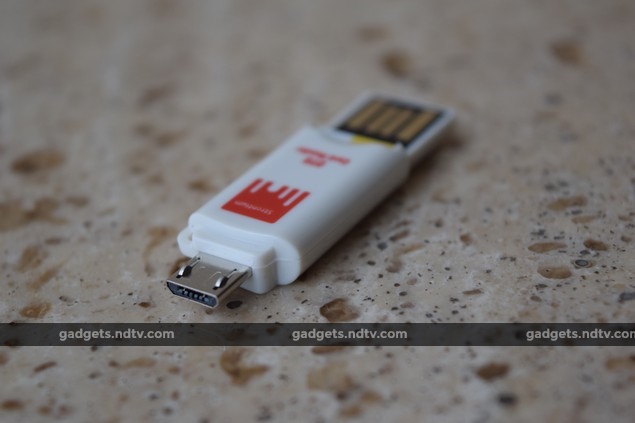 The microSD slot doesn't have any eject mechanism so you'll have to pry a card out with your fingernail, which is less than ideal. The bundled microSD card in particular was difficult to remove because Strontium has used an unusual coating process for its label which either makes it thicker than usual or makes the grip on the end shallower. The print quality is not very good and the label was easily scratched off just by using the card in its own reader. The overall finish reminded us of CD-Rs with stick-on inkjet labels which never look as good as professionally printed discs.
Strontium advertises a free app called MyBackup Pro, which it values at $4.99 (approximately Rs. 317). You'll have to download it from Strontium's own site, which means modifying your Android device's security settings to allow apps from third-party sources to be installed.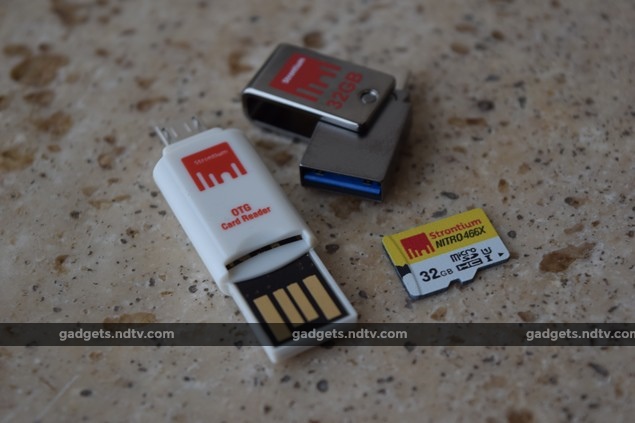 In terms of performance, we're limited to USB 2.0 speeds here. Strontium advertises the speed of the card as "70MB/s 466X", though it's more clear to note that it is a Class 10 card which guarantees sustained speeds of 10Mbps and makes the card suitable for full HD video recording and bursts of still images. We recorded an average sequential read score of 18.84MBps and an average sequential write score of 16.3MBps. Random reads and writes came in at 18.28MBps and 8.25MBps respectively.
Price:
Rs. 609 (16GB); Rs. 1,099 (32GB); Rs. 2,349 (64GB)
Pros
Flexible usage possibilities

Works with USB-OTG devices
Cons

Below-average construction and material quality
USB 2.0 speeds

Ratings (Out of 5)

Design: 2.5
Performance: 2.5

Value for Money: 3

Overall: 3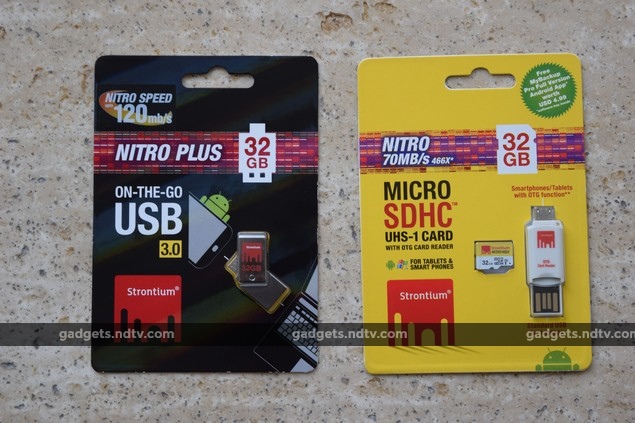 Verdict
Both of Strontium's products offer mobile device users new and interesting ways to manage their data. Of the two, the Nitro MicroSDHC with OTG Card Reader is certainly more flexible, but less refined. We can't think of many situations that call for having an external microSD card reader handy - perhaps if you need to copy lots of files between multiple phones and/or tablets, some of which don't have microSD card slots. We would have liked the product to have been better built, and of course USB 3.0 would have been most welcome, but it still enables some interesting functionality.
On the other hand, the Nitro Plus On-The-Go USB 3.0 is plainer and simpler, with a clear purpose. Dual-interface drives are becoming more and more common, which is a great thing because you don't lose any functionality compared to a standard flash drive. Eventually USB Type-C will make such products redundant but until then we're glad to have options.