Sony's latest Vaio is a premium convertible that quite literally flips between laptop and tablet mode whenever you want. Many companies have attempted to create devices that offer the best of both worlds, and we've seen devices that come apart into two pieces, twist, flip, bend all the way around, and generally require the user to put up with a lot of compromises. Some of these products have oddly shaped or placed components, while others are just too bulky and underpowered to be of practical use.
The Vaio Flip 13 is the smallest of a trio of new Vaio hybrids that come with a simple yet elegant double-hinged design that lets the screen flip over so the laptop can be closed with the screen facing outwards. For a detailed look at the mechanism and how it works, check out our first impressions of the Vaio Flip lineup.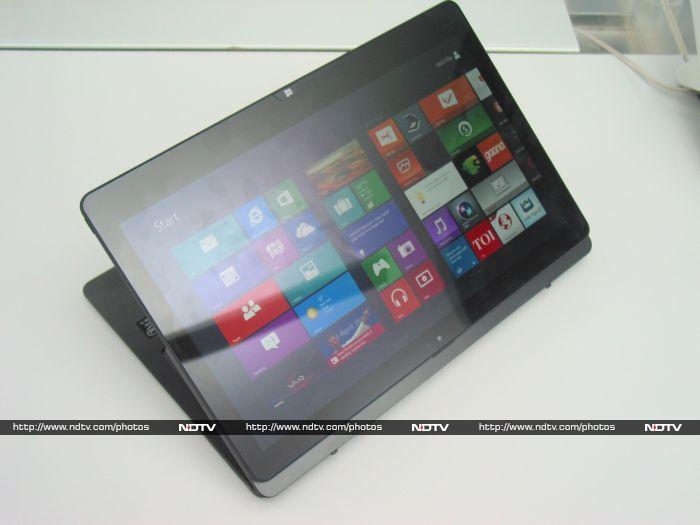 Now that we have the Flip 13 in our lab for a review, we'll see just how well that hinge holds up in real-world use conditions, and whether the rest of the device is good enough to make it worth recommending.
Looks and construction quality
All three models in the Vaio Flip line have a distinctive line across the middle of the lid, which is actually the second hinge. The upper lid and keyboard deck have a brushed metal finish, but are highly prone to smudging, and fingerprints become visible on the surface very quickly.
The sides and bottom are made of a soft-touch matte plastic, and both are relatively plain. There isn't much around the sides: two USB 3.0 ports, one HDMI socket, an SD card reader, and a single 3.5mm headset jack are all you'll find in terms of connectivity. A small lip runs around the laptop's edge, which doesn't obstruct any of the ports but will make life difficult if you're trying to plug in a large pen drive or USB dongle. There's a power button on the right edge and a volume rocker just around the corner on the back. A slim speaker grille is placed on either side, and a large air vent takes up around a third of the left side. The back is completely blank, save for the camera lens and a rather out-of-place Windows 8 sticker.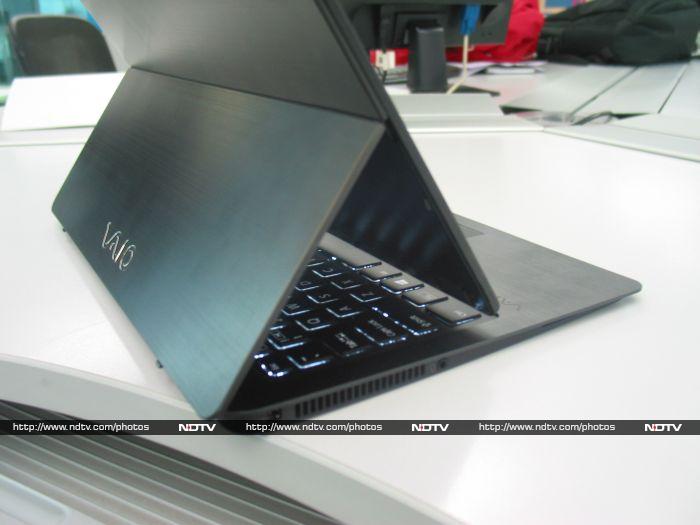 The keyboard is backlit, and surprisingly there is no shortcut key to control or turn off the backlight. Thankfully the trackpad is the same size as a regular notebook's. Far too many hybrid products compromise the size, placement or type of pointing device used, but Sony really has managed to make this device look and behave just like a notebook when it's in being used as one.
Examining the Flip 13 up close, we're struck by the quality of construction all around. The hinge truly is well designed. That stripe across the cover is actually a rubber diaphragm, covering the hinge at the point where the screen pivots. This gives it a little play in case of rough handling. There are also significant gaps between the body and lid when the Flip 13 is folded down into tablet mode, but we never felt that this weakens the device. Magnets keep the screen in place no matter which way it's positioned, and it takes a concerted effort to flip it. The locking latch ensures that the screen stays facing forward when you open and close the laptop lid, but once you get a feel of how the hinge works, you might not actually ever use it.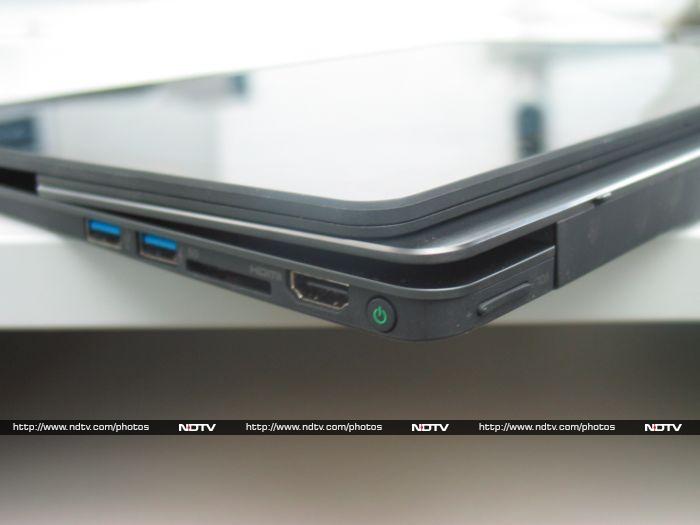 There is a bit of body flex when tapping the screen in the middle, which is unfortunate. Sony claims that the Vaio Flip design has undergone significant testing, during which the screen was flipped around thousands of times and immense lateral pressure was applied to the screen. Judging by the overall build quality, we're inclined to believe Sony's assurances that these issues do not weaken the chassis.
However, the keyboard is a big disappointment. We found it way too shallow and mushy for comfortable typing. They keys are decently spaced out, but the chassis is so thin that there just isn't room for a satisfying mechanical action. The trackpad's click is similarly shallow, but most people tap to click so this isn't really a problem.
The Flip 13's charger gets a special mention here. The power brick is pretty tiny and light, and there's a USB port on the power brick itself so you can leave your phone or tablet's charger at home when you travel. More interestingly, Sony has come up with a completely new power connector for the laptop. The charger's plug is short and stubby, with a pronounced indentation all the way around. The laptop's socket is also quite shallow, with four pins designed to snap into the indentation. This keeps the two sides in constant contact while allowing the plug to rotate freely in the socket.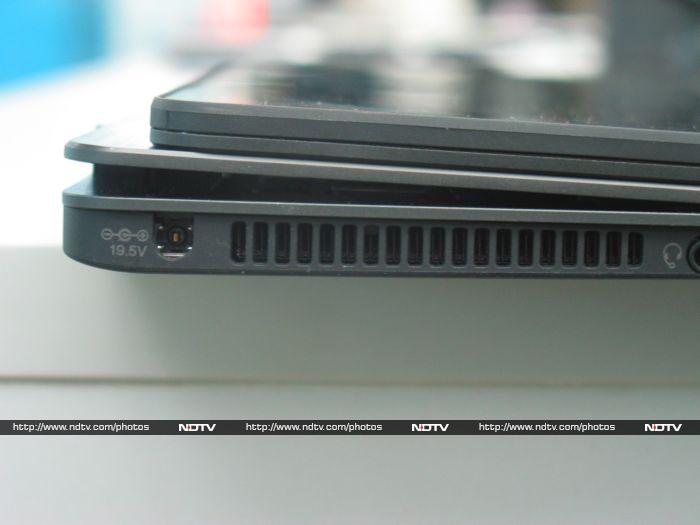 It's a great idea, but it will take some getting used to. The plug just doesn't feel firmly attached, and it wiggles around and feels like it's going to fall out all the time. Completely unlike Apple's MagSafe chargers which are designed to pop out when jostled, this design ensures the plug stays firmly attached to the socket even if you yank the wire quite hard. We're not sure why Sony thought this was necessary: it does let you move the Vaio Flip around when plugged in, but it's awkward and seems an attempt at solving a problem that doesn't exist.
Specifications
The Vaio Flip 13 is a premium device with specifications to match. It uses an Intel Core i5-4200U CPU, which is a low-voltage variant running at 1.6GHz. Graphics are taken care of by the Intel HD 4400 GPU integrated into the CPU. There's 4GB of DDR3 RAM and a 128GB solid-state drive. The screen is crisp, running at 1920x1080. Look at it at just the right angle and you'll see a nearly invisible array of dots, indicating that the screen has an active digitizer for stylus support. Sony has made no mention of this feature anywhere, which is surprising.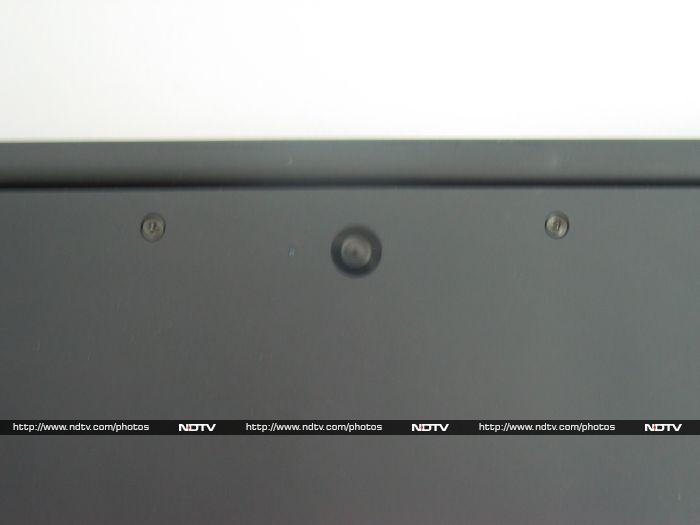 Sony has a long history of success in the audio and video markets, most notably with its Sony Hi-Fi and Bravia brands. The company has taken a number of trademark features from both, including Triluminous display (which promises a wider colour gamut as opposed to conventional panels) and X-Reality (which claims to make moving images more clear).
There's also a set of audio signal processing tweaks which include equalisation settings, a volume boost, and virtual surround sound. Sony's description of these features promises "soul-shaking clarity", "dynamic bass and soaring highs", and an "unmistakably rich audio experience". There are also a set of features with names such as Clear Audio Plus, xLoud, Clear Phase, VPT, Voice Zoom and S-FORCE. While these look great on Sony's marketing materials, we don't think ordinary users will be able to tell much of a difference between the Vaio Flip 13 and any other laptop, except perhaps when it comes to the Clear Audio Plus equalization settings.
On the software front, our Vaio Flip 13 review sample came running Windows 8, though of course you can update to 8.1 through the Windows App Store at no charge. Sony has included a number of applications both for the traditional desktop and the Modern Windows 8 environment. Vaio Control Center is a neat program that gives you quick access to settings concerning the battery, fan speed, keyboard backlight, external displays, sound effects, and others.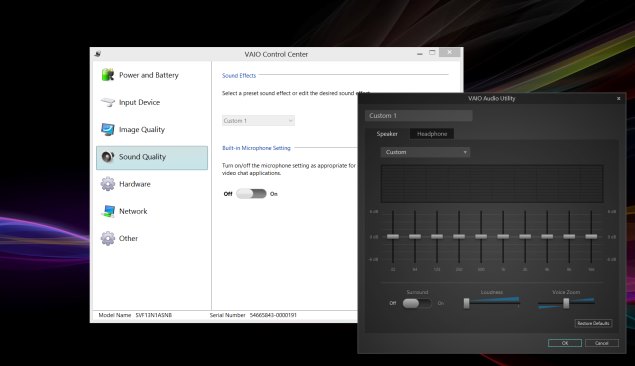 The software's neatest touch is Network Profiles. Whenever you connect to a wireless network, Vaio Control Center will remember it and offer to save your network settings so that they can be changed on the fly each time you connect. If your home and office require different IP address settings, for example, this utility takes the manual work out of changing them. You get a 60-day free trial of Norton Online Backup and three months of Trend Micro Titanium security.
Vaio Clip is an image organisation app that lets you crop or select elements from larger images and save them for later reference. Vaio Paper is a simple note-taking app which supports stylus or finger input. Vaio Care gives you quick access to Sony's after-sales support team and shows tips about safety and ergonomics. Then there are a number of third-party apps including Arcsoft Camera, Reliance Big Flix, Gaana, Shufflr, and the Times of India.
Most interesting is the Sony Jive app, since one of the promotions on the Vaio Flip series is three months of unlimited music downloads. There's clearly a lot of music, including Indian and international selections, but organisation and navigation are poor. The files you get are 128kbps MP3s, so we're not really excited about getting them for free.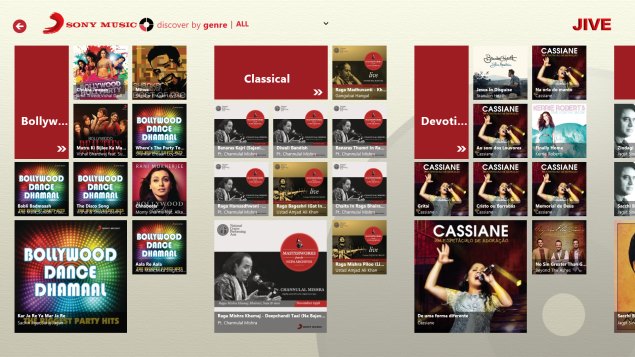 Performance
We ran the Vaio Flip 13 through a battery of subjective and objective benchmark tests. It scored well on display quality, aesthetic appeal and construction quality. It lost out because of the relative lack of ports and the subpar keyboard.
Performance was snappy all around, and we recorded respectable scores in all our benchmarks. The Vaio Flip 13 is obviously constrained by its low-voltage processor and the integrated Intel graphics, but that's the tradeoff inherent with all thin and light laptops. We got an overall score of 382 in 3DMark, and scores of 2494 and 4046 in PCMark 8's Home and Work test scenarios respectively. SiSOFT Sandra revealed the relative weakness of the processor and strength of the SSD: CPU arithmetic scores were 44GIPS (integer) and 22.75GFLOPS (floating point), but sequential read and write scores were 517.57MBps and 121.7MBps respectively.
Battery life was about average for current Ultrabooks. Our Battery Eater Pro benchmark reported 3 hours, 5 minutes in the standard test which stresses the system, and 7 hours 31 minutes in the passive reader test, which only scrolls through a long text document on screen till the battery dies.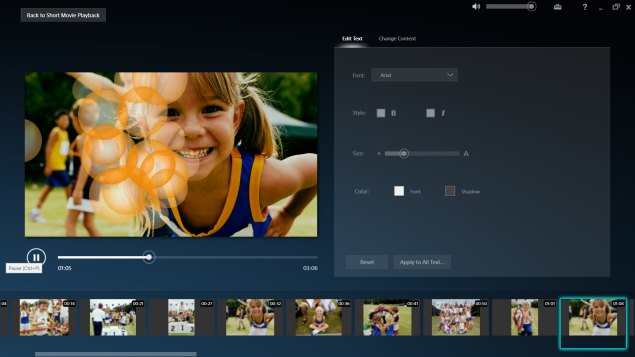 Videos up to 1080p played smoothly, though we did notice that we needed to bump the screen brightness all the way up to really enjoy them. We also missed a quick shortcut to turn the keyboard backlight off, since it got distracting when watching videos in a dark room. Sound, even with Sony's numerous aforementioned optimisations, was not really impressive. The speakers are just too thin and tinny. Maybe that's why Sony is bundling a pair of headphones with all Vaio Flips for a limited period.
Photos taken with the 8-megapixel rear camera were blocky and overprocessed. We wouldn't really bother using it for anything, and it's with good reason that a camera on the bottom of your laptop should be the last one you turn to in any situation.
One last thing to note is that the Flip 13 did get a little hot when running tests and playing HD video. It wasn't enough to make the base uncomfortable, but it did make the fan spin up audibly. If you're holding it as a tablet in landscape mode, your left hand will obstruct the sole vent and things will get uncomfortable rather quickly.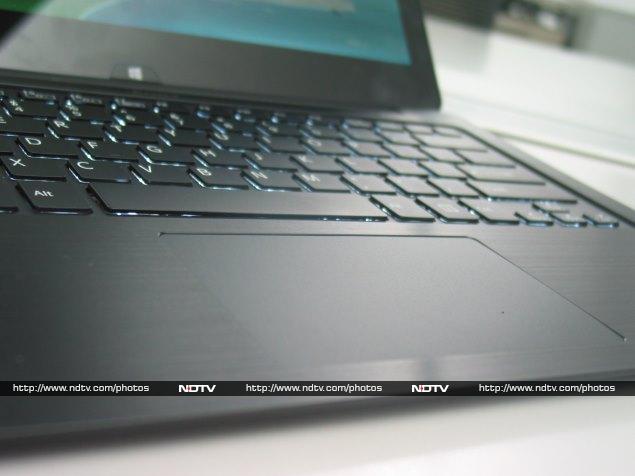 Verdict
Sony has managed to design a refined hybrid Ultrabook; perhaps one of the best designs we've seen. Dell's XPS 12 has a similar design in which the screen flips within an external frame, but it isn't quite as stylish. Acer has also tried a double hinge with the Aspire R7, but its design necessitated moving the trackpad to behind the keyboard. Sony's implementation is simple, makes total sense, and just works.
In addition to all its other attributes, Sony is offering a number of perks to early buyers: there's a free pair of headphones worth Rs. 12,990; the aforementioned unlimited music download offer; one year's accidental damage cover; and a discounted two year warranty extension. There's also a six-month EMI scheme on some banks' credit cards. All these things have to be taken into account when evaluating the device's value proposition.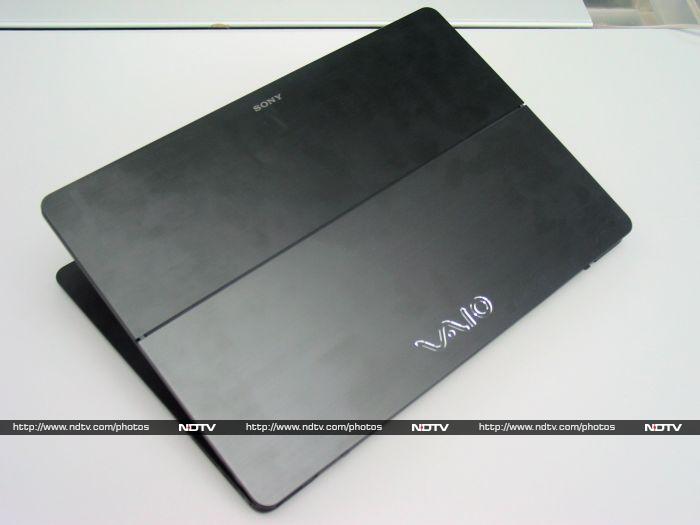 We believe the Vaio Flip 13 is more suitable for entertainment than productivity, primarily because of the shallow keyboard. There's also no denying that it's a very expensive product. You'll be paying a premium for the unique mechanism, so it's not worth it unless you're actually going to use it as both a tablet and a laptop. If, on the other hand, your main aim is to own an extremely stylish laptop that will be the centre of attention whenever you whip it out, this is the hottest one to go for right now.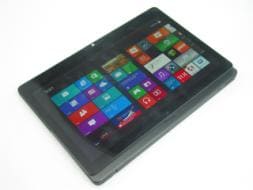 Sony Vaio Flip 13 in pictures
Price: Rs. 99,990
Pros:

Extremely slim and stylish
Convenient to use as both a laptop and a tablet
Reasonably good performance
Hinge feels durable
Cons:

Keyboard is too uncomfortable
Limited ports and expansion
Expensive
Ratings (out of 5):

Design: 4.5
Display: 4
Performance: 3.5
Software: 3.5
Battery Life: 3.5
Value for Money: 3
Overall: 3.5