There's never a bad time to take a backup. You never know what might happen to your PC, hard drives, online accounts and portable devices, so it's just good sense to make sure you have multiple copies of everything that you consider irreplaceable - preferably on different media types and in different locations.
Seagate's most recent portable storage products are named Backup Plus, recognising the importance of this fact. Oddly, of the two products we have in for review, one is rather unsuitable for backing up data to. The good thing is users have a choice between safety and speed. We put both to the test, to help buyers decide which one is better suited to their needs.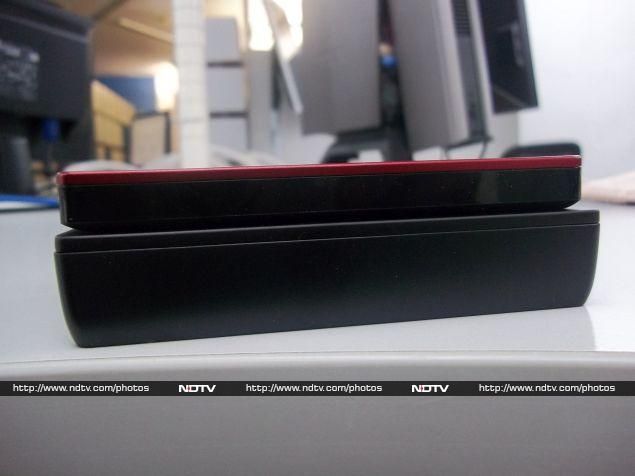 Look and feel
While the Backup Plus Slim is pretty much a basic drive in a very small enclosure, the Backup Plus Fast is actually two drives sandwiched into one body. Of course, the two are very different in terms of weight and portability, but they're intended for very different buyers.
The Slim comes in four different colours, and reminds us very much of old-fashioned tin boxes. It's pretty much as small as a 2.5-inch hard drive enclosure can be, which makes us wonder how shock-resistant it actually is. Our review unit had a metallic red finish on top, which was quite striking. The sides are glossy black, while the bottom is textured for a non-slip grip.
Seagate includes a 0.5m USB 3.0 cable. You could easily slip this drive into a pocket and carry it around all day.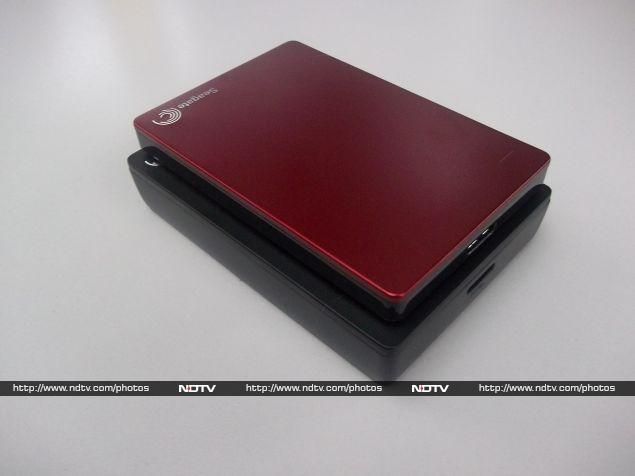 On the other hand, the Backup Plus Fast is quite a chunky device. It's obviously thick enough for two drives to fit one on top of another, but isn't much wider or deeper than the Slim model. This one comes only in black, and has a far simpler look, with a smooth top and textured sides and bottom.
You get two cables with the Fast: one is the same 0.5m cable, while the other is 0.9m long with an extra USB 3.0 host plug in case your PC is older and can't provide enough power over a single line. This is still a portable drive, and doesn't need external power, but you'll definitely feel its weight.
Both models have a shiny silver Seagate logo on the bottom right corner, and a LED indicator slit on the top left.
These drives also ditch Seagate's swappable Universal Storage Module (USM) adapters, which could be used to outfit a regular SATA drive with USB 2.0, USB 3.0. FireWire and Thunderbolt and eSATA interfaces. This could be due to the proliferation of USB 3.0 and a declining need for older high-speed interfaces, or in order to make the drives more compact. We liked the old GoFlex series and found its USM adapters incredibly useful, but most people today will be perfectly happy with just USB 3.0.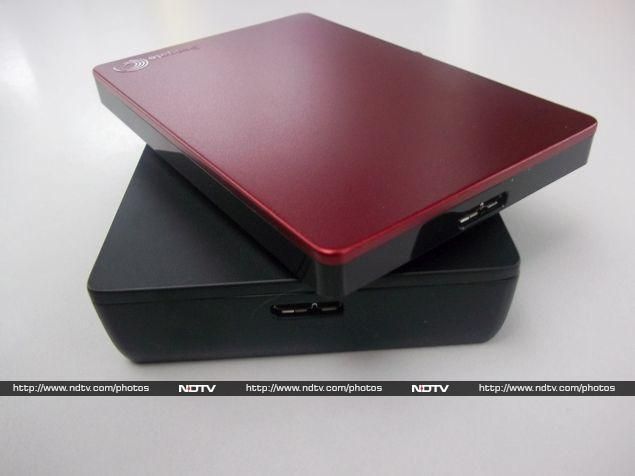 Features
The Backup Plus Fast is the more interesting of the two to talk about. In order to earn its name, it uses two 2.5-inch hard drives in a RAID 0 array. Incoming data is broken into chunks which are written to each of the drives in an alternating pattern. This nearly doubles the rate at which it can be written and then read as and when it's needed. However, neither drive ends up with a complete copy of any file, and so the most critical downside of this is that if either of the two drives fails, all your data is as good as lost.
A RAID 0 array is a terrible idea for storing critical data, especially in production environments. Different types of arrays might include more drives for data mirroring or parity, but the Seagate Backup Plus Fast belies the first part of its name, since there's no possibility of such data security measures with only two drives.
On the other hand, combining the capacities of both drives gives us a whopping 4TB in total. Computers recognise the array as a single 4TB drive, since they're really interfacing with a RAID controller which then stripes data across the two drives. You can copy files to and from this devices as if it was a single 4TB drive - just don't expect to be able to run any data recovery software on it in case of a crash.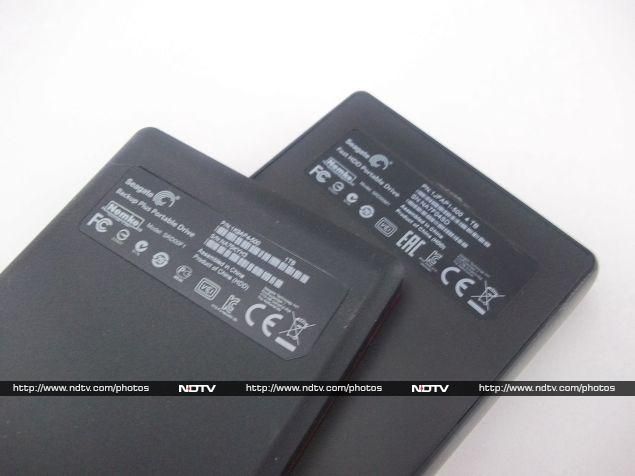 By comparison, the Backup Plus Slim doesn't really have any hardware features to speak of. Just plug it in and you're ready to go.
Both drives are formatted to NTFS by default, and should work across all modern PC operating systems. Mac users will need to install a driver (that's included on each drive) to write to NTFS. Both drives also come with Seagate's Dashboard software.
Our 1TB Backup Plus Slim had 931GB of available formatted space, while the 4TB Backup Plus Fast reported 3.64TB free.
Software
Seagate includes both Mac and PC versions of its Dashboard utility. You have to install a registration utility as well, and you're forced to reboot before you can use any of it and then says it needs to download a 93MB update.
There's a simple backup mechanism that can either just dump backups of all your files to a connected drive, or manage them as per your own custom schedules and selections. Files are copied over without any compression, and the folder structure is maintained intact. Once an initial backup is taken, the software can detect which files have changed and copy only those over.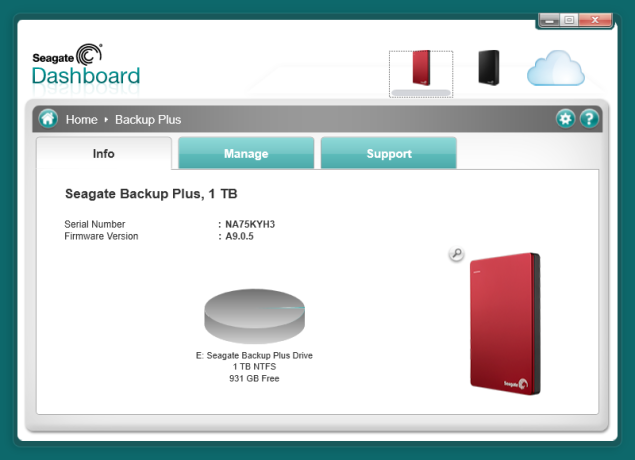 If you authorise Facebook, Flickr and YouTube accounts, you can automatically upload photos and videos to them. Perhaps more useful, you can download your Facebook and Flickr albums for safekeeping.
Seagate mentions a mobile app, which lets you back up copies of your phone's photos and other data to your own drive, as long as it's connected to a PC which is available. There's also a Cloud Backup service that isn't mentioned anywhere - on registering your drive, you'll be able to claim 4GB of free space online, and of course pay for more if you want it. If you use the Dashboard software regularly, it might be worth checking out the pricing for more storage space, since you'll automatically back up files to a local and remote location without even thinking about it. Seagate's service has experienced instability in the past, which is something to keep in mind when choosing a service.
Using the Dashboard, you can run a simple test on your drive, choose power saving and LED behaviour, run a diagnostic test, and check for service and support information as well. If you aren't interested in these features or already have other backup software in place, you can safely ignore the Dashboard altogether.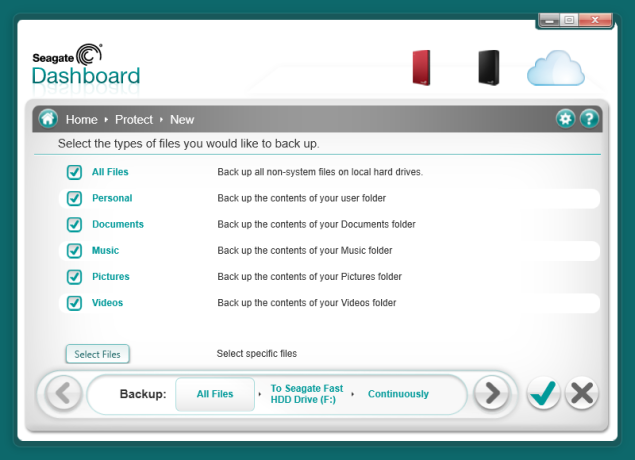 Performance
Unsurprisingly, the Backup Plus Fast outperformed its smaller sibling by a very wide margin in most tests. Both drives performed well, thanks to the fast USB 3.0 interface. You can expect sequential read and write speeds of around 106Mbps with the Slim, and 230Mbps with the Fast. Random read and write speeds, as measured by SiSoft SANDRA 2014, were more in line, with the Fast at 61.3 and 87.14Mbps as opposed to the Slim at 52.58 and 53.51 respectively.
The Backup Plus Fast is truly speedy drive, which you'll appreciate if you need to transport heavy files on a regular basis. It's still a lot smaller and quicker than any 4TB 3.5-inch external drive, and is quite simply the fastest (and most capacious) portable hard drive we've seen so far which does not require an external power brick.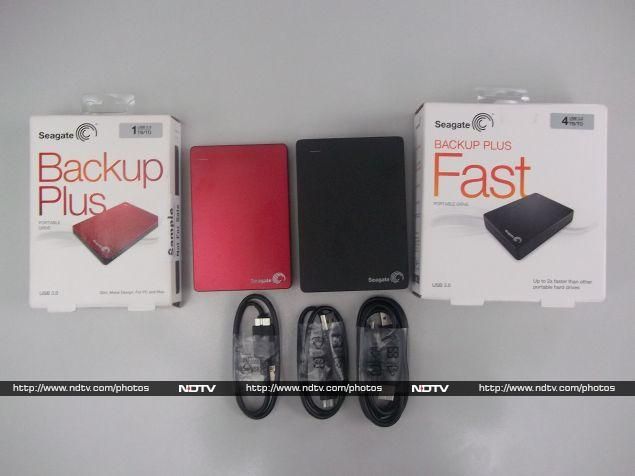 Verdict: Seagate Backup Plus Slim
If you're looking for a quick, no-fuss external drive with a dash of style, the Seagate Backup Plus Slim is a sensible choice. Whether you use it for backups, general storage or transporting data, it will serve all your needs. If you don't need Seagate's software and don't mind a bit of extra bulk, you could consider less expensive drives such as Seagate's own Expansion series.
Price: Rs. 4,250 (500GB); Rs. 6,000 (1TB); Rs. 10,500 (2TB)

Pros
Slim and light

Versatile enough for everyday use
Cons

Ratings (Out of 5)

Design: 4
Performance: 3.5
Value for Money: 3.5
Overall: 3.5
Verdict: Seagate Backup Plus Fast
In certain environments, the speed and capacity advantages will outweigh the potential danger of using RAID 0. It's a fantastically convenient portable drive to use if you regularly copy massive files from place to place, but we cannot see it as suitable for long-term, large-scale data archival. 4TB is just too much to lose in one shot.
We can't stress this enough: you should always have multiple backups of important files, both online and in multiple offline locations, so as to protect against not just drive failure, but also theft, natural disasters and accidental deletion. If you're careful and systematic, the Backup Plus Fast can become an invaluable component of a larger backup strategy. However, we would never recommend using it to store your only backup copies of all your once-in-a-lifetime digital photos and videos.
Price:
Rs. 25,000 (4TB)
Pros
Extremely fast

Massive capacity
Doesn't require external power source

Cons

Inadequate explanation to buyers of the risks of using a striped RAID array.

Extremely expensive

Ratings (Out of 5)

Design: 3
Performance: 4.5
Value for Money: 3
Overall: 3.5