USB pen drives are a dime a dozen - once highly coveted, they're practically given away for free these days. Sizes have jumped, and now 8GB and 16GB are commonplace while 32GB isn't unheard of. It's a bit hard to get excited about them, which is why manufacturers keep on trying to bring out new models in different shapes and sizes for different purposes.
Still, innovation does happen in this segment. We've already seen at least one example of a pen drive with a regular USB plug as well as a Micro-USB plug for smartphones and tablets which support USB-OTG: the Kingston DataTraveler microDuo. There is massive appeal in being able to expand the storage of an Android device and easily swap files with a PC, although drives do have to be small and unobtrusive in order to make that practical. SanDisk's new Ultra Dual USB Drive is another such example.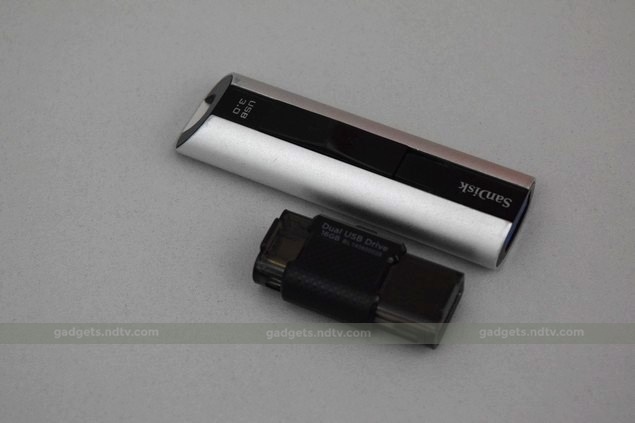 On the other hand, when size is of no concern at all, manufacturers can go wild with the features and specifications. You might not think of USB pen drives as particularly high-end devices, but there definitely is demand for high-speed, high-capacity storage devices. For that purpose, SanDisk has launched the Extreme Pro USB 3.0 Flash Drive.
Representing two opposite ends of the spectrum, these products have very different target audiences. We put them both to the test.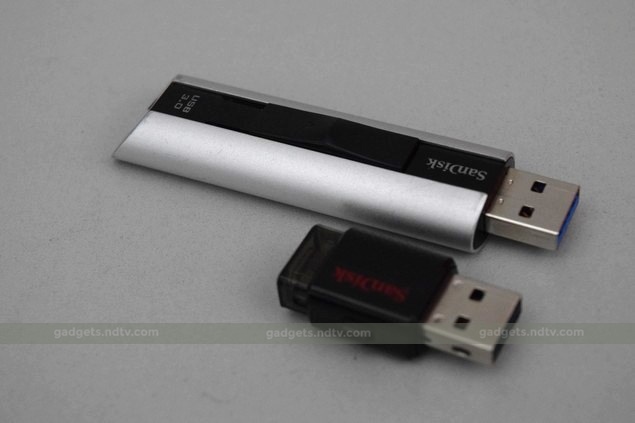 SanDisk Extreme Pro
The Extreme Pro is a beast of a pen drive. By today's standards, it's enormous. It's about the size of a tall cigarette lighter or a thick pack of chewing gum. It's all plastic but has a two-tone finish of metallic silver and glossy black. Our review unit arrived with a fair amount of wear and tear already evident on it, and it seems as though it gets scuffed pretty easily.
The USB 3.0 connector retracts into the body but its end remains exposed. The little mechanical slider that lets you expose and retract it is surprisingly sturdy and makes a very satisfying "thunk" sound (and we ended up fidgeting with constantly it just for that reason). The opposite end has a loop that will let you attach a lanyard.
The box promises up to 260MBps reads and 240MBps writes - pretty astronomical by most standards. There's also a coupon inside the box for a one-year subscription to RescuePro, a file recovery program that promises to be able to undelete digital media and files of all kinds. There's also another easy-to-miss line on the box that points you to an encryption tool called SanDisk SecureAccess that you can download from the company's website.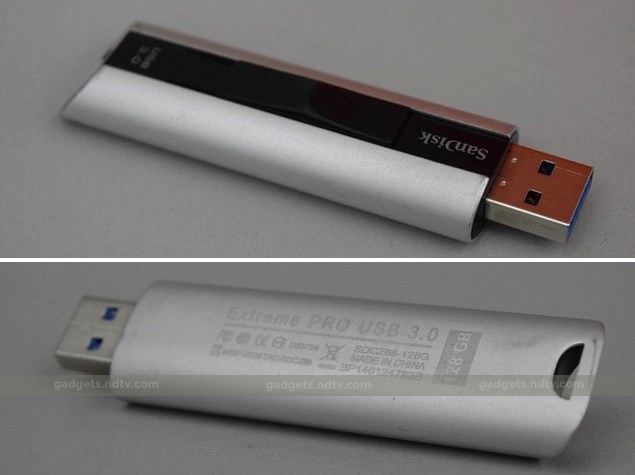 One side effect of the outsized body is that you'll wind up blocking more than one port if you use this drive on a laptop with closely-spaced ports. On the other hand, it won't be as easy to lose as some other microscopic drives are.
We plugged the SanDisk Extreme Pro into our test machine with an Intel Core i7-4770KCPU on an Asus Z87-Pro motherboard with 16GB of DDR3-1600 RAM, and ran our standard SiSoft SANDRA and CrystalDiskMark tests. The total formatted capacity of the drive was reported as 119.24GB.
SANDRA reported sequential read and write speeds of 255.8MBps and 74MBps respectively. The former is right on target with respect to SanDisk's specifications, but the latter falls alarmingly short. Luckly, CrystalDiskMark backed up SanDisk's claimed speeds, with sequential read and write scores of 261.5MBps and 241MBps respectively. Of course these are best-case scenarios - though we did see speed ranges that lived up to these numbers when transferring large files back and forth in Windows 8.1.
Random speeds are far more representative of most use cases. SANDRA gave us more realistic scores of 190.46MBps and 30.19MBps in its random read and write tests.
These speeds are around 10 times as high as those of common USB pen drives, cementing the Extreme Pro's role as a tool for power users. If you regularly need to transfer large files between people and places, it could be a lot faster to put them on one of these drives and physically carry it from the sender to the recipient, rather than transfer them online or burn multiple DVDs.
SanDisk Ultra Dual
This drive is in a whole different league - it's far more like one of the commodity devices we spoke of, but with a twist that lets it be used on devices beyond PCs. Many Android devices (and even some Windows tablets) today are too slim for full-sized USB ports, yet rather than dispense with the functionality altogether, they use Micro-USB ports and come with adapters. These USB-OTG dongles are easy to lose or leave behind when you need them, and so native Micro-USB pen drives help you get to your data when it's needed.
The Ultra Dual has both types of USB connectors, but sadly operates at USB 2.0 speeds. It really is very well designed and compact - especially when compared to the Extreme Pro. The two USB connectors are covered by retractable sheaths which means there are no caps to lose, though they do leave the ends exposed. The Ultra Dual comes in a simple cardboard bubble pack which has a printed QR code that you can use to jump to a website which lists Android devices which support USB OTG storage. There's also a short description of an app you can download from Google Play to browse the drive's contents and back up your phone's data.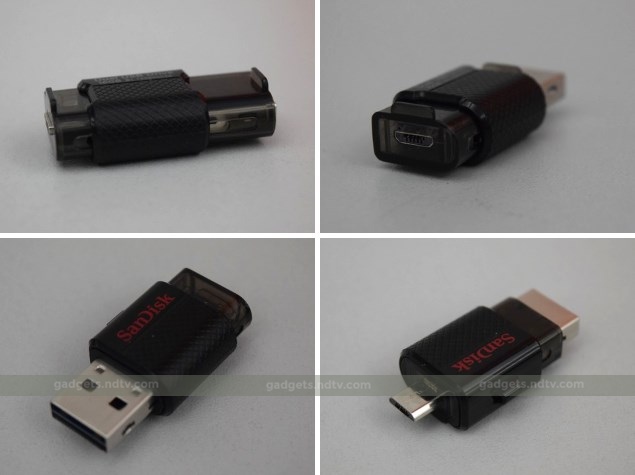 We tested the drive using its USB 2.0 connector on the same test PC and using the same processes, and it's no surprise that its scores were worlds apart. The Ultra Dual reported peak sequential read and write speeds of 20.17MBps and 13.28MBps when tested with SiSoft SANDRA. Random read and write speeds were 20MBps and 2.46MBps respectively. CrystalDiskMark scores were consistent, with 21.11MBps and 14.11MBps respectively for sequential read and write speeds. Overall, scores tended to be slightly lower than those of the Kingston DataTraveler MicroDuo.
You really wouldn't want to use this drive for frequent, large file transfers on any modern PC. USB 3.0 pen drives are common and cheap enough to make this unnecessarily painful. However, the ability to share these files with an Android phone or tablet makes up for that in terms of convenience. This might end up as a special-purpose tool rather than a drive you just use for everyday copies and backups.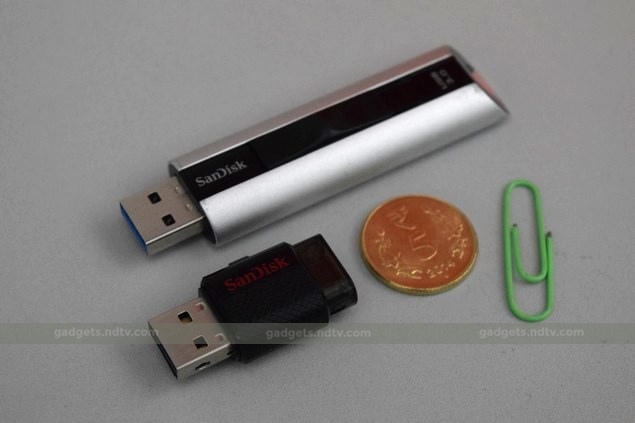 Verdict
The SanDisk Extreme Pro is available only in a 128GB capacity, which would command a price premium even if this drive wasn't so ridiculously fast. The promised 128-bit AES encryption software is a bonus too. All things combined, it has an MRP of Rs. 12,999 and is available in retail for around Rs. 8,100. That's still a huge amount of money to pay for a USB pen drive - so it will really only be worth it for those who seriously need speed, convenience and capacity.
The SanDisk Ultra Dual is slow, but is reasonably priced and of course offers serious versatility. It is available in 16GB, 32GB and 64GB for MRPs of Rs. 999, 1,649 and 2,949 respectively (which translate into street prices of around Rs. 550, 1,050 and 2,100). If you need to carry around a lot of files that you might also need to get to using a portable device, this is a fairly good option.