Plextor has launched two new SSDs as part of its current-generation M6 family. The M6S and M6 Pro are both standard 2.5-inch SSDs for use in desktops and laptops. The family also includes smaller PCI-express and mSATA models for much smaller systems. Plextor has used modern controllers and flash modules in its latest drives in a bid to make a mark.

The Plextor M6S in an entry-level SSD for those who want to experience the massive difference between a spinning hard drive and solid-state storage. You can just drop one in to a desktop or laptop as a replacement, or use it in a new build. It's available in 128GB, 256GB and 512GB capacities. The M6 Pro is a step above that in terms of performance, and is aimed at enthusiasts who would spend a bit more time and money to fine-tune their systems, and a massive 1TB model is also available in this series.
The price difference between the M6S and M6 Pro models isn't huge, but the two are definitely aimed at different customers, and that is more than evident in their packaging. While the M6S comes in a simple utilitarian cardboard box without any accessories whatsoever, the M6 Pro is a whole different story. The sleeved rose-pink box is quite large and the drive itself is mounted in a foam cutout which covers the included 3.5mm bracket, SATA cable, utility CD, screws, and VIP support information pamphlet.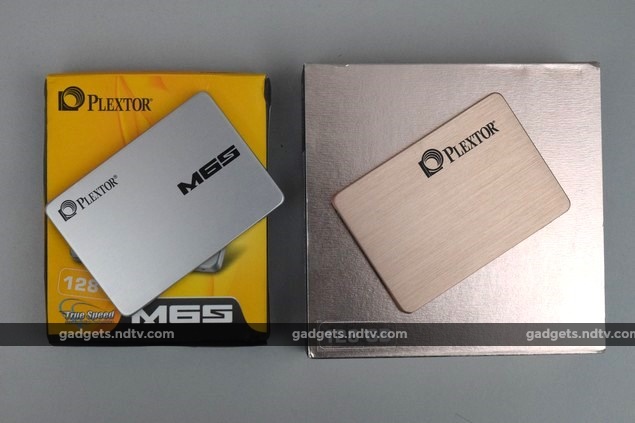 While the M6S is a staid silver, the M6 Pro is the exact shade of rose gold we first saw on its box. Both drives have large printed Plextor logos. The metal they're made out of almost feels flimsy, and the bottom edges of both drives' bodies are just a bit sharp. We have definitely seen SSDs that look and feel better, though in all likelihood this won't matter because no one will ever see them once they're screwed inside your laptop or desktop.
Installation in any current-day PC should be effortless, although you do have more flexibility with the M6 Pro thanks to the included bracket. Make sure you have a spare SATA cable and screws if you're buying an M6S, because you aren't getting anything with it.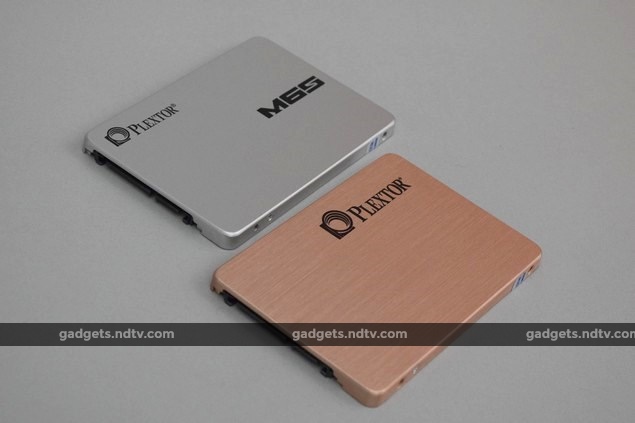 Features and specifications
The M6S is rated for 520MBps sequential reads and 300MBps sequential writes - which are of course the ideal scores and don't really represent day-to-day usage scenarios. It uses NAND flash memory produced by Toshiba, and the relatively new Marvell 88SS9188 controller which together promise improved performance and lower power consumption compared to its predecessors. Power consumption might not mean much on a desktop, but it should have an effect on battery life in laptops. Interestingly, the different capacity models of the M6S have different speed ratings, with the 128GB model we have in for review being the slowest of the three.
The primary target for this drive is people who are using an SSD for the first time - Plextor has gone to great lengths to illustrate the differences in performance you'll experience with this drive rather than a spinning hard drive.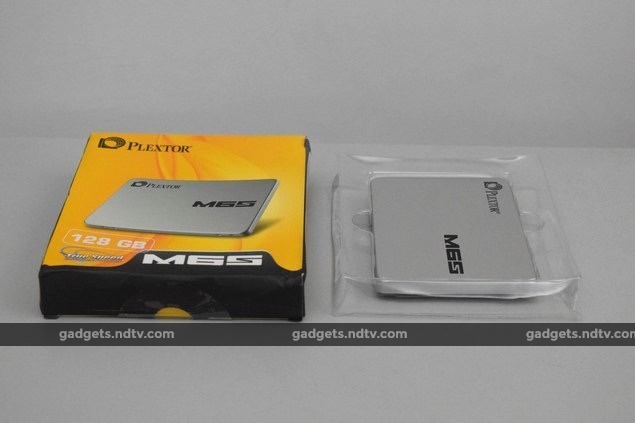 On the other hand, the M6 Pro is targeted at gamers, creative professionals, workstation users and anyone who needs a little more speed and reliability. The key differentiator is the drive's tweaked firmware which allows higher levels of performance from the components. The controller in this case is the Marvell 88SS9187, and Toshiba's new NAND flash is used again. The 128GB model is rated for 545MBps sequential reads and 330MBps sequential writes - again, the higher capacities have better ratings.
The sequential speeds of the M6 Pro might not seem that much higher than those of the M6S, but the real test of a storage device is random reads and writes, which more closely reflect how small files on a typical PC will be handled in the real world. The M6 Pro carries a rating of 100,000 IOPS for random 4K reads and 82,000 IOPS for random writes, whereas the M6S is rated at 88,000 and 75,000 IOPS respectively. Both drives claim to consume only 0.25W of power.
Performance
We tested both drives using their native SATA 3.0 6Gbps interfaces. The test bench used an Intel Core i7-400K CPU on an Asus Z87-Pro motherboard with 16GB of DDR3-1600 RAM. That should be more than enough to ensure that the drives are not bottlenecked or restricted in any way by the test system itself. Both 128GB drives reported formatted capacities of 119.24GB.
SiSoft SANDRA and CrystalDiskMark backed up Plextor's claims for the most part, though interestingly they did not show much difference between the two drives. That means the benefits of the M6 Pro compared to the M6S are not entirely evident in these raw numbers.
Sequential read and write speeds turned out to be 505MBps and 326.8MBps for the M6S as measured by SANDRA, while the M6 Pro's scores came in at 534.63MBps and 316.6MBps respectively. CrystalDiskMark backed these up with very similar numbers, including the slight dip in write speeds for the M6 Pro.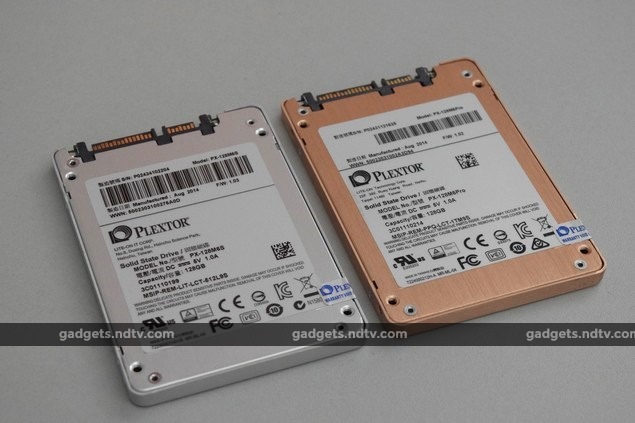 We measured random read and write speeds in 4K blocks with CrystalDiskMark and came up with 29.41MBps and 89.31MBps respectively for the M6S, and 30.04MBps and 94.35MBps respectively for the M6 Pro.

Both drives compare favourably with the Kingston HyperX Fury we tested a little while ago. The M6S seems particularly more attractive because of its relatively low cost.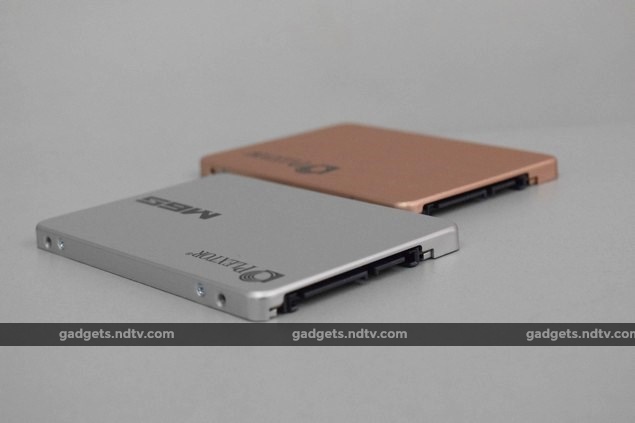 Verdict
The Plextor M6S is a modern and capable SSD which should be more than enough for most people, while the M6 Pro is a slight step up for those who want just a little bit extra. The M6S is officially priced at Rs. 6,850 for 128GB, Rs. 12,300 for 256GB and Rs. 25,300 for 512GB. Street prices are considerably lower, starting at around Rs. 4,300 for 128GB and Rs. 7,200 for 256GB. We don't recommend anything smaller than 256GB for PC builders today, especially if they aren't also including a high-capacity spinning drive. The price difference is negligible compared to the convenience of being able to install today's heavy games and software without worrying about running out of space, and as a bonus, performance is a little better too.
The M6 Pro starts at Rs. 7,900 for 128GB and goes up to Rs. 58,200 for 1TB, and of course street prices are a lot more reasonable: around Rs. 6,700 for 128GB, Rs. 11,600 for 256GB and Rs. 23,200 for 512GB respectively. For most people, the M6S will offer better value, especially if you can get a higher capacity at roughly the same price. However, the M6 Pro has one last feature to justify its premium - a five-year warranty as opposed to the three-year period which is standard for the M6S.
Plextor M6S
Price (MRP): Rs. 6,850 (128GB)
Pros
Good performance
Value pricing

Cons

Construction quality could be better

No bundled accessories

Ratings (Out of 5)
Performance: 4
Value for Money: 4.5
Overall: 4
Plextor M6 Pro
Price (MRP): Rs. 7,900 (128GB)
Pros
Good performance
Five-year warranty

Cons

Construction quality could be better
Ratings (Out of 5)
Performance: 4
Value for Money: 4

Overall: 4