In the fiercely competitive graphics card market, it isn't just pixel-pushing power that matters - it's overall image quality, smooth gameplay, and of course relative value for money. Both Nvidia and AMD keep launching new product variants and cutting prices in order to position their graphics processors against each other. Sometimes it's just a matter of tweaking clock speeds and amounts of memory, but every so often each company has a brand new architecture to unveil. For Nvidia, that time came a few months ago in the form of Maxwell, which replaces Kepler.
Named after the famous mathematician and physicist James Clerk Maxwell, in keeping with its theme, Nvidia has high hopes for its current architecture. We first saw hints of its capabilities in the entry-level GeForce GTX 750 and 750Ti cards early in 2014. The emphasis then was on low power consumption, which meant the cards delivered a high level of performance without requiring elaborate coolers and external sources of power. The GTX 750 and 750Ti have been well received, especially in small-form-factor designs where heat and space are the prime concerns.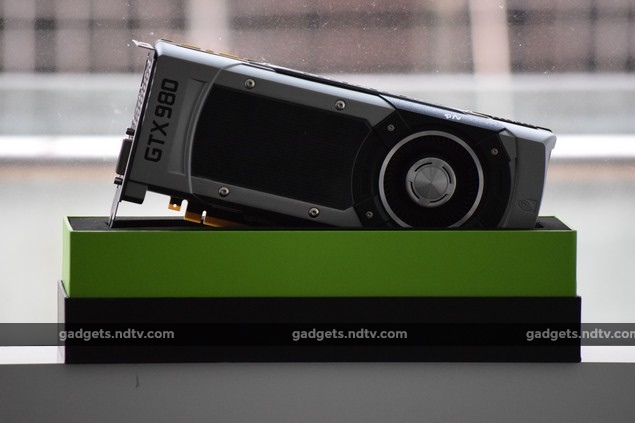 It has taken a while for Maxwell to make the leap into the high-end space, but now we have the GeForce GTX 980 and 970 which replace the Kepler-based top-end models of the previous GTX 7xx series. Nvidia has skipped the 8xx series altogether (and there's never any guarantee that all models in any particular series are based on the same architecture). The numbers are purely about branding (and rebranding), so pay attention to the GPU codename to know exactly what you're getting.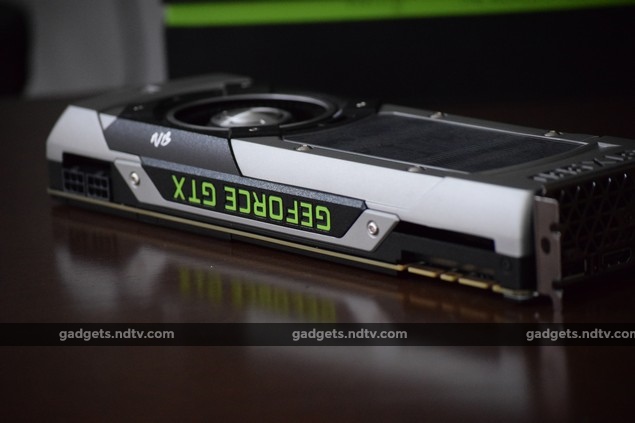 Features and specifications
The Nvidia GeForce GTX 980 and its slightly cut-down sibling, the GTX 970, are both based on a GPU design called GM204 (M for Maxwell), whereas the GTX 780 and 780Ti were based on the GK110 (K for Kepler). This was a high-end design which was also used in the high-end Tesla and gaming/workstation GeForce GTX Titan series of cards. The difference boils down to Nvidia's approach: while the high-end GK110 GPUs were more about brute force, throwing as much power as possible at a workload, the new GM204 should be more concerned about efficiency.
Maxwell uses more granular power controls to squeeze out a claimed 2x improvement in performance per Watt. Nvidia's Streaming Multiprocessor (SM) units are able to schedule workloads in such a way that power is only consumed by the sections that need it, and those sections are not kept waiting. Improvements to cache memory provisioning also help by cutting the power needed to shuttle data into and out of close-range memory.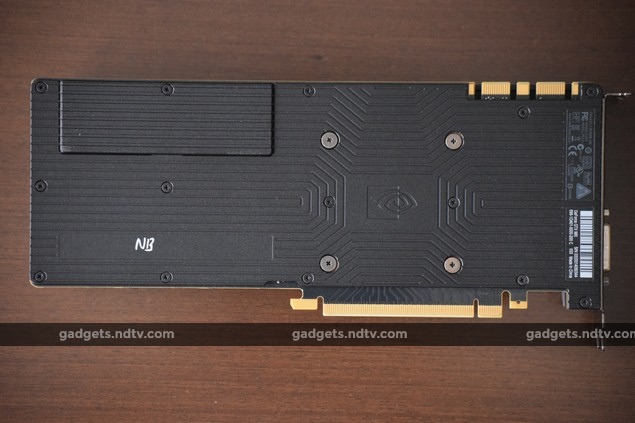 As with smartphones and portable devices, the focus is on power efficiency. While desktop users don't really care about the number of Watts consumed, noise, cooling requirements and the ability to use small-form-factor cases are all factors that do matter. The improvements will translate to mobile users who can probably begin to expect gaming laptops that don't weigh a tonne and can last a reasonable amount of time on battery power. Nvidia is very proud of its efforts to deliver power efficiency with Maxwell.
There has been no leap in terms of manufacturing process, so Maxwell still uses 28nm transistors. The next generation should see a significant leap, but even so, Nvidia has really managed to pull off something very interesting. The total power consumption for the GTX 980 is only 165W, which is a lot lower than the 780TI's 250W rating.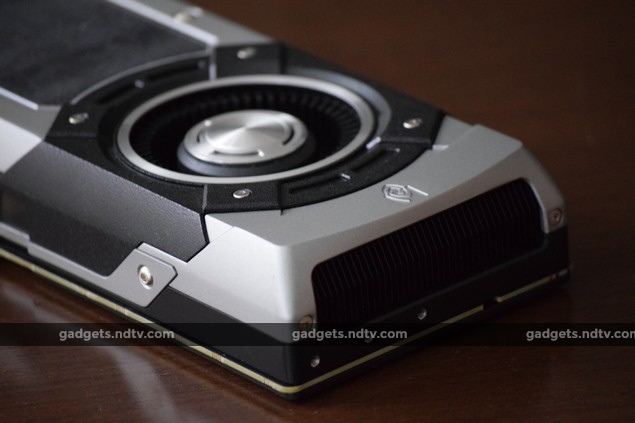 The GeForce GTX 980 has a total of 2048 programmable CUDA cores arranged into four SM units in four clusters, each with independent power gating control. All in all, Nvidia quotes a figure of 5.2 billion transistors. Clock speed is set at 1.126GHz and can be boosted up to 1.216GHz - and third-party manufacturers are sure to release factory-overclocked models with custom coolers. There's 4GB of GDDR5 memory which runs at a blistering 7GHz.
You won't spend much time looking at this card unless your case has a plastic side window, but even so it's been designed to look good. The shroud and cooler are much the same as what we've seen with all Nvidia's top-end cards starting with the GTX Titan. The silver-and-black combination makes it look like a high-end lifestyle product as compared to the garish plastic we've seen in the past. The GeForce GTX lettering on top lights up in green when the card is powered up.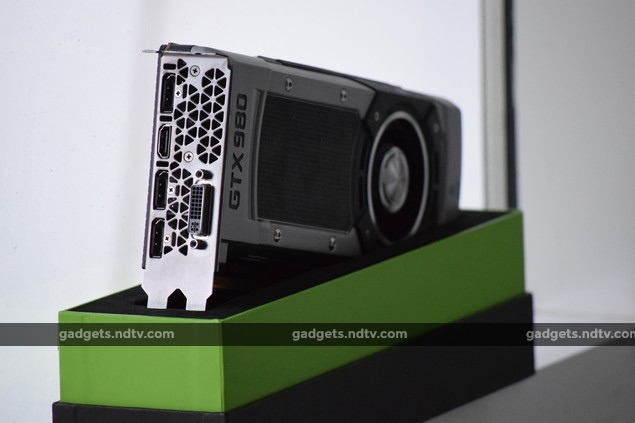 The rear surface is covered by a backplate with a little removable section that Nvidia says can improve cooling. There are two 6-pin PCIe power connectors pointing upwards at the rear, and the usual pair of SLI "golden fingers" towards the front.
Air is exhausted out the back, but there's still space on the dual-slot card for three DisplayPort outputs and one DVI and one HDMI port. All are full sized, and the DVI port supports dual-link displays. Given that this card is ideal for 4K or multi-monitor setups, it's nice to see this kind of flexibility.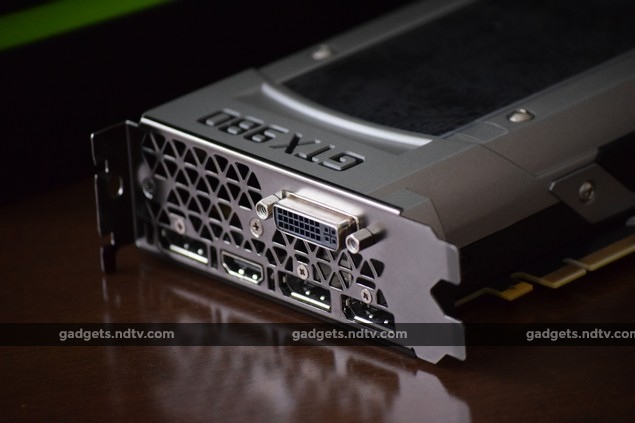 Performance
We tested Nvidia's GeForce GTX 980 reference card with a liquid-cooled Intel Core i7-4770K CPU, an Asus H87-Pro motherboard, 16GB of DDR3-1600 RAM from Adata, and a 1000W Cooler Master power supply. If these specs seem familiar, it's because they match the Battlebox Titan Sr gaming PC we reviewed earlier this year. That machine had an Asus graphics card with an Nvidia GeForce GTX 780Ti GPU, which we swapped out in order to get results that could be compared directly. We even used the same 1440p monitor. With no other variables to account for, it should be quite easy to see how much of a difference the GTX 980 makes.
First, we ran 3DMark, the most popular synthetic test available for graphics. The extremely demanding Fire Strike test posed only a slight challenge to the GTX 980. We saw an overall score of 10,690 as opposed to 10,184 for the GTX 780Ti, which is only a modest improvement. Star Swarm, which pushes an entire system's limits with thousands of independently moving objects involved in a furious 3D space battle. We saw an improvement from 63.77fps to 74.20fps, which isn't bad at all.

In our time with the GeForce GTX 780Ti, we had noted that while gaming at 1080p was a breeze, game quality settings had to be dialled back a little when we started pushing a 1440p monitor. By visualising frame pacing and not just raw frame rates in Battlefield 4, we found that stutters and skips degraded the experience quite a lot. Happily, that's not the case with the GeForce GTX 980. The new card has enough headroom to deliver a much smoother 1440p experience.
With all settings at Ultra, we recorded 65fps with an overall average frame time of 15.5ms and a 99th percentile time of 21.8fps. The frame rate is only slightly better than the 58fps we achieved with the GTX 780Ti when running through the same portion of the game, but the 99th percentile time of 46.5ms was a lot less appealing, and so the real difference is evident in image quality and game playability, not just frames per second. When visualised, tighter lines with fewer outlying points are better, since this means that frames are being rendered more consistently.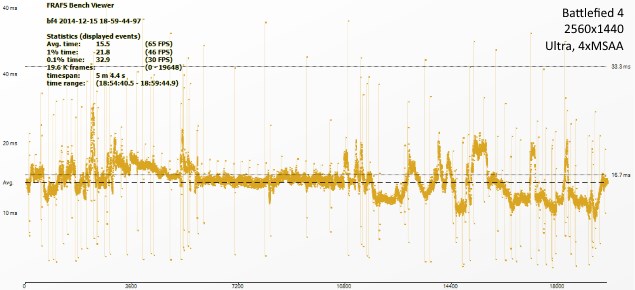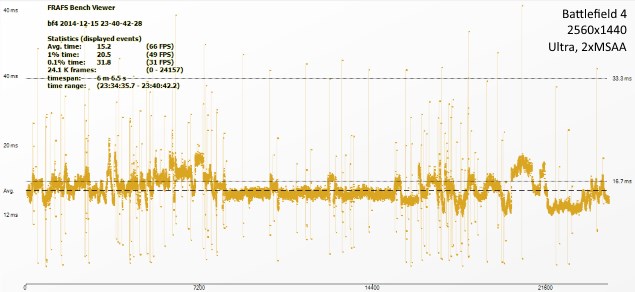 Knocking the antialiasing down from 4xMSAA to 2xMSAA had no significant effect on frame rates or timings, but you can tweak each game's settings and see how high you can push it before stuttering noticeably degrades your experience.
Crysis 3 didn't show much of a difference between the two generations of graphics cards at Very High settings with 16xAF and 8xMSAA. We recorded 26fps as the average on both cards, and the variance in frame times was also negligible. Even with all the settings bumped up, there wasn't much that this relatively recent game could do with the additional power at its disposal, which was a little surprising to see.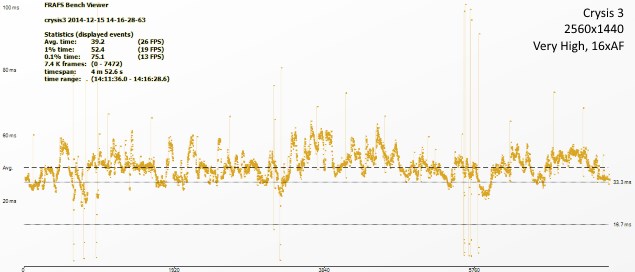 Tomb Raider is capped at 60fps and no matter how far we pushed its settings, the frame rate stayed constant at its ceiling. With every single setting maxed out and the resolution at 1440p, we had no problems whatsoever, and the game's environments looked gorgeous. The built-in benchmark gave us consistent averages of 60fps with the minimum never dropping below 58fps.
Assasin's Creed Unity presented more of a challenge. The game was more playable at Very High settings than Ultra High. Although frame rates were smooth even at the higher level, objects tended to change suddenly as we ran towards them, which was disruptive. This isn't reflected in the frame time graphs, which show minimal variance between the average and 99th percentile marks.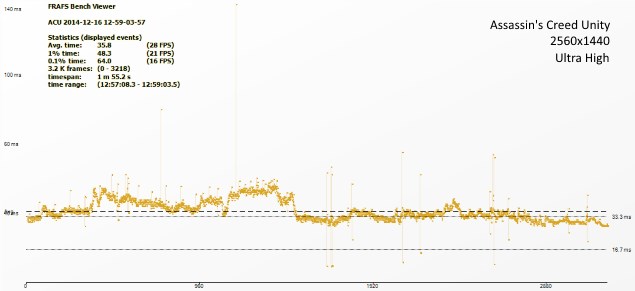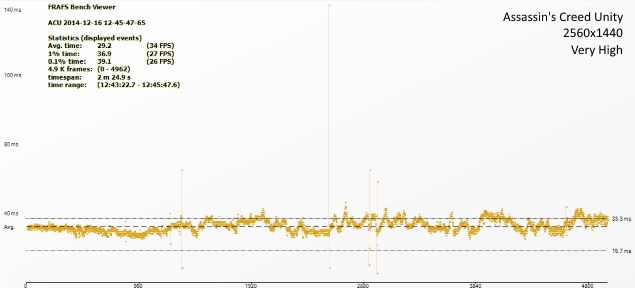 Verdict
Nvidia and AMD's rivalry continues with no slowdown in sight, and gamers benefit the most as prices drop, bundles become fatter and new levels of performance become available at reasonable prices. Nvidia had the lead in terms of single-GPU performance with its GTX 780 and 780Ti, and it now comfortably retains that and in fact widens the gap between AMD's closest competitor, the Radeon R9-290X. AMD does offer a dual-GPU card, the Radeon R9-295X, but not everyone wants to deal with scaling issues, heat and power consumption.
With street prices starting at Rs. 44,500 for models with custom coolers, the Nvidia GeForce GTX 980 GPU is totally worth it. This is absolutely the last word in single-GPU performance for gamers who can afford it. We're also really happy to see that heat and noise levels are totally under control as well. The GTX 970 should offer even better value for money if you don't mind stepping down a little bit, but we haven't tested that GPU yet.

We're keen to see what AMD will put out when its next-gen R9-3xx series launches early next year. Till then, it can still cut prices and offer game bundles in order to stay competitive in the lower tiers. There isn't much it can do at the moment, but things are sure to get very interesting very soon.
Price:
Rs. 46,000 (Reference design)
Pros:

Powerful enough for 1440p gaming at high quality settings

Low power consumption and noise
Looks great

Cons:

Ratings (out of 5):
Performance: 5

Value for Money: 4.5
Overall: 4.5